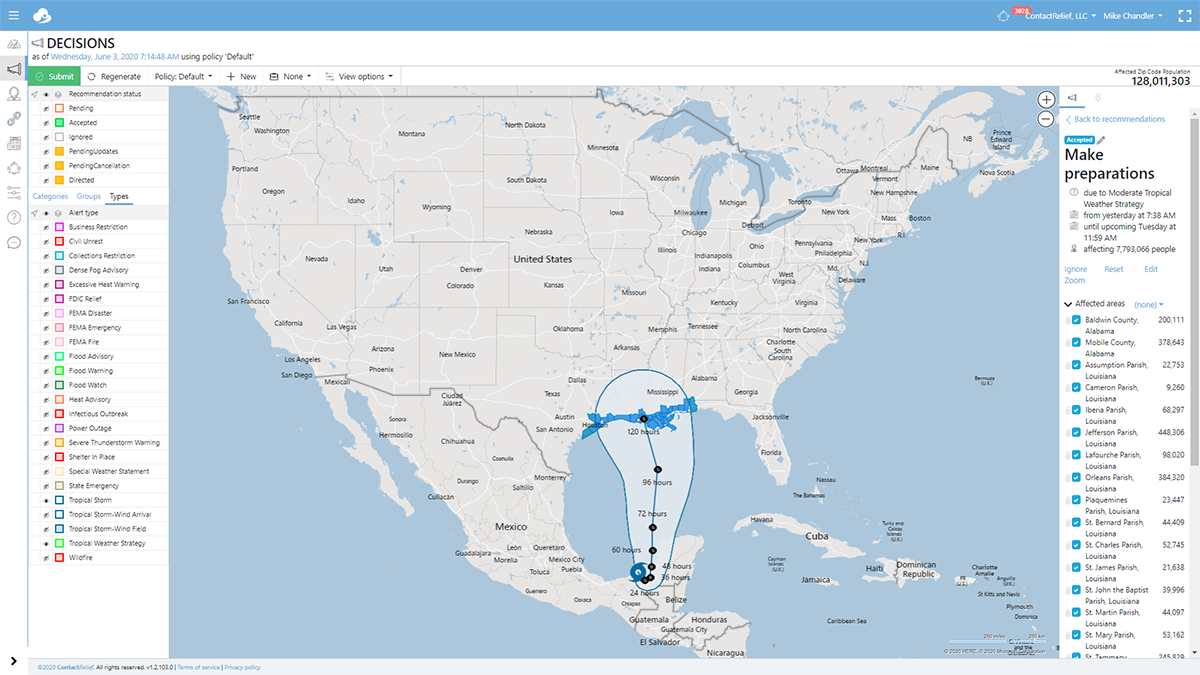 Tropical Storm Cristobal to turn towards U.S. in 48 hours
ContactRelief is issuing Tropical Weather Strategy recommendations for the central Gulf Coast from Texas to the Florida Panhandle
Wednesday, June 3, 2020 12:06:43 PM +00:00
Tropical Storm Cristobal continues to meander in the Bay of Campeche near the Mexican coast. The storm is expected to make landfall in Mexico and then turn northward back into the Gulf of Mexico where it will reform. Cristobal is forecast to begin moving northward across the Gulf of Mexico on Friday, and there is a risk of storm surge, rainfall, and wind impacts this weekend along portions of the U.S. Gulf Coast from Texas to the Florida Panhandle. While it is too soon to determine the exact location, timing, and magnitude of these impacts, interests in these areas should monitor the progress of Cristobal and ensure they have their hurricane plan in place.
Are you prepared for the next disaster?
Disasters can strike at a moment's notice. That's why, at ContactRelief, we provide round the clock disaster monitoring to keep your operations ahead of disasters. With timely, comprehensive recommendations that are accurate to the ZIP code, ContactRelief ensures you focus less on the disaster, and more on your operations.
Contact sales@contactrelief.com for more information.