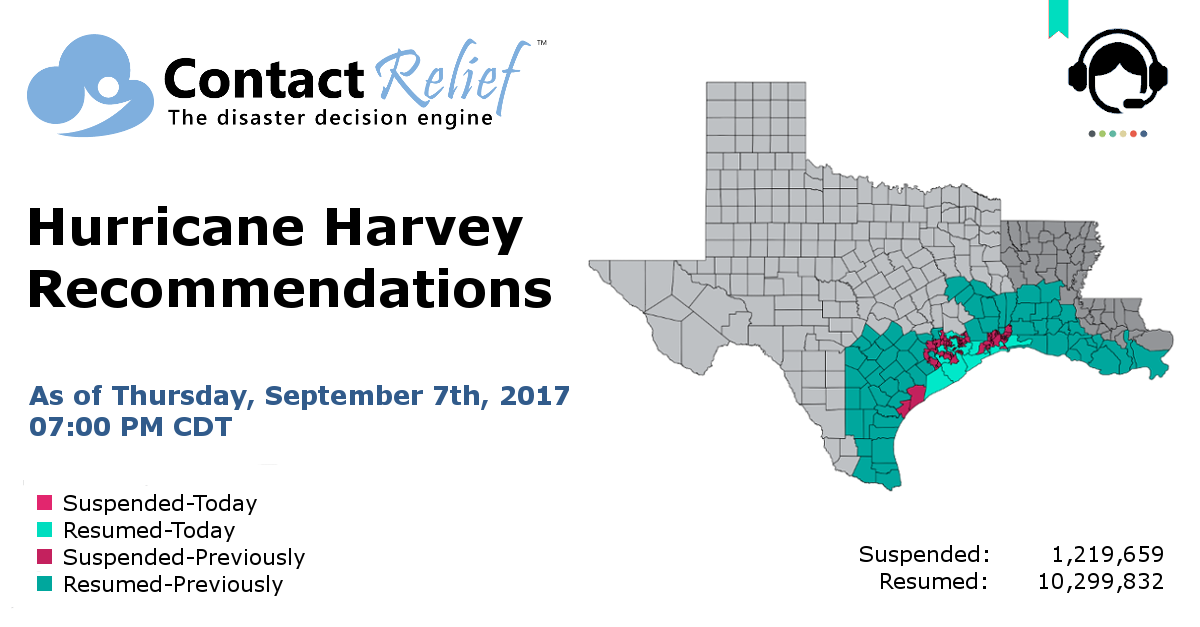 ContactRelief Hurricane Harvey Recommendations for Contact Centers
ContactRelief recommends resuming contact with consumers in certain Texas counties and Louisiana parishes except for the identified zip codes.
Thursday, September 7, 2017 7:00:00 PM -05:00
ContactRelief is making public its Hurricane Harvey recommendations made to subscribers Thursday, September 7th, to resume contact with consumers in additional Texas counties while continuing to suspend contact for certain zip codes heavily affected by the storm.
Although we are recommending that you resume contact in many regions in Texas, we caution that there is extensive damage from high winds and flooding in many counties. Within a county, there can be areas unaffected and areas that were devastated. We have used a variety of sources to identify areas of extensive damage, current flooding, or standing evacuation orders. We are recommending continued contact suspension at the zip code level for areas where a large number of people had to be rescued due to flooding as this is a proxy for flooding property damage. See our previous advice for using skills based routing to adapt your customer experience to the customer situation in light of Hurricane Harvey.
Contact should be resumed today for these Texas counties (except for certain zip codes): Brazoria, Chambers, FortBend, Galveston, Harris, Jefferson, Matagorda.
The zip code suspension has been lifted for Louisiana parish: Cameron.
A previous recommendation to suspended contact remains in force for Texas counties: Aransas, Calhoun.
A previous recommendation to resume contact remains in force for Texas counties: Angelina, Atascosa, Austin, Bastrop, Bee, Bexar, Brooks, Caldwell, Cameron, Colorado, Comal, DeWitt, Duval, Fayette, Gonzales, Guadalupe, Hays, Hidalgo, Houston, Jackson, Jim Wells, Karnes, Kenedy, Kleberg, Lavaca, Liberty, Live Oak, McMullen, Orange, Trinity, Waller, Wharton, Willacy, and Wilson. Certain zip codes are excluded.
A previous recommendation to resume contact remains in force for Louisiana parishes: Assumption, Cameron, Iberia, Jefferson, Lafourche, Plaquemines, St.Martin, St.Mary, Terrebonne.
ContactRelief's On-going Response to Hurricane Harvey
For a limited time, ContactRelief is providing our full recommendations without charge as a service to the business community. Our full recommendations consist of the areas to be suspended and the list of zip codes covering these areas. Contact sales@contactrelief.com for more information.