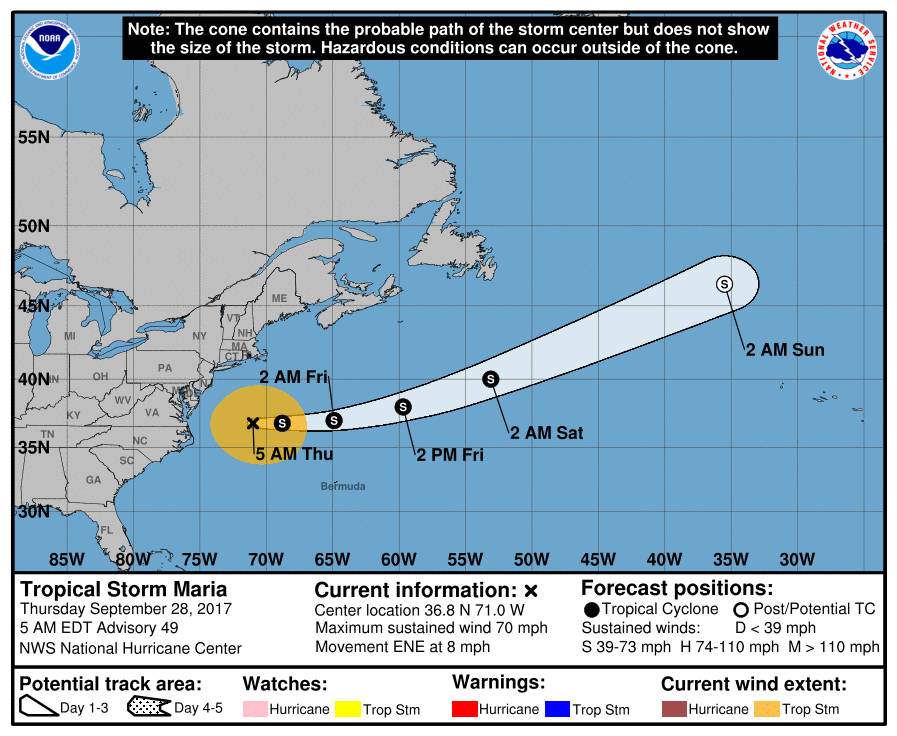 Hurricane Maria moves away from the United States
Maria has been downgraded to a tropical storm and will dissipate over the next few days.
Thursday, September 28, 2017 8:00:00 AM -05:00
Hurricane Maria weakened to tropical storm strength and is finally moving away from the U.S. coast and out to open sea. The storm is expected to further weaken through Sunday before dissipating.
Tropical storm warnings for the eastern seaboard were lifted Wednesday night (September 27th) and as a result ContactRelief removed our recommendations to suspend contact with the affected areas in North Carolina. Maria's demise is welcome news for some but given the impact of the storm in hard-hit Puerto Rico and the U.S. Virgin Islands will be litle comfort to residents in those areas.
The continuing humanitarian crisis in Puerto Rico means that our recommendation to suspend contact with the region will remain in place for an extended period of time. We urge our subscribers to look for ways to help these consumers with changes in contact patterns , hardship programs, and direct aid. Showing your concern will help to promote your brand and improve your relationship with not only these consumers but consumers across the country.
ContactRelief's On-going Response to Hurricanes Harvey, Irma, Jose, and Maria
At ContactRelief, we are proud to have played a part in helping you help consumers during this difficult hurricane season. For a limited time, we are providing our full recommendations without charge as a service to the business community. Our full recommendations consist of the areas to be suspended and the list of zip codes covering these areas. Contact sales@contactrelief.com for more information. The next disaster is on its way. Become a ContactRelief subscriber and keep your company protected from disaster.