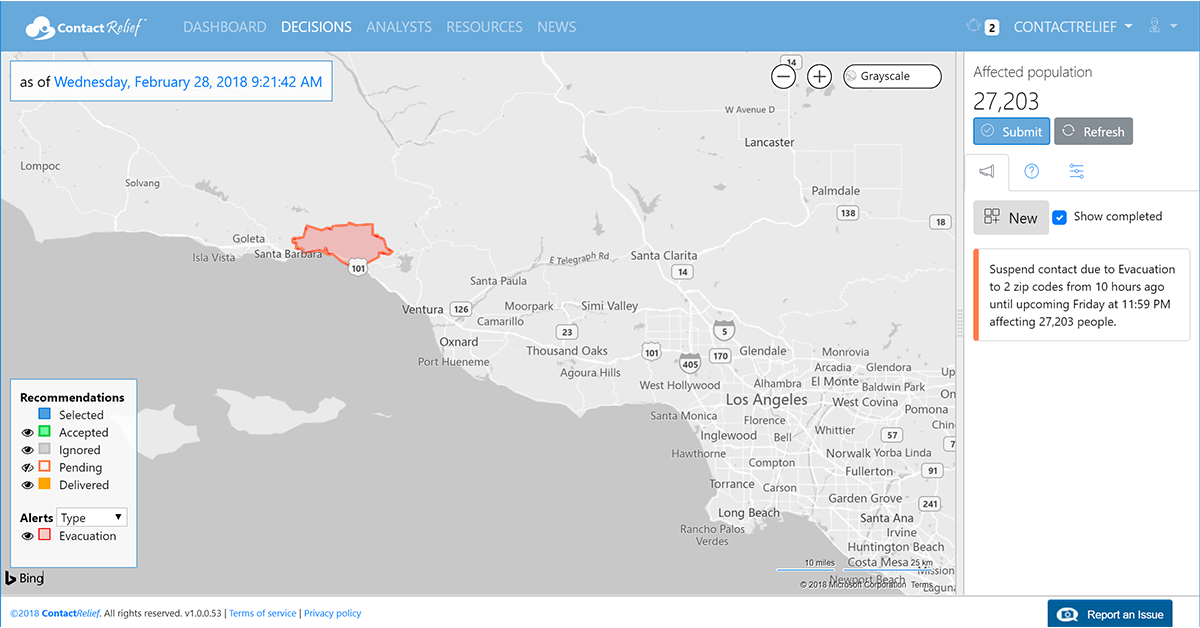 Evacuation Order Issued in California Mudslide Area
ContactRelief recommends suspending contact with consumers in Santa Barbara County.
Wednesday, February 28, 2018 10:00:00 AM -06:00
ContactRelief Recommendations for Contact Centers
ContactRelief is making public recommendations made to ContactRelief subscribers, Wednesday, February 28th, 2018. ContactRelief recommends suspension of contact with consumers in Santa Barbara County while under evacuation orders.
Officials fear a repeat of devasting mudslides
Santa Barbara County officials issued a recommended evacuation order effective 8AM PST, Wednesday, February 28th, 2018. The National Weather Service predicts that a storm arriving Thursday night and continuing through Friday will have rainfall in the range of 1/3 to 2/3 of an inch per hour. County officials say that the "NWS informed the County that moderate to heavy rainfall rates early Friday may be enough to generate isolated mud and debris flows near burn areas."
The county has suffered a series of calamities including the Thomas Fire which burned from December 4th, 2017 through January 12, 2018, and devasting mudflows which occurred in the early morning hours of January 9th, 2018. Although officials had issued a voluntary evacuation notice, many residents did not heed the warning. In the aftermath, 21 people were reported to have died and 163 were treated for injuries.
County officials have modified their evacuation procedures as a result of the poor response to their previous voluntary evacuation notices. On Tuesday, they issued a pre-evacuation notice, and today raised that to a "recommended evacuation" notice, eliminating the word "voluntary" in the hope that residents would better weigh the gravity of the situation.
The communities near and below the Thomas, Sherpa, and Whittier burn areas are strongly recommended to relocate to safer locations for their own safety. High risk for loss of life and property exists.
ContactRelief is monitoring area. We expect to maintain our recommendation to suspend contact through Thursday.
To obtain the list of zip codes suspended as a result of this event, become a ContactRelief subscriber.
Don't Delay
The next disaster is on its way. Become a ContactRelief subscriber and keep your company protected from disaster. Our full recommendations consist of the areas to be suspended and the list of zip codes covering these areas. For as little as $300 per, month your company can quickly implement a solution that protects your company and its customers. As we say at ContactRelief, "It's just smart business."
Contact sales@contactrelief.com for more information.
Get in touch
Shaping your outbound contact away from disaster stricken areas isn't just the right thing to do, it's smart business. To learn more about how ContactRelief can help you protect your brand, reduce your risk of adverse actions, and improve your contact center efficiency, click below to contact us.
Contact us