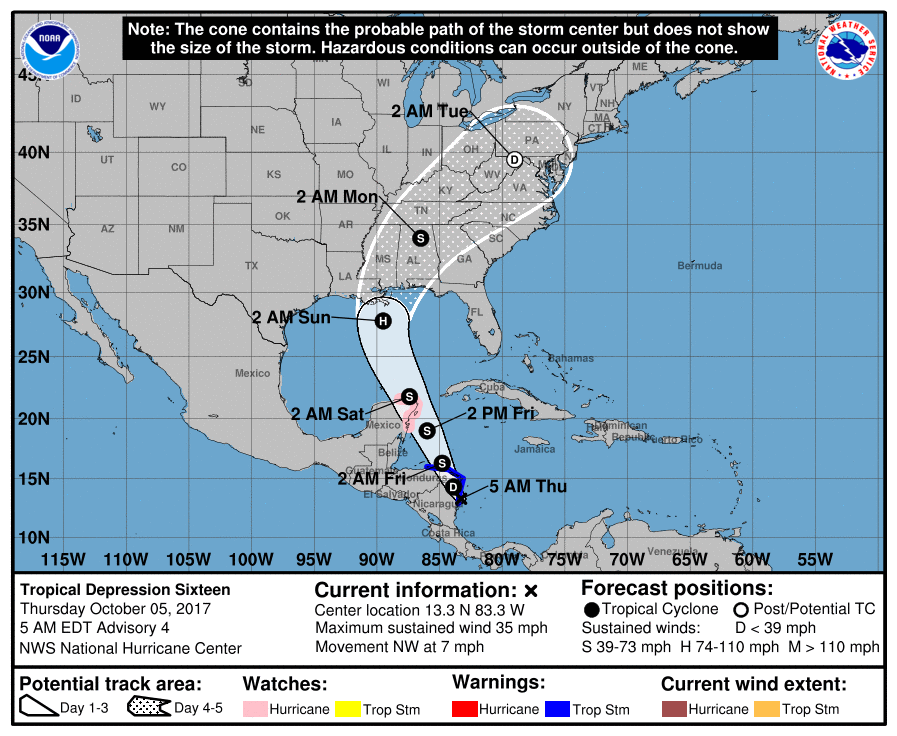 Hurricane "Nate" Threatens Central Gulf Coast By Sunday
Tropical Depression 16 track shifts westward directly threatening Louisiana, Mississippi, Alabama, and Florida.
Thursday, October 5, 2017 7:00:00 AM -05:00
For as little as $300 per month, your company can avoid disasters by shaping the customer experience.

Sign up Now
Hurricane "Nate" is On It's Way
Tropical Depression 16 is curently located 50 miles south of Puerto Cabezas, Nicaragua moving northwestward at 7 MPH. The storm is expected to intensify into Tropical Storm "Nate" soon after it moves across northeastern Nicaragua and eastern Honduras late Thursday, October 5th and into early Friday, October 6th. Further strengthing is expected as the storm moves through the northwestern Caribbean Sea Thursday night and Friday. The center of the storm is expected to approach the coast of the Yucatan peninsula late Friday. The government of Mexico has issued Hurricane Watches along the northern coast of the Yucatan peninsula to Rio Lagartos.
The National Hurricane Center (NHC) reported in its 5:00 AM EDT forecast discussion that the intensity forecast remains uncertain due to the expected interaction with land over the next 48 hours. The forecasted track has shifted westward as a large mid- to upper-level ridge is forecast to build off the coast of the southeastern United States and steer the cyclone north-northwestward at a faster forward speed.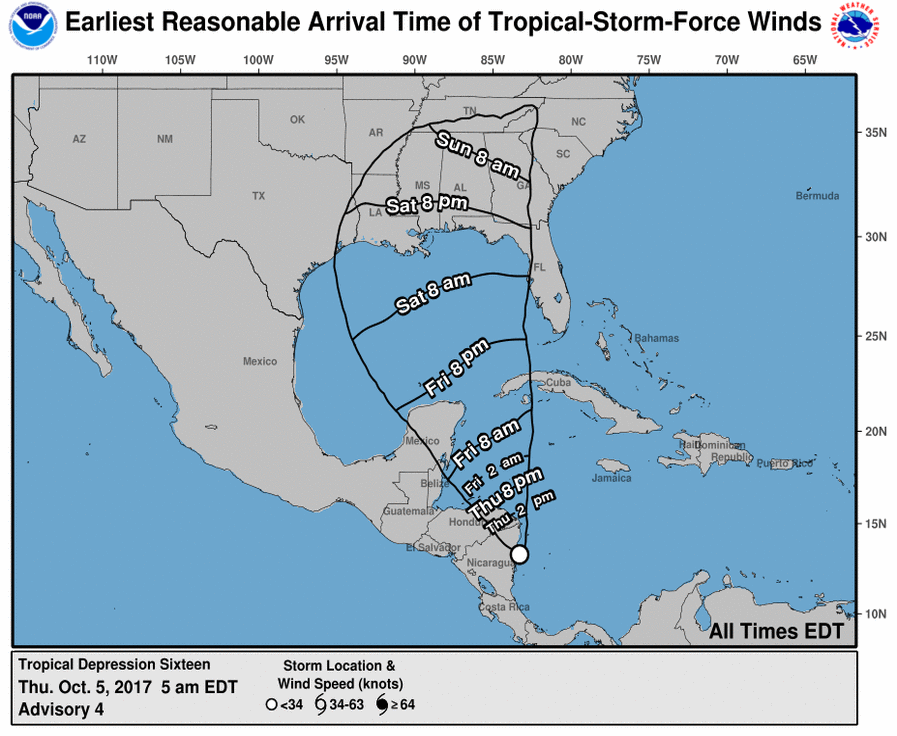 The storm is currently expected to reach hurricane strength early Sunday morning before making landfall somewhere between Louisiana and the Florida panhandle as Hurricane "Nate". Tropical Storm force winds are expected to impact the Gulf Coast from Texas to Florida Saturday afternoon, October 7th. The NHC said that "Residents along the Gulf Coast from Louisiana through the Florida Panhandle should monitor the progress of this system and heed any advice given by local officials."
On Thursday, October 4th, we published our current installment of our weekly Weather Insights blog with ContactRelief Consulting Meteorologist Dr. Kevin Levey. In it, he noted the tropical disturbance that is now expected to become Hurricane "Nate". Fortunately for Puerto Rico and the U.S. Virgin Islands, the forecasted track of this storm will miss these hard-hit regions but is expected to affect the central Gulf Coast of the United States coming dangerously close to already reeling Florida. To be certain your contact center has continued access to our recommendations as this storm approaches the U.S., contact centers need to subscribe to the ContactRelief service today. Don't wait and lose access to this important information.
Hurricane Season is Not Over
As noted by Dr. Levey in last week's Weather Insights post entitled "Can We Please Be Done With Hurricane Season", we still have 56 days until the end of hurricane season (November 30th). This has been an extremely active hurricane season and this may not be the last storm to make its way to the U.S. If you are a risk manager or contact center operator, you need to act now to have continued access to ContactRelief's recommendations.
Why You Must Also Prepare for Man-Made Disasters - The Las Vegas Mass Shooting
As Sunday's mass shooting in Las Vegas revealed, contact centers need to be prepared to act quickly and decisively not only for forecasted events like hurricanes, but also for man-made disasters that cannot be predicted. On Sunday night in Las Vegas, over 50 people were killed and over 500 injured in a senseless mass shooting at a local music festival.
ContactRelief issued a recommendation to suspend contact to accounts with zip codes surrounding the Las Vegas Strip early Monday morning at 12:30 AM PDT, a little more than 2 hours after the incident began, and expanded this contact suspension recommendation Monday morning at 4:30 AM PDT to include all of the county surrounding Las Vegas (Clark County, Nevada) as more details became known.
If you are like most companies, you can't afford the staff to perform the around the clock monitoring required to act promptly, the management of multiple concurrent disasters, and information gathering it takes to know when and where to suspend and resume contact for all types of possible events. But why bother when ContactRelief has this and more for less than $300 per month.
Why You Must Act Now
Our offer of free access to our service will expire soon. We provide the only service specially designed for contact centers and focused on all aspects of the customer experience during natural and man-made disasters. We can not only tell you when and where to suspend contact, but when and why you should resume contact, and how you can improve your brand image by the actions you take during these periods. Because before starting ContactRelief we owned and operated large contact centers, we understand your business perspective, and our recommendations are designed to help you deliver a great customer experience while still enabling you to achieve your other objectives.
Don't Delay
The next disaster is on its way. Become a ContactRelief subscriber and keep your company protected from disaster. Our full recommendations consist of the areas to be suspended and the list of zip codes covering these areas. For as little as $300 per month your company can quickly implement a solution that protects your company and its customers. As we say at ContactRelief, "It's just smart business."
Contact sales@contactrelief.com for more information.
Are you prepared for the next disaster?
Disasters can strike at a moment's notice. That's why, at ContactRelief, we provide round the clock disaster monitoring to keep your operations ahead of disasters. With timely, comprehensive recommendations that are accurate to the ZIP code, ContactRelief ensures you focus less on the disaster, and more on your operations.
Contact sales@contactrelief.com for more information.