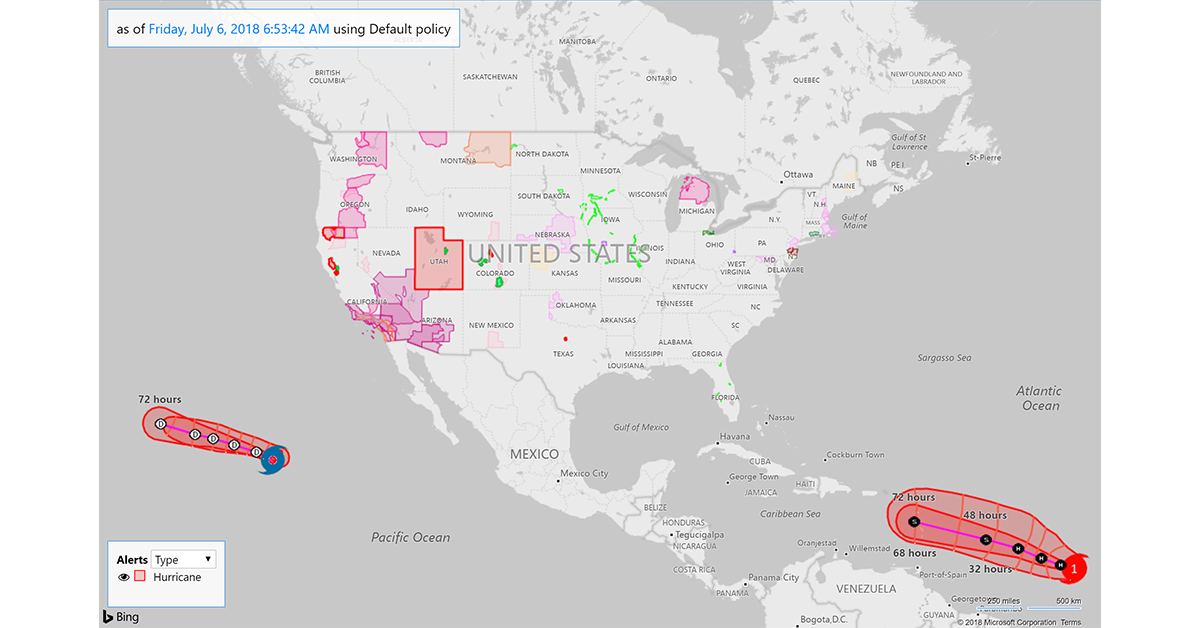 Tropical Storm Beryl Becomes a Hurricane
Tiny storm expected to weaken within 36 hours
Friday, July 6, 2018 8:00:00 AM -05:00
Tropical Storm Beryl continued its impressive intensification to Category 1 Hurricane strength on Friday becoming Hurricane Beryl. As of 5 AM AST, the center of Hurricane Beryl was located near latitude 10.6 North, longitude 45.1 West. The National Hurricane Center (NHC) says Beryl is moving toward the west near 14 mph. A faster west-northwestward motion is expected through the weekend. On the forecast track, the center of Beryl will remain east of the Lesser Antilles through early Sunday. Beryl is the first Atlantic hurricane of the 2018 Hurricane Season.
Bery's maximum sustained winds have increased to near 75 mph with higher gusts. However, forecasters at the NHC say Beryl is a very compact hurricane with hurricane-force winds extending only out to 10 miles from the center and tropical-storm-force winds extending outward to 35 miles.
As Tropical Storm Fabio begins to weaken in the Pacific, some additional strengthening of Beryl is expected today. However, Beryl is forecast to quickly weaken by late Saturday and become a tropical storm or degenerate into a strong open trough near the Lesser Antilles late Sunday or Monday.
The ContactRelief Disaster Decision Team will continue to monitor the storm's development and issue additional advisories as warranted.
Don't Delay
The next disaster is on its way. Become a ContactRelief subscriber and keep your company protected from disaster. Our full recommendations consist of the areas to be suspended and the list of zip codes covering these areas. For as little as $400 per, month your company can quickly implement a solution that protects your company and its customers. As we say at ContactRelief, "It's just smart business."
Contact sales@contactrelief.com for more information.
Get in touch
Shaping your outbound contact away from disaster stricken areas isn't just the right thing to do, it's smart business. To learn more about how ContactRelief can help you protect your brand, reduce your risk of adverse actions, and improve your contact center efficiency, click below to contact us.
Contact us