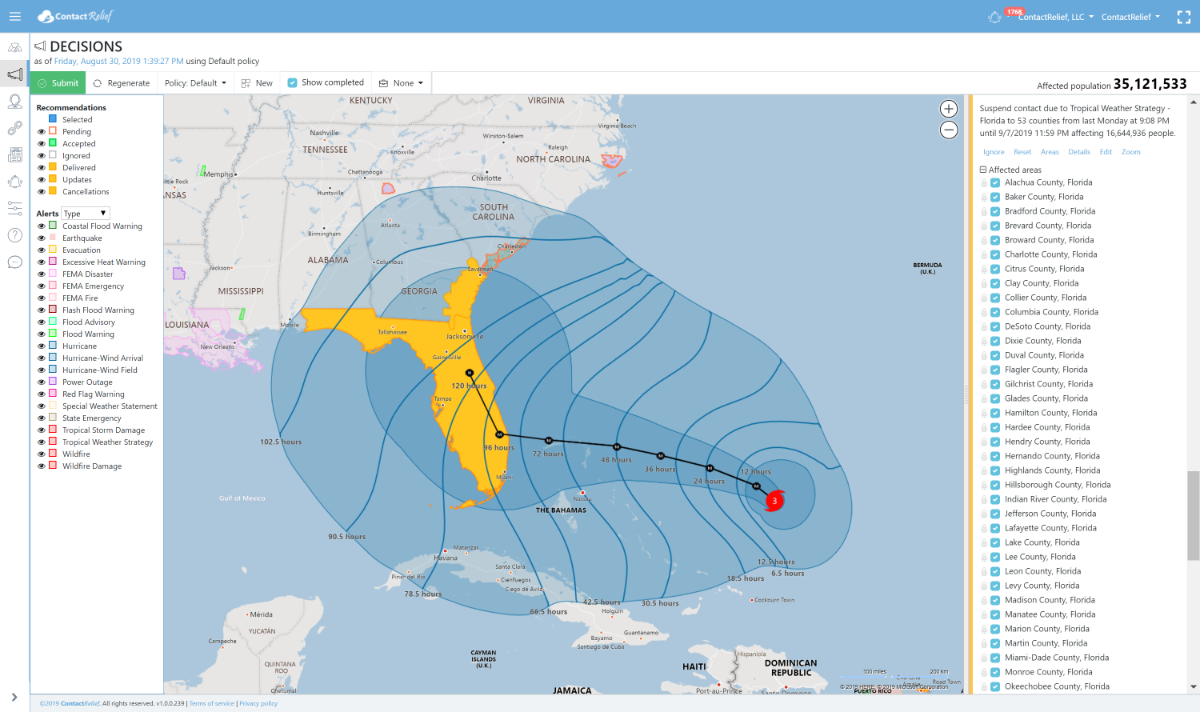 Hurricane Dorian Now a Category 3 Hurricane
Dorian has strengthed as forecasters expect a prolonged period of high winds and rain over Florida next week from a soon to be Category 4 Dorian.
Friday, August 30, 2019 6:40:59 PM +00:00
ContactRelief Recommendations for Florida
ContactRelief has issued a Tropical Weather Strategy alert and recommendation for parts of Florida. Our current recommendation is to suspend non-essential contact through close of business Saturday 9/7. An extension of this recommendation may be required in certain heavily hit areas if the storm makes landfall as predicted. In areas with no damage or less damage, contact may be resumed early.
Dorian is now a major hurricane at Category 3 strength. Dorian is expected to make landfall as a major hurricane early Tuesday morning at or near Category 4 strength. Residents are actively preparing for the upcoming storm. As the storm nears landfall, these preparations will intensify further. You can promote and protect your brand image implementing a proactive customer care policy now. You should consider messaging opportunities before and after the storm, suspension of non-essential contact, financial relief programs or other services, creating specialized IVRs and trained agent groups to handle interaction with disaster victims, and routing calls based on the caller's location.
To obtain a complete list of the affected Zip Codes and get real-time updates on the recovery efforts by Zip Code after the storm hits, become a ContactRelief subscriber.
Tropical Storm Dorian Update
Dorian has now reached Category 3 strength and is expected to intensify further to Category 4 within 48 hours. Maximum winds speeds at 140 MPH put Dorian well above the 130 MPH wind speed for a Category 4 hurricane. Winds speeds at landfall are predicted to be 130 MPH.
The National Hurricane Center reports in its Friday 11 AM AST forecast discussion that Dorian will slow as it nears Florida and that it may linger for a protracted period at hurricane strength after landfall. Wind damage from Dorian will likely be severe and a protracted suspension of contact for damaged areas will likely be required.
National Hurricane Center Tropical Storm Dorian Forecast Discussion (Friday 11AM AST)
Hurricane Dorian Discussion Number 25
NWS National Hurricane Center Miami FL AL052019
1100 AM AST Fri Aug 30 2019
Both Air Force and NOAA aircraft have been sending data from Dorian this morning. The flight-level winds from both planes have peaks at 100 kt and the SFMR measured 94 kt. The minimum central pressure has been oscillating between 972 and 976 mb. On this basis, the initial intensity has been set to 95 kt. The upper-low currently over Cuba which has been inducing some shear over Dorian is moving away from the hurricane, and the upper-level flow pattern is evolving toward a more favorable environment. In fact, the eye is becoming apparent on visible images as we speak and in radar data from the NOAA P3 aircraft. Consequently, the NHC forecast calls for additional intensification, and Dorian is expected to become an extremely dangerous major hurricane soon with additional strengthening likely as it heads for the northwestern Bahamas and the Florida peninsula.
Fixes from both reconnaissance planes indicate that Dorian is moving toward the northwest of 310 degrees at 9 kt. As the upper-low over Cuba moves westward and a strong subtropical ridge builds over the western Atlantic as indicated by global models, the hurricane should be forced to turn west-northwestward and westward on a track toward the northwestern Bahamas and the Florida peninsula. By the end of the forecast period, the ridge is forecast to erode and the steering currents will weaken, resulting in Dorian slowing down considerably near and over the Florida peninsula. This increases the uncertainty in the track forecast during the 4- to -5 day period, and also will lead to a prolonged duration of wind, storm surge, and rainfall. The official forecast has been very consistent so far, and this one is very similar to the previous NHC forecast. It follows the multi-model and corrected consensus, and is in the middle of the guidance envelope.
Key Messages:
1. Life-threatening storm surge and devastating hurricane-force winds are likely in portions of the northwestern Bahamas, where a hurricane watch is in effect. Residents should execute their hurricane plan and listen to advice given by local emergency officials.
2. Life-threatening storm surge and devastating hurricane-force winds are likely along portions of the Florida east coast by early next week, but it is too soon to determine where the highest storm surge and winds will occur. Residents should have their hurricane plan in place, know if they are in a hurricane evacuation zone, and listen to advice given by local emergency officials.
3. A prolonged period of storm surge, high winds and rainfall is likely in portions of Florida into next week, including the possibility of hurricane-force winds over inland portions of the Florida peninsula.
4. Heavy rains are expected over portions of the Bahamas, Florida, and elsewhere in the southeastern United States this weekend into the middle of next week.
FORECAST POSITIONS AND MAX WINDS
INIT 30/1500Z 24.5N 69.8W 95 KT 110 MPH
12H 31/0000Z 25.3N 71.0W 105 KT 120 MPH
24H 31/1200Z 25.9N 72.7W 110 KT 125 MPH
36H 01/0000Z 26.3N 74.5W 115 KT 130 MPH
48H 01/1200Z 26.6N 76.1W 115 KT 130 MPH
72H 02/1200Z 26.8N 78.6W 120 KT 140 MPH
96H 03/1200Z 27.0N 80.4W 110 KT 125 MPH...INLAND
20H 04/1200Z 29.0N 81.5W 65 KT 75 MPH...INLAND