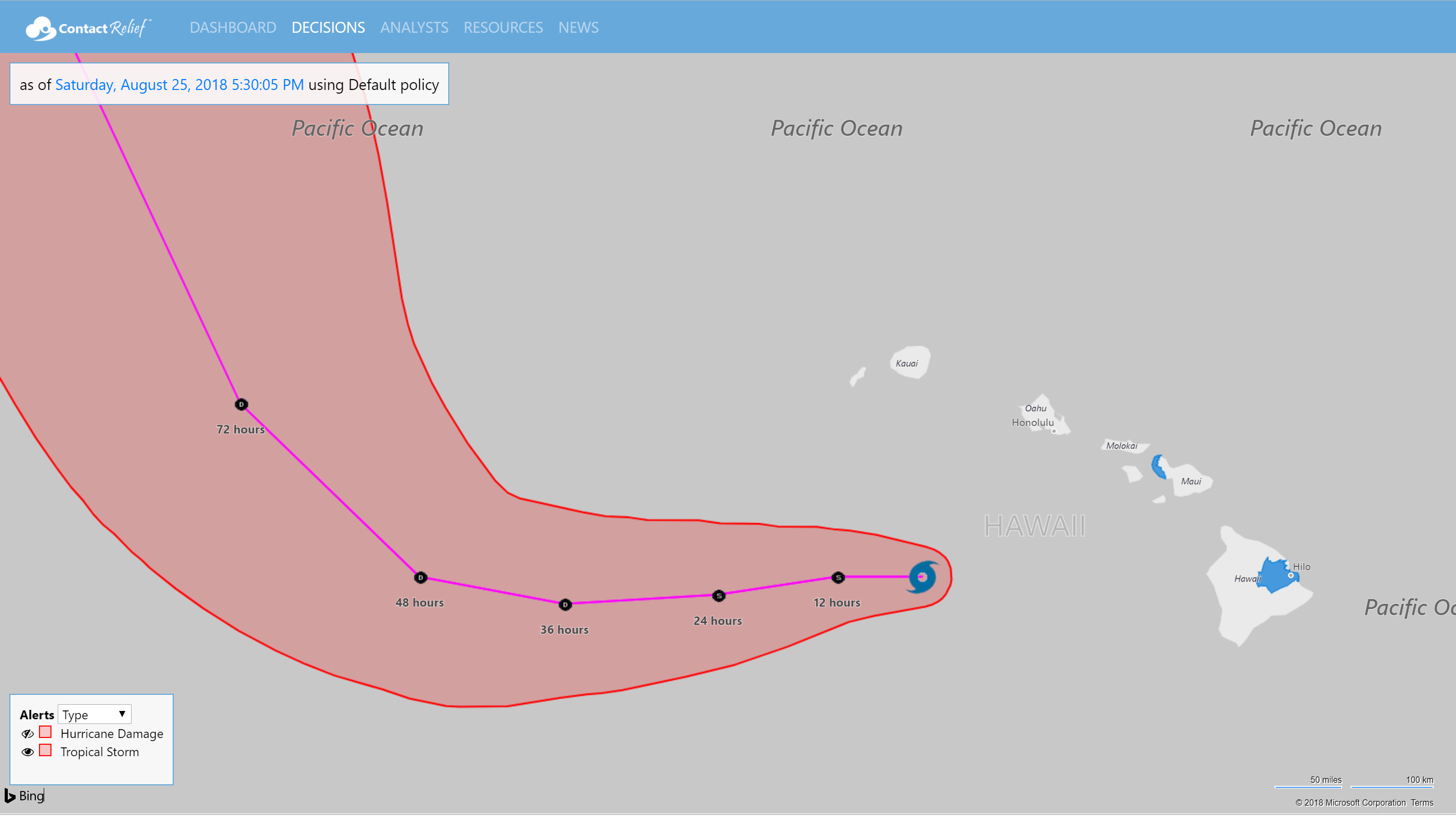 ContactRelief Recommendations for Tropical Storm Lane
Tropical Storm Warnings Canceled But Additional Rain Still a Threat
Saturday, August 25, 2018 5:30:00 PM -05:00
Free ContactRelief Damage Assessments for Hurricane Lane
The ContactRelief Disaster Decision Team is compiling damage assessments for Hurricane Lane as it moves through the Hawaiian Islands. Contact centers should suspend contact to areas under threat or damaged by the storm. For a limited time, you can obtain the list of ZIP Codes for the affected areas without charge. The ContactRelief Decision Team will track the storm, monitor the areas for damage, and update this ZIP Code list as events unfold.
To obtain this list, contact us at sales@contactrelief.com.
Recommendations for Contact Centers
Tropical Storm Warnings have been canceled in Hawaii as Tropical Storm Lane continues its slow march west. However, forecasters say that an additional 5"-10" of rain is projected to fall on the Big Island where swollen rivers have lead to river flooding, evacuations, and flood rescues. While damage is limited compared to last year's Hurricane Harvey and Irma, flooding on the Big Island will remain a threat for several days.
ContactRelief recommends resumption of contact with all areas except for selected ZIP Codes near Hilo on the Big Island and regions affected by the fires on Maui. We expect to maintain this recommendation through at least Sunday evening and possibly into Monday.
The ContactRelief Disaster Decision Team will continue to monitor the storm's development and issue additional advisories as warranted. To obtain, the full list of affected ZIP Codes, become a ContactRelief subscriber.
Don't Delay
The next disaster is on its way. Become a ContactRelief subscriber and keep your company protected from disaster. Our full recommendations consist of the areas to be suspended and the list of zip codes covering these areas. For as little as $400 per, month your company can quickly implement a solution that protects your company and its customers. As we say at ContactRelief, "It's just smart business."
Contact sales@contactrelief.com for more information.
Weather alerts, emergencies, and breaking news are monitored around the clock. The Disaster Decision Engine applies your rules to help you decide when to take action for your consumers. Your recommendations are sent to your contact centers and partners with ZIP Code granularity.