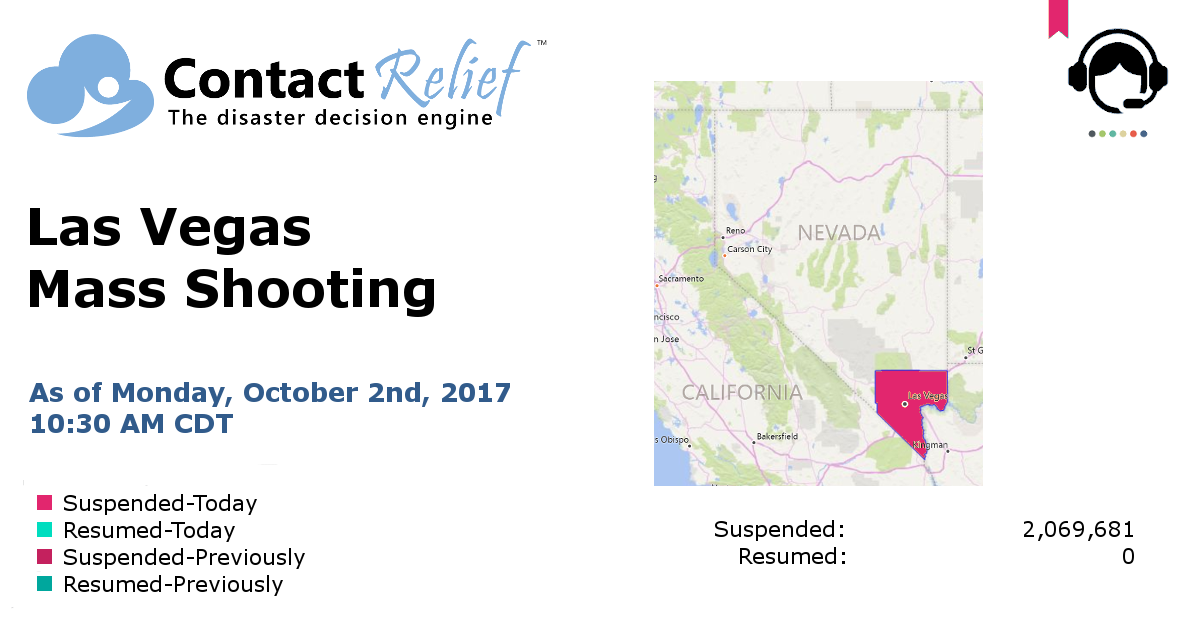 ContactRelief Recommendations for Contact Centers (Las Vegas Mass Shooting)
ContactRelief recommends suspending contact with Clark County, Nevada as a result of Sunday night's mass shooting at a Las Vegas music festival.
Monday, October 2, 2017 10:30:00 AM -05:00
ContactRelief is making public a recommendation made to subscribers earlier today concerning the tragic mass shooting at a Las Vegas music festival.
At 2:30 AM CDT, ContactRelief issued a recommendation to suspend contact to consumers in zip codes surrounding the Las Vegas strip. At 6:30 AM CDT, we recommended that contact centers also consider suspending contact with consumers in Clark County which encompasses Las Vegas. We are formally repeating that recommendation here.
As we noted in our 6:30 CDT update, with over 50+ dead and 400+ injured, this mass shooting ranks as the worst in American history. Families are still in the process of reuniting and determining if their loved ones were among the victims. The fallout from the event will be felt both locally and nationally for several days if not longer.
ContactRelief recommends that contact should be suspended to the following Nevada counties: Clark.
ContactRelief's Ongoing Disaster Response
For a limited time, we are providing our full recommendations without charge as a service to the business community. Our full recommendations consist of the areas to be suspended and the list of zip codes covering these areas. Contact sales@contactrelief.com for more information. The next disaster is on its way. Become a ContactRelief subscriber and keep your company protected from disaster.