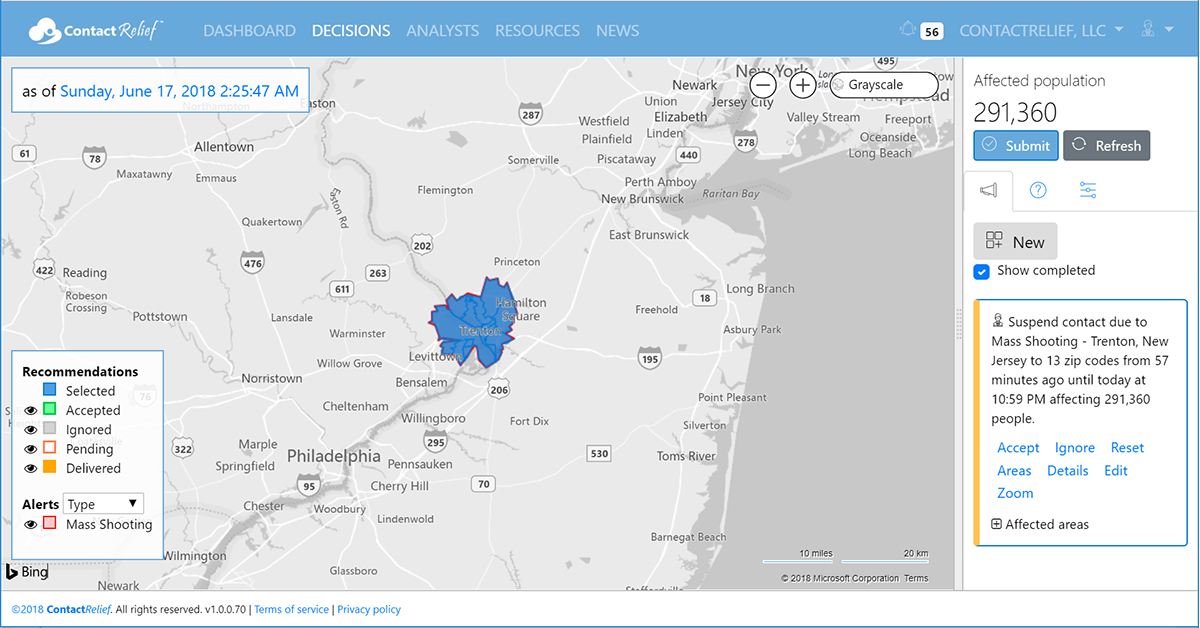 Mass Shooting at Art Festival In Trenton, New Jersey
One dead and at least 20 others injured
Sunday, June 17, 2018 7:30:00 AM -05:00
A shooting broke out at the 12th annual Art All Night festival in Trenton, New Jersey leaving one man dead and at least 20 others injured. Officials said they have one other suspect in custody.
ContactRelief Recommendations for Contact Centers
The ContactRelief Disaster Decision Team recommends suspending contact with consumers in the area around the shooting site until further notice.
To obtain the list of affected zip codes, become a ContactRelief subscriber.
Don't Delay
The next disaster is on its way. Become a ContactRelief subscriber and keep your company protected from disaster. Our full recommendations consist of the areas to be suspended and the list of zip codes covering these areas. For as little as $400 per, month your company can quickly implement a solution that protects your company and its customers. As we say at ContactRelief, "It's just smart business."
Contact sales@contactrelief.com for more information.
Get in touch
Shaping your outbound contact away from disaster stricken areas isn't just the right thing to do, it's smart business. To learn more about how ContactRelief can help you protect your brand, reduce your risk of adverse actions, and improve your contact center efficiency, click below to contact us.
Contact us