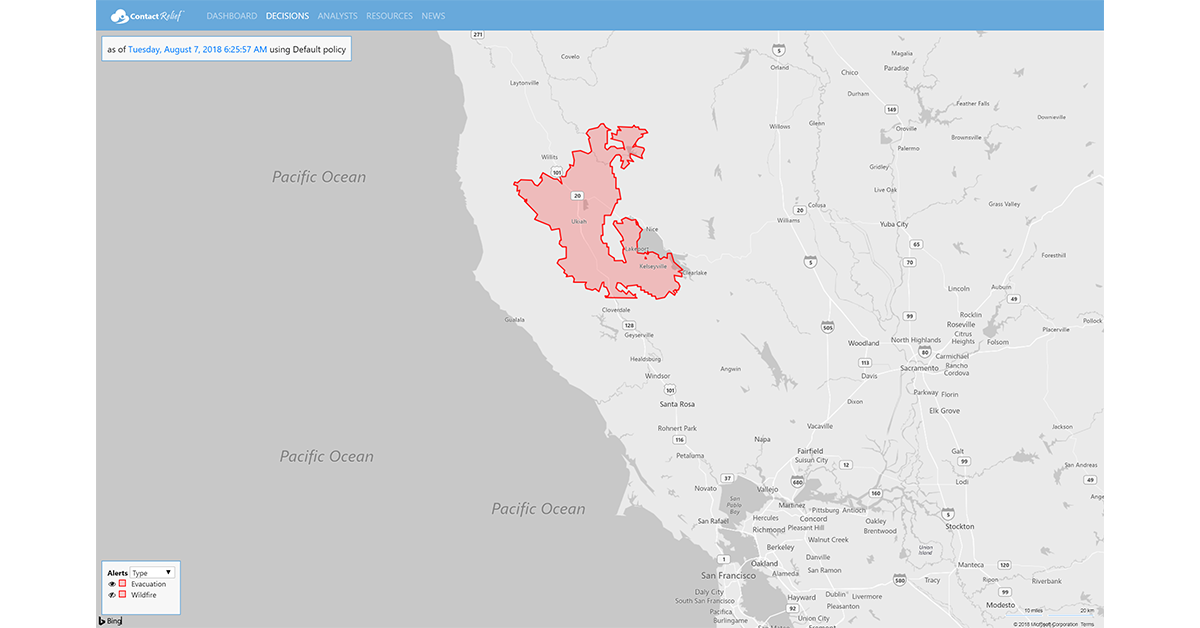 Menocino Complex Wildfire Largest in California History
With 443 square miles burned, surpasses 2017's Thomas Wildfire
Tuesday, August 7, 2018 7:15:00 AM -05:00
Mendocino Complex Wildfire Sets New Record
Northern California's Mendocino Complex fire has become the largest wildfire in Californian history. At 443 square miles, the fire has surpassed last year's previous record holder, the Thomas Fire.
The Mendocino Complex fire is composed of two separate fires burning in Mendocino, Lake, and Colusa counties. The fire has burned over 283,000 acres. Cal-Fire officials report that the fire is only 30% contained and full containment is not expected until next week. The fire threatens over 11,000 structures and has already destroyed over 140 residences and other structures.
Recommendations for Contact Centers
ContactRelief has maintained a recommendation to suspend contact with the areas under evacuation notices since July 29, 2018. We expect this recommendation to remain in place for some time after evacuation notices are lifted and for a longer time in areas where structures were destroyed or damaged due to the fire.
The ContactRelief Disaster Decision Team will continue to monitor the fire and issue additional advisories as warranted.
Don't Delay
The next disaster is on its way. Become a ContactRelief subscriber and keep your company protected from disaster. Our full recommendations consist of the areas to be suspended and the list of zip codes covering these areas. For as little as $400 per, month your company can quickly implement a solution that protects your company and its customers. As we say at ContactRelief, "It's just smart business."
Contact sales@contactrelief.com for more information.