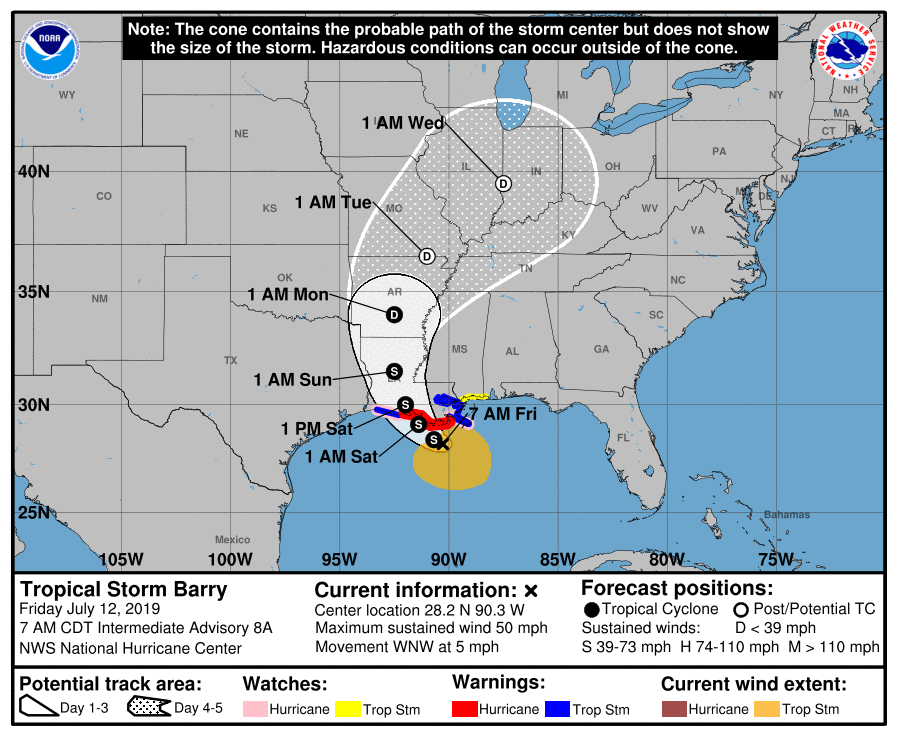 Tropical Storm Barry May Not Become a Hurricane
However, Barry is still a dangerous storm
Friday, July 12, 2019 11:55:21 AM +00:00
Tropical Storm Barry may not become a hurricane as forecasters at the National Hurricane Center now report that Barry does not have the typical presentation of a tropical cyclone on satellite imagery at this time. The cloud pattern consists of a cyclonically curved convective band on the southern semicircle, and the system is devoid of an inner convective core near the center. Barry is an asymmetric storm with most of the tropical-storm-force winds occurring in the eastern semicircle.
Currrent Status
At 700 AM CDT (1200 UTC), the broad circulation center of Tropical Storm Barry was located near latitude 28.2 North, longitude 90.3 West. Barry is moving toward the west-northwest near 5 mph (7 km/h). A track toward the northwest is expected to begin later today, followed by a turn toward the north on Saturday. On the forecast track, the center of Barry will be near or over the central or southeastern coast of Louisiana tonight or Saturday, and then move inland over the Lower Mississippi Valley on Sunday.
Reports from NOAA and Air Force Reserve Hurricane Hunter aircraft indicate that the maximum sustained winds remain near 50 mph (85 km/h) with higher gusts. Although somewhat disorganized, some strengthening is expected during the next day or so, and Barry could become a hurricane tonight or early Saturday when the center is near the Louisiana coast. Weakening is expected after Barry moves inland.
Key Messages
Tropical-storm-force winds extend outward up to 175 miles (280 km) to the east of the center. An United States Geological Survey station near Point a la Hache, Louisiana recently reported sustained winds of 38 mph.
1. There is a danger of life-threatening storm surge inundation along the coast of southern and southeastern Louisiana where a Storm Surge Warning is in effect. The highest storm surge inundation is expected between Intracoastal City and Shell Beach. Residents in these areas should listen to any advice given by local officials.
2. The slow movement of Barry will result in a long duration heavy rainfall and flood threat along the central Gulf Coast and inland through the lower Mississippi Valley through the weekend into early next week. Flash flooding and river flooding will become
increasingly likely, some of which may be significant, especially along and east of the track of the system.
3. Hurricane conditions are expected along a portion of the coast of Louisiana, where a Hurricane Warning has been issued. Residents in these areas should rush their preparations to completion, as tropical storm conditions are expected to arrive in the warning area by Friday morning.
What can ContactRelief do for you?
Are you ready to see how ContactRelief can shape your disaster operations strategy? Schedule your customized demo to see firsthand how ContactRelief can reduce your workload, protect your brand and improve your contact efficiency.