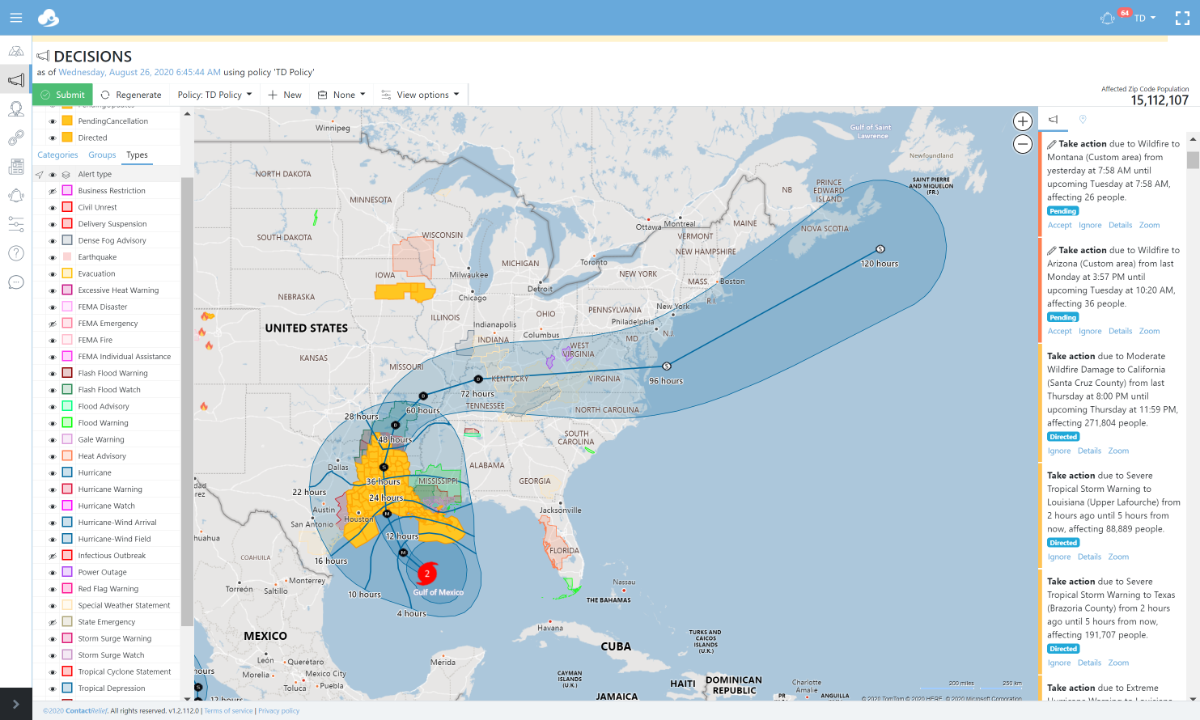 Hurricane Laura to become a Dangerous Category 4 Hurricane
Tropical Storm force winds extend 175 miles out from the eye of the storm
Wednesday, August 26, 2020 11:59:21 AM +00:00
Hurricane Laura is expected to rapidly intensify to Category 4 strength. Laura will pack winds exceeding 130 mph and bring 5-10 inches of rainfall to areas to Texas and Louisiana. In some areas along the Texas-Louisiana border, Laura may dump up to 15 inches of rain leading to severe flooding. Laura has a large wind field with hurricane force winds out to 75 miles from the center of the storm and tropical winds out to 175 miles. The National Hurricane Center warns that Laura will produce a dangerous storm surge that may extend up to 30 miles inland along coastal waterways.
Hurricane Laura is forecast to make landfall early Thursday morning.
Hurricane Laura Threatens Texas and Louisiana as a Potential Category 4 Hurricane
Key Messages as of 2020-08-26 from the National Hurricane Center for Hurricane Laura include:
1. Life-threatening storm surge with large and dangerous waves is expected to produce potentially catastrophic damage from San Luis Pass, Texas, to the Mouth of the Mississippi River, including areas inside the Port Arthur Hurricane Flood Protection system. This surge could penetrate up to 30 miles inland from the immediate coastline in southwestern Louisiana and southeastern Texas. Actions to protect life and property should be rushed to completion as water levels will begin to rise later today.
2. Hurricane-force winds are expected tonight in the warning area from San Luis Pass, Texas, to west of Morgan City, Louisiana, and the strongest winds associated with Laura's eyewall will occur somewhere within this area. Hurricane-force winds and widespread damaging wind gusts are also expected to spread well inland into portions of eastern Texas and western Louisiana early Thursday.
3. Widespread flash flooding along small streams, urban areas, and roadways is expected to begin this afternoon into Thursday from far eastern Texas, across Louisiana and Arkansas. This will also lead to minor to isolated moderate freshwater river flooding. The heavy rainfall threat and localized flash and urban flooding potential will spread northeastward into the middle-Mississippi, lower Ohio and Tennessee Valleys Friday night and Saturday.
Storms tracks may change so stay tuned
Companies with interests along in Texas and Louisiana should pay special attention.
Recommendations for Contact Centers
ContactRelief has issued Tropical Weather Strategy alerts and recommendations for the affected areas. Contact centers should monitor the forecast track, wind field size, and arrival time of tropical force winds in the ContactRelief Command Center and take action if there is any deviation of either storm's forecasted track. Any impact of a hurricane can be catastrophic but doubly so when the hurricane has high intensity and a large wind field like Hurricane Laura.
The ContactRelief Disaster Decision Team will continue to monitor the storm's development and issue additional advisories as warranted.
Don't Delay
The next disaster is on its way. Become a ContactRelief subscriber and keep your company protected from disaster. Our full recommendations consist of the areas impacted and the associated Zip Codes. For as little as $750 per month your company can quickly implement a solution that protects your company and its customers. As we say at ContactRelief, "It's just smart business."
Contact sales@contactrelief.com for more information.