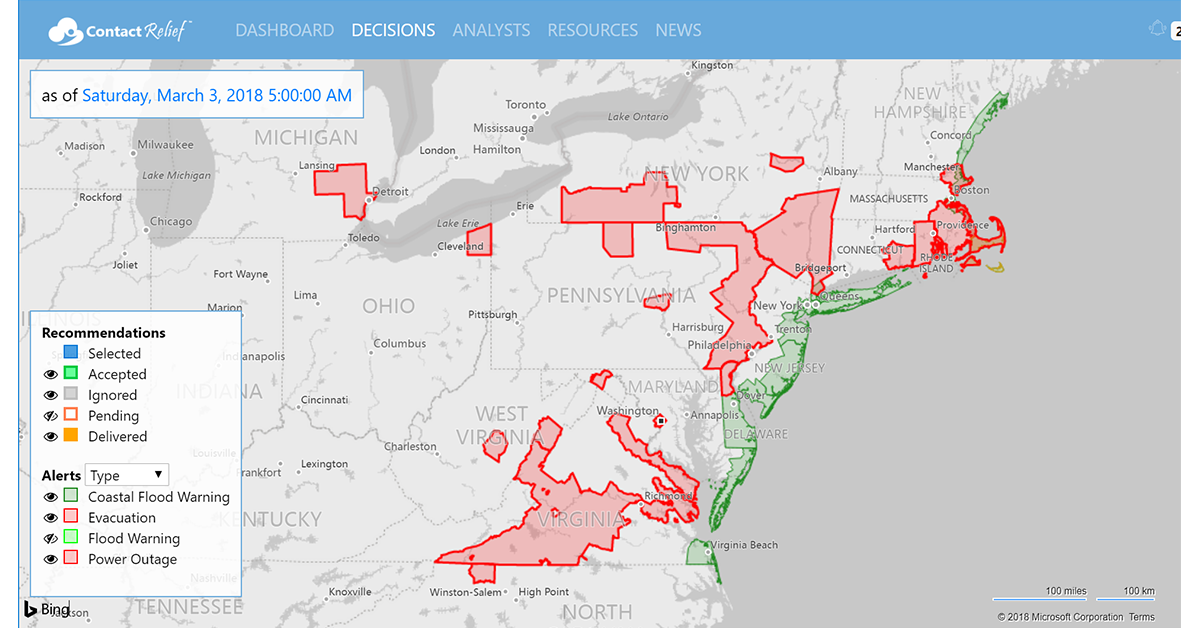 ContactRelief Recommendations for Winter Storm Riley
Powerful nor'easter kills 5, power out for up to 1.1 million customers
Saturday, March 3, 2018 5:00:00 AM -06:00
ContactRelief Recommendations for Contact Centers
ContactRelief is making public recommendations made to subscribers March 2nd, 2018 and updated today. ContactRelief recommends suspending contact with consumers affected by Winter Storm Riley. To obtain the full list of suspended regions and associated zip codes, become a ContactRelief subscriber.
Winter Storm Riley causes deaths, flooding, and massive power outages
Winter Storm Riley hit with full force Friday killing five, flooding coastal areas, and causing massive power outages. Hardest hit is Massachusetts where coastal flooding forced the Governor to issue evacuation orders and call out the National Guard on Friday. The Massachusetts Emergency Management Agency reports that "Significant power outages continue, and some areas could be without power for an extended period of time given the high winds." Forecasters expect the storm to move through the area Saturday with winds subsiding during the afternoon and evening hours. However, mid-day high tides may bring additional flooding. Power is currently out for 1.1 million customers in Massachusetts, Pennsylvania, New York, Virginia, and Maryland.
ContactRelief is monitoring area. On Friday we issued recommendations to our subscribers to suspend contact with customers under evacuation orders and where significant power outages exist. We expect to maintain these recommendations today, and recommend contact resumption when power is restored for areas without flood damage.
To obtain the list of zip codes suspended as a result of this event, become a ContactRelief subscriber.
Don't Delay
The next disaster is on its way. Become a ContactRelief subscriber and keep your company protected from disaster. Our full recommendations consist of the areas to be suspended and the list of zip codes covering these areas. For as little as $300 per, month your company can quickly implement a solution that protects your company and its customers. As we say at ContactRelief, "It's just smart business."
Contact sales@contactrelief.com for more information.
Protect your brand AND revenue when disaster strikes.
Try ContactRelief FREE for 30 days. Discover how we can help you reach up to 5x more customers in a disaster zone – while protecting your brand image.
Buy now - save 10%