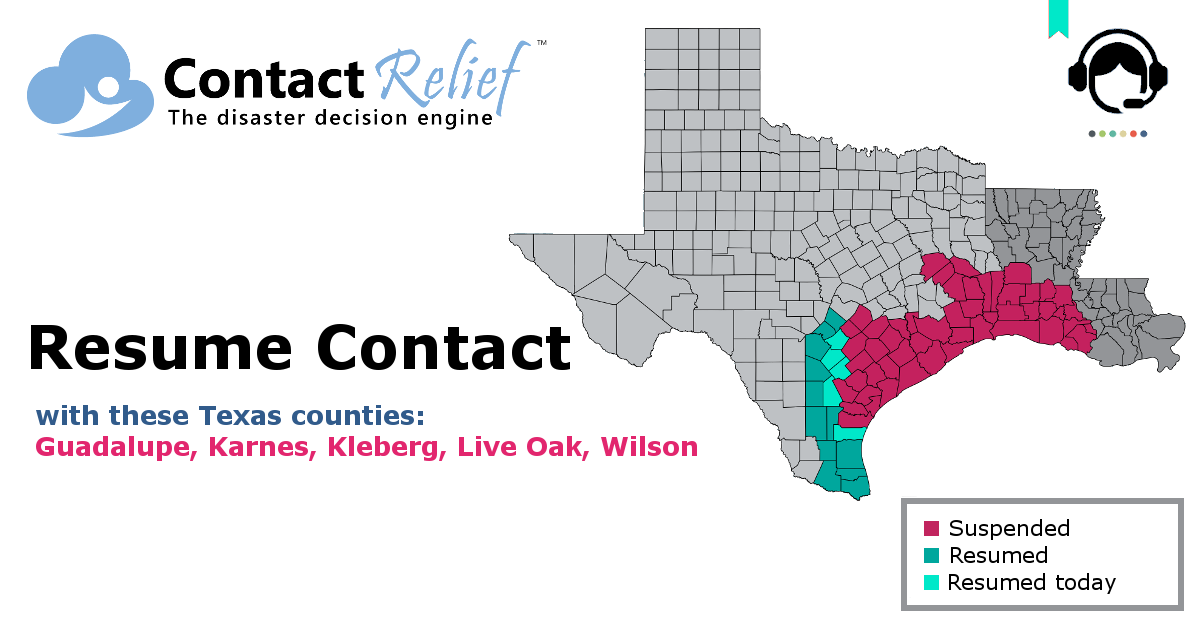 ContactRelief Recommends Resuming Contact in Some Southwestern Texas Counties
Contact resumption recommended for some southwestern Texas counties that escaped the catastrophic devastation caused by Hurricane Harvey.
Tuesday, August 29, 2017 12:00:00 PM -05:00
ContactRelief is making public a recommendation made to subscribers on Tuesday, August 29th, to resume contact with consumers in certain southwestern Texas counties that escaped the catastrophic devastation of Hurricane Harvey. Contact should be resumed for these Texas counties: Guadalupe, Karnes, Kleberg, Live Oak, Wilson.
Harvey, now over open water, continues its slow north-eastward movement. While Harvey continues to dump catastrophic rainfall over southeastern Texas and Louisiana, its eastward movement is welcome news for counties to the west, including those listed here.
ContactRelief has evaluated the conditions in these counties. Basic services are functioning. Power has been restored in most areas. These counties largely escaped the devastation of areas to the southeast. We recommend that you resume contact in these areas.
Are you prepared for the next disaster?
Disasters can strike at a moment's notice. That's why, at ContactRelief, we provide round the clock disaster monitoring to keep your operations ahead of disasters. With timely, comprehensive recommendations that are accurate to the ZIP code, ContactRelief ensures you focus less on the disaster, and more on your operations.
Contact sales@contactrelief.com for more information.