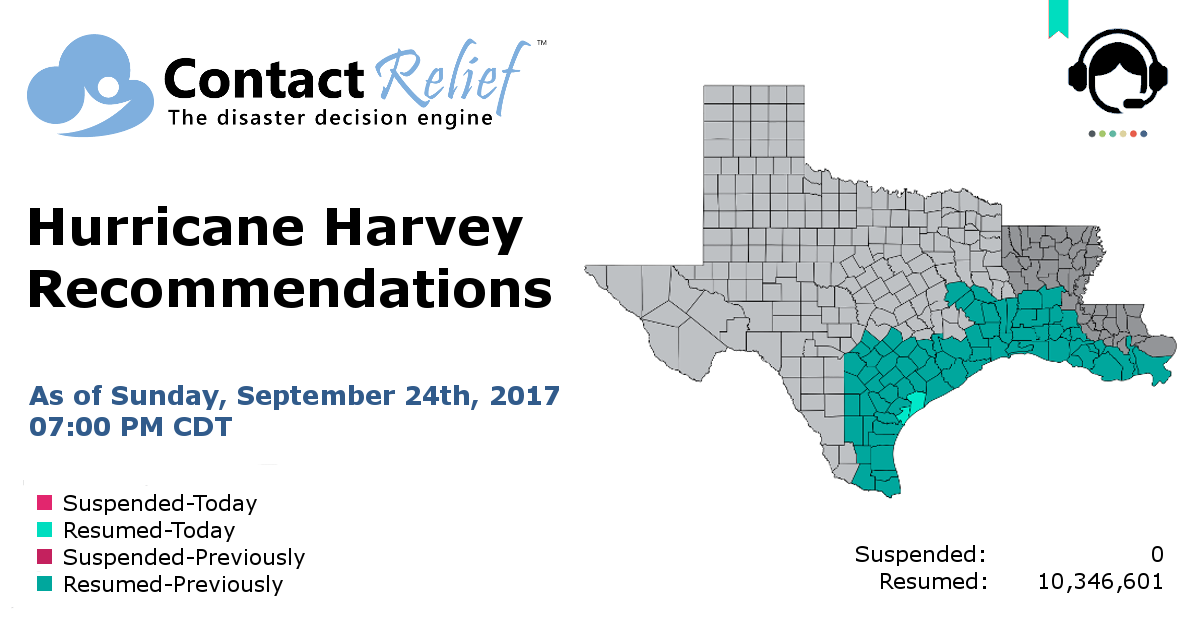 ContactRelief Hurricane Harvey Recommendations for Contact Centers
ContactRelief is recommending resumption of contact with all Texas counties affected by Hurricane Harvey.
Monday, September 25, 2017 8:45:00 AM -05:00
ContactRelief is making public its Hurricane Harvey recommendations made to subscribers Sunday, September 24th.
Harvey Recovery Update
ContactRelief is recommending resumption of contact with additional Texas counties. It has been 30 days since Harvey struck the Texas coast near Rockport, Texas, 30 miles northeast of Corpus Christi, Texas. ContactRelief first recommended suspension of contact with south Texas counties on August 24th for what was then a tropical storm brewing in the Gulf of Mexico.
Harvey quickly intensified over the next 48 hours into a Category 4 storm unlike any seen before. The storm struck the Texas coast hard, not only around Rockport but over the next five days up the Texas coast and into Louisiana. As the storm stalled inland, reversed course, and reemerged over open water, ContactRelief recommended suspending contact with additional counties along the Gulf coast stretching as far as New Orleans, Louisiana.
Harvey set a record for the shear amount of rain dumped on Texas, exceeding 51 inches in some places and in Liberty, Texas setting an all-time record with what the National Weather Service now says was 55 inches of precipitation. That rainfall caused severe flooding over a large area including the highly populated Houston metroplex. The flooding continued for weeks after as rivers, swollen by the heavy downpour, overflowed their banks. ContactRelief retained a recommendation to suspend contact with the Houston and Beaumont areas until September 12th, more than two weeks after flooding began in the area.
In terms of economic damage, Houston was, because of its large population, our central focus. However, the storm had a severe impact at its initial landfall site in Aransas and Calhoun counties where it caused devasting wind and flood damage to Rockport, Texas and the surrounding cities. For that reason, ContactRelief maintained a recommendation to suspend contact with these counties for 30 days after Harvey made landfall.
Today we lift that recommendation. ContactRelief is recommending resumption of contact with all Texas counties. We recognize that this is only a recommendation, and our subscribers have and will make their own judgments about when to have resumed contact. We hope that our recommendations and our willingness to provide this information as a service to the contact center community have been helpful in making these decisions. We urge all to recognize that the road to full recovery will be a long one. Business can play a part in that recovery by implementing special programs for Harvey affected customers and using skills-based routing to ensure that these programs reach these customers. In doing so, you will not only help the customer but protect and promote your brand image by actively demonstrating your committment to the customer experience. As we say at ContactRelief, "It's just smart business!"
Recommendations
Contact should be resumed with Texas counties: Aransas, Calhoun.
There are no previous recommendations to suspend contact in effect.
ContactRelief's On-going Response to Hurricanes Harvey, Irma, Jose, and Maria
ContactRelief has offered recommendations to contact centers without charge over the course of these events. While hurricanes are an important issue, there have been and will continue to be new events over the coming seasons that impact your customers and your ability to reach and influence those customers. If you have not already done so, we urge you to subscribe to our service today as we believe it is the most comprehensive and affordable service for contact centers available and the only one focusing on the needs of contact centers. To become a subscriber, contact sales@contactrelief.com.