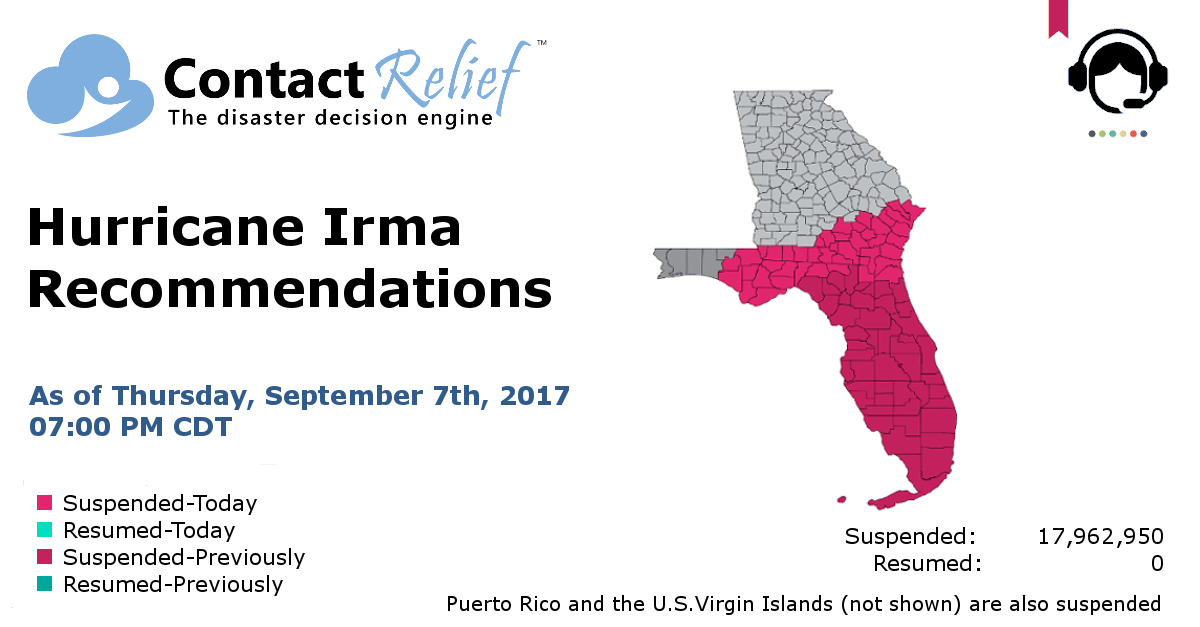 ContactRelief Hurricane Irma Recommendations For Contact Centers
ContactRelief recommends suspending contact with consumers in additional Florida and Georgia counties as Hurricane Irma approaches.
Thursday, September 7, 2017 7:00:00 PM -05:00
ContactRelief is making public its Hurricane Irma recommendations made to subscribers Thursday, September 7th, to suspend contact with consumers in additional Florida and Georgia counties.
Tropical Storm force winds are expected to hit the southern Georgia border around 8 PM Sunday. Hurricane force winds will not be far behind a powerful storm such as Irma. ContactRelief recommends suspending contact to consumers 72 hours before landfall of a Category 5 hurricane. Suspending contact allows consumers in the affected region to focus on preparing for the advancing storm while protecting and promoting your brand image, reducing the risk of adverse actions, and improving your contact efficiency by focusing on consumers in other areas who are receptive to your message.
Contact should be suspended to the following Florida counties: Bay, Calhoun, Duval, Franklin, Gadsden, Gulf, Hamilton, Jackson, Jefferson, Leon, Liberty, NewBaker.
Contact should be suspended to the following Georgia counties: Appling, Atkinson, Bacon, Berrien, Brantley, Brooks, Bryan, Camden, Charlton, Chatham, Clinch, Coffee, Cook, Decatur, Echols, Glynn, Grady, Lanier, Liberty, Long, Lowndes, McIntosh, Pierce, Seminole, Thomas, Ware, Wayne.
A previous recommendation to suspend contact remains in force for Florida counties: Alachua, Bradford, Brevard, Broward, Charlotte, Citrus, Clay, Collier, Columbia, DeSoto, Dixie, Flagler, Gilchrist, Glades, Hardee, Hendry, Hernando, Highlands, Hillsborough, Indian River, Lafayette, Lake, Lee, Levy, Manatee, Marion, Martin, Miami-Dade, Monroe, Okeechobee, Orange, Osceola, Palm Beach, Pasco, Pinellas, Polk, Putnam, Sarasota, Seminole, St. Johns, St. Lucie, Sumter, Suwannee, Taylor, Union, Volusia.
ContactRelief's On-going Response to Hurricane Irma
For a limited time, ContactRelief is providing our full recommendations without charge as a service to the business community. Our full recommendations consist of the areas to be suspended and the list of zip codes covering these areas. Contact sales@contactrelief.com for more information.
Weather alerts, emergencies, and breaking news are monitored around the clock. The Disaster Decision Engine applies your rules to help you decide when to take action for your consumers. Your recommendations are sent to your contact centers and partners with ZIP Code granularity.