ContactRelief Hurricane Irma Recommendations For Contact Centers
ContactRelief recommends resuming contact with certain Florida counties and all areas of Georgia and South Carolina.
Monday, September 18, 2017 7:00:00 AM -05:00
ContactRelief is making public its Hurricane Irma recommendations made to subscribers Sunday, September 17th.
Irma Recovery Update
Florida residents began returning to the Flordia Keys, Sunday, September 17th, one week after Category 3 Hurricane Irma made the Keys the target of its initial landfall. Officials estimate that 25% of the homes in the lower Florida Keys suffered damage. Although power has not been fully restored, other basic services such as water and sewage are functioning. However, residents returning home may find life difficult given the damage to their homes.
With the last of the evacuated areas now open for return, we enter into a new phase of ContactRelief's Irma response. We initially recommended suspension of contact with most Florida counties on September 5th, more than 72 hours before landfall. We made this well-timed decision because Florida consumers needed sufficient time to prepare for powerful Hurricane Irma, then rated a Category 5 storm with near record wind speeds.
In fact, evacuations from the Florida Keys began the same day. Across the state, residents began to prepare for voluntary evacuations or sheltering out the storm in place. Additional mandatory evacuations were issued for areas thought to be in danger from what was expected to be a strong storm surge. The net result was that by September 7th, a large percentage of Florida residents were either in transit moving away from the expected storm path or completely focused on storm preparations.
Although the storm made landfall as a Category 3 and not Category 5 storm, it did significant damage across the state with some observers stating that the damage would exceed that from 2016's Hurricane Matthew. Already, consumers have filed over 500,000 requests for individual assistance from FEMA indicating likely damage to their homes.
Although each area is different, the damage from Irma will largely be storm surge and wind-related damage, although certain areas did have significant flooding during and after the storm. In response, FEMA has deployed the U.S. Army Corps of Engineers in "Operation Blue Roof". This program provides large blue tarps to cover damaged roofs until repairs can be made. Operation Blue roof is currently deployed to Broward, Charlotte, Collier, DeSoto, Glades, Hardee, Hendry, Highlands, Hillsborough, Lee, Manatee, Miami-Dade, Monroe, Palm Beach, Pinellas, Polk, and Sarasota counties.
Resumption Criteria
At ContactRelief, we want to help each client make the best decisions possible given its relationship with the consumer and desired risk profile. We recognize that while all our clients are focused on the customer experience, no single path is appropriate for all, with some clients resuming contact this week and others not making this decision for months. Whenever the decision, we encourage all clients when resuming contact to use our data to enable skills based routing so that customers affected by Hurricane Irma can be handled appropriately.
The criteria we are using at this stage of the recovery process includes:
There are no active evacuations orders.
There are no large inaccessable areas.
The area did not receive hurricane force winds.
The storm surge was not significant.
The area received less than 10 inches of rain or there was no widespread flooding.
There is no widespread river flooding.
Emergency services such as police, fire, and ambulance are functioning.
Basic services such as power, water, and sewage are functioning.
Essential retail goods are available with most large retailers open.
Government offices are open.
Less than 5% of customers are without power.
Schools have reopened.
We use data from the National Weather Service and private meteorological consulting firms to determine the wind history on a county by county basis.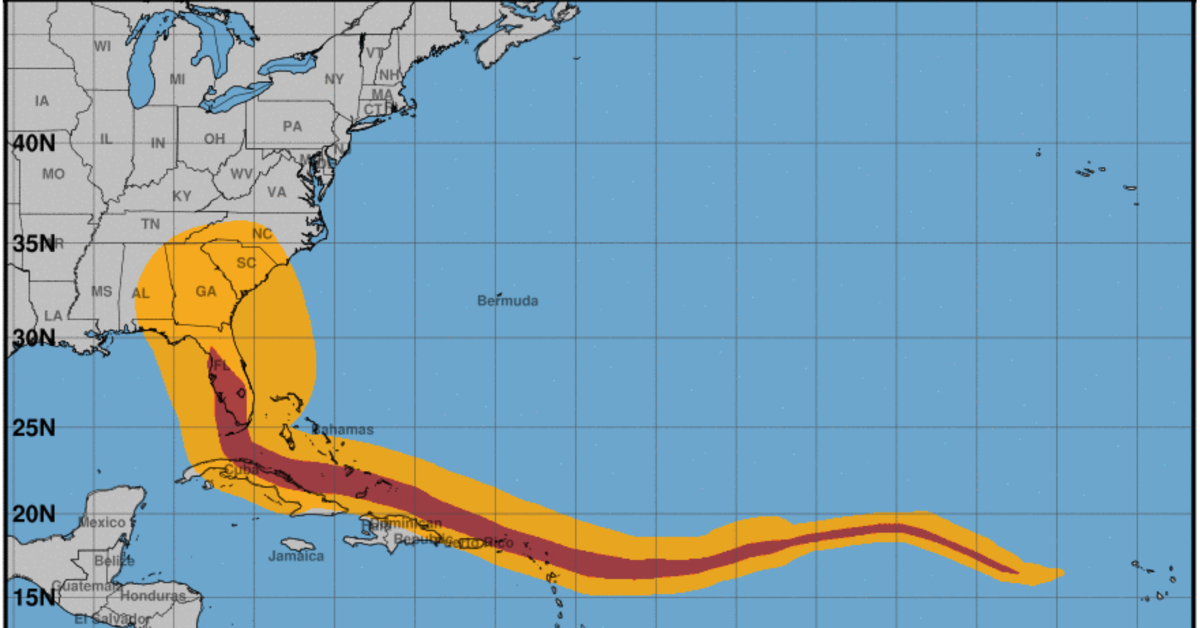 ContactRelief monitors the availability of package delivery services such as FedEx, UPS, and the U.S. Postal Service with each area. When these services suspend package delivery, it often indicates that the area is inaccessible due to flooding or other conditions. Package delivery has been resumed in all areas of the Hurricane Irma impact zone.
While over 400,000 customers are still without power, power has been restored in most areas as shown below.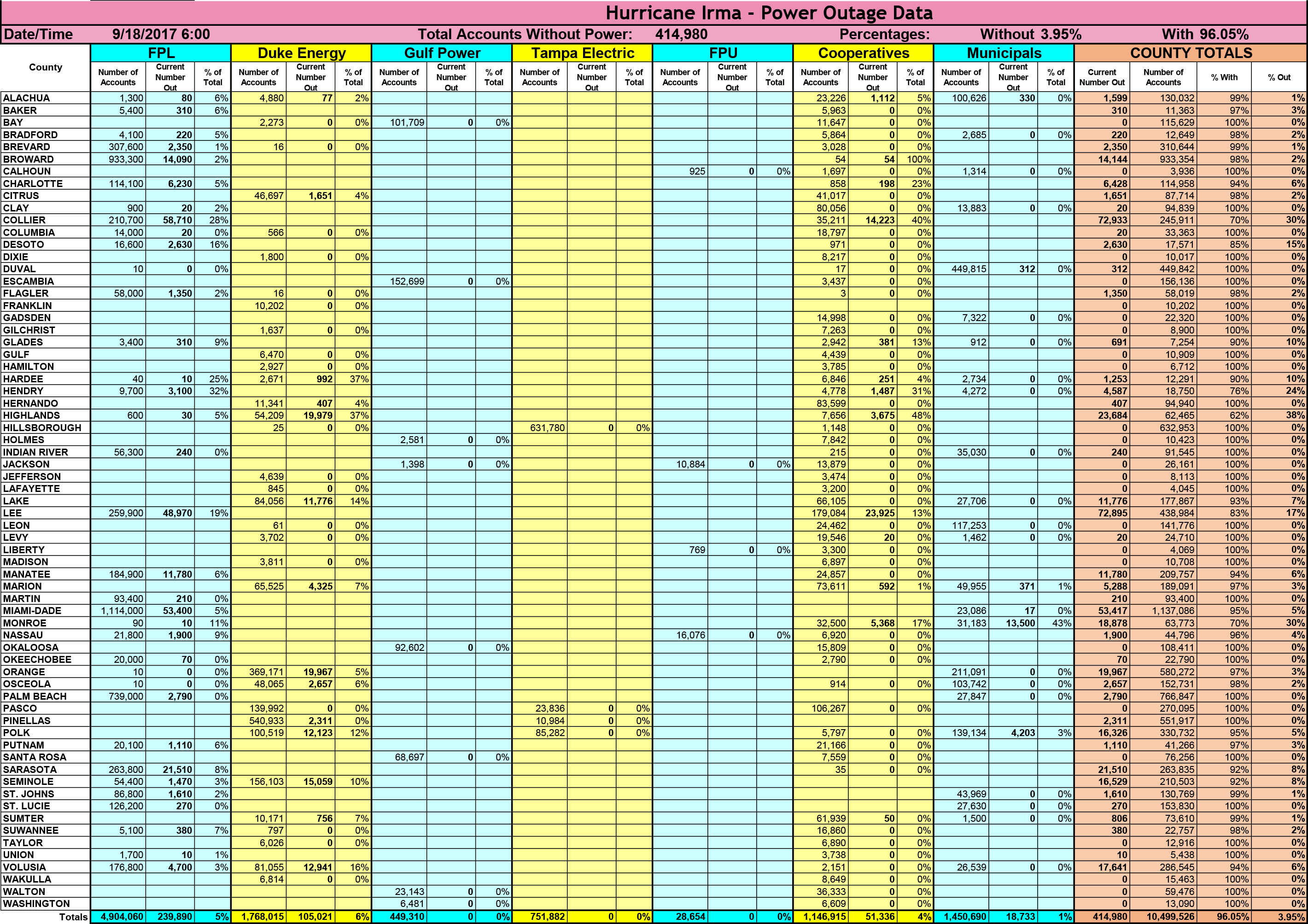 As we noted in our recommendations made Friday, September 15, schools are reopening in most parts of Florida today, Monday, September 18. The reopening of schools is a significant step that indicates a return to normalcy for many areas and a start towards recovery for others. We recommended resuming contact for 13 Florida counties and all areas of Georgia and South Carolina today, and we expect to make additional recommendations to resume contact for many areas this week. As we make recommendations to resume contact with certain counties, we will keep certain zip codes within the county suspended if they do not meet our then current criteria. To get this list of zip codes, you will need to subscribe to the ContactRelief Disaster Decision Engine service. For more details, see the information below.
Recommendations
Contact should be resumed for previously suspended zip codes in Georgia and South Carolina.
Contact should be resumed in Florida counties: Clay, Columbia, Franklin, Gadsden, Hamilton, Jefferson, Leon, Liberty, Madison, Suwannee, Taylor, Union, Wakulla.
A previous recommendation to resume contact remains in effect for Florida counties: Bay, Calhoun, Escambia, Gulf, Holmes, Jackson, Okaloosa, Santa Rosa, Walton, Washington.
A previous recommendation to suspend contact remains in effect for Florida counties: Alachua, Baker`, Bradford, Brevard, Broward, Charlotte, Citrus, Collier, DeSoto, Dixie, Duval, Flagler, Gilchrist, Glades, Hardee, Hendry, Hernando, Highlands, Hillsborough, Indian River, Lafayette, Lake, Lee, Levy, Manatee, Marion, Martin, Miami-Dade, Monroe, Nassau, Okeechobee, Orange, Osceola, Palm Beach, Pasco, Pinellas, Polk, Putnam, Sarasota, Seminole, St. Johns, St. Lucie, Sumter, Volusia.
A previous recommendation to suspend contact with Puerto Rico and the U.S. Virgin Islands remains in effect.
To obtain the list of zip codes that should remain suspended, see the information below.
ContactRelief's On-going Response to Hurricane Irma
For a limited time, ContactRelief is providing our full recommendations without charge as a service to the business community. Our full recommendations consist of the areas to be suspended and the list of zip codes covering these areas. Contact sales@contactrelief.com for more information.
Get in touch
Shaping your outbound contact away from disaster stricken areas isn't just the right thing to do, it's smart business. To learn more about how ContactRelief can help you protect your brand, reduce your risk of adverse actions, and improve your contact center efficiency, click below to contact us.
Contact us