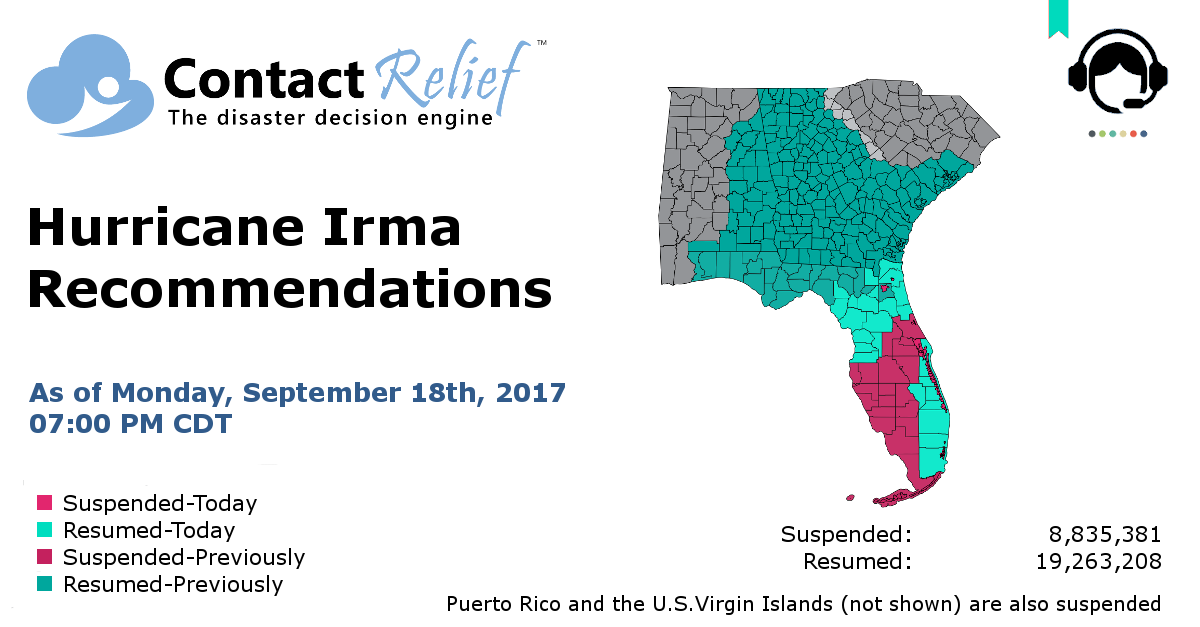 ContactRelief Hurricane Irma Recommendations For Contact Centers
ContactRelief recommends resuming contact with many additional Florida counties except for specified zip codes.
Tuesday, September 19, 2017 7:00:00 AM -05:00
ContactRelief is making public its Hurricane Irma recommendations made to subscribers Monday, September 18th.
Irma Recovery Update
Public schools opened yesterday, September 18th, across much of the state. More school systems are expected to open today and tomorrow indicating a return to everyday life for much of the state. Most of the state has power fully restored. However, six counties still have power outages in excess of 5%, two in excess of 20%. Even at this early stage, over 300,000 insurance claims and over 500,000 claims for FEMA individual assistance have been filed. River flooding remains a concern. However, the number of rivers in flood stage continues to diminish.
We continue to recommend suspension of contact with Puerto Rico and the U.S. Virgin Islands and note that both are in the current path of Category 5 Hurricane Maria.
We have issued seperate recommendations available only to ContactRelief subscribers for Hurricane Jose, currently affecting the northeastern seaboard of the United States, and Hurricane Maria. To obtain these recommendations and the full list of suspended zip codes for Hurricane Irma, contact sales@contactrelief.com for more information.
Resumption Criteria
ContactRelief assessed damaged in each county using insurance claim data and news reports during and after the storm. We also considered the public assistance programs deployed around the state. This evaluation augments our previous resumption criteria we published yesterday.
We are recommending resumed contact with counties on the southeastern coastline including Miami-Dade county. However, because of flooding in the Miami and Fort Lauderdale areas, we have excluded certain zip codes. The western portions of the county and counties to the north largely consist of Everglade dominated areas. Because these areas are not heavily populated, we are not recommending zip code suspensions in these areas. However, we are recommending suspension for zip codes along the eastern coastline north and south of Daytona Beach and in the Jacksonville area, again due to numerous reports of flooding.
We continue to maintain suspension of counties in the direct path of the storm where damage estimates as evidenced by insurance claim filings are high per capita and/or FEMA has deployed significant relief efforts. For other counties in the path of the storm but with low damage estimates, we are recommending resumption of contact.
At ContactRelief, we want to help each client make the best decisions possible given its relationship with the consumer and desired risk profile. We recognize that while all our clients are focused on the customer experience, no single path is appropriate for all, with some clients resuming contact this week and others not making this decision for months. Whenever the decision, we encourage all clients when resuming contact to use our data to enable skills based routing so that customers affected by Hurricane Irma can be handled appropriately.
The criteria we are using at this stage of the recovery process includes:
There are no active evacuations orders.
There are no large inaccessible areas.
The area did not receive hurricane force winds or if it did the damage was not excessive.
The storm surge was not significant.
The area received less than 10 inches of rain or there was no widespread flooding.
There is no widespread river flooding.
Emergency services such as police, fire, and ambulance are functioning.
Basic services such as power, water, and sewage are functioning.
Essential retail goods are available with most large retailers open.
Government offices are open.
Less than 5% of customers are without power.
Schools have reopened.
Recommendations
Contact should be resumed in Florida counties (except specified zip codes): Alachua, Baker, Bradford, Brevard, Broward, Citrus, Dixie, Duval, Flagler, Gilchrist, Hernando, Indian River, Lafayette, Levy, Marion, Martin, Miami-Dade, Nassau, Okeechobee, Palm Beach, Pasco, Putnam, St. Johns, St. Lucie, Sumter.
A previous recommendation to resume contact remains in effect for Florida counties: Bay, Calhoun, Clay, Columbia, Escambia, Franklin, Gadsden, Gulf, Hamilton, Holmes, Jackson, Jefferson, Leon, Liberty, Madison, Okaloosa, Santa Rosa, Suwannee, Taylor, Union, Wakulla, Walton, Washington.
A previous recommendation to suspend contact remains in effect for Florida counties: Charlotte, Collier, DeSoto, Glades, Hardee, Hendry, Highlands, Hillsborough, Lake, Lee, Manatee, Monroe, Orange, Osceola, Pinellas, Polk, Sarasota, Seminole, Volusia.
A previous recommendation to suspend contact with Puerto Rico and the U.S. Virgin Islands remains in effect.
To obtain the list of zip codes that should remain suspended, see the information below.
ContactRelief's On-going Response to Hurricane Irma
For a limited time, ContactRelief is providing our full recommendations without charge as a service to the business community. Our full recommendations consist of the areas to be suspended and the list of zip codes covering these areas. Contact sales@contactrelief.com for more information.
Get in touch
Shaping your outbound contact away from disaster stricken areas isn't just the right thing to do, it's smart business. To learn more about how ContactRelief can help you protect your brand, reduce your risk of adverse actions, and improve your contact center efficiency, click below to contact us.
Contact us