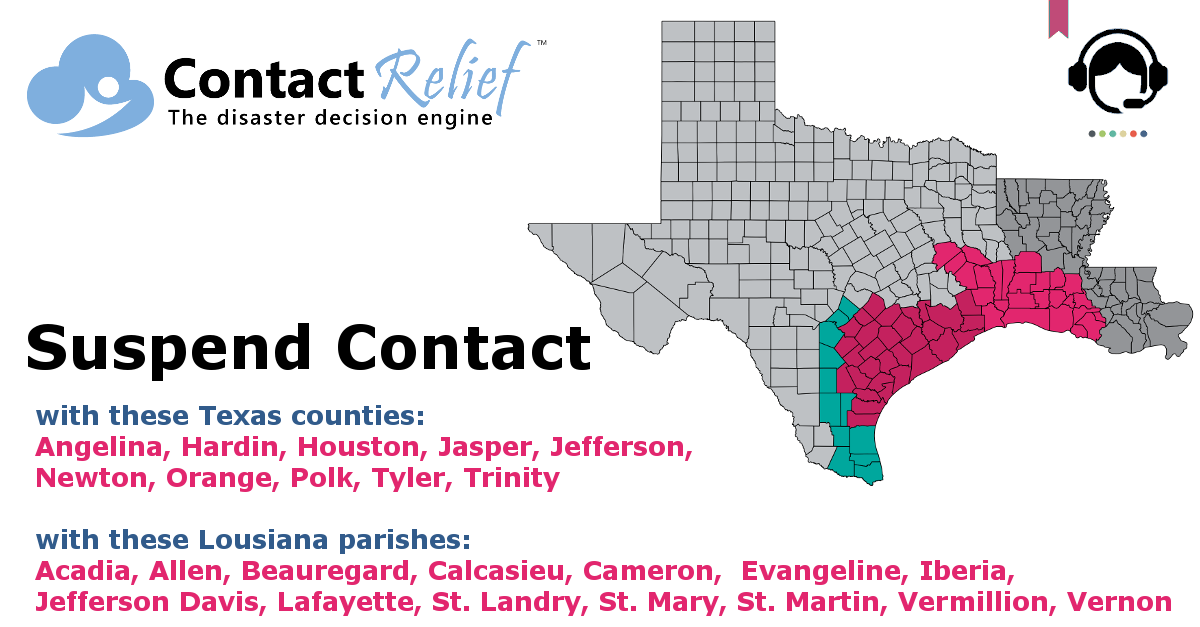 ContactRelief Recommends Suspending Contact for Southeastern Texas and Southwestern Louisiana
Contact suspension recommended for parishes in southwestern Louisiana and counties in southeastern Texas as a result of continued rainfall and flooding conditions from Tropical Storm Harvey.
Monday, August 28, 2017 1:00:00 PM -05:00
ContactRelief is making public a recommendation made to subscribers on Saturday, August 27th, to suspend contact with consumers in southwestern Louisiana and additional counties in southeastern Texas. Contact should be suspended for these Louisiana parishes: Acadia, Allen, Beauregard, Calcasieu, Cameron, Evangeline, Iberia, Jefferson Davis, Lafayette, St. Landry, St. Mary, St. Martin, Vermillion, Vernon. Contact should also be suspended for these Texas counties: Angelina, Hardin, Houston, Jasper, Jefferson, Newton, Orange, Polk, Tyler, Trinity.
Significant rain continues to fall leading to flooding conditions over large parts of Texas and Lousiana. Approximately 1.4 million people are included in the new contact suspension recommendations.
ContactRelief recently recommended resuming contact with areas on the western region of the Harvey impact zone. These areas are shown in green in the accompanying graphic. Other than these areas, ContactRelief's existing recommendations to suspend contact in and west of Houston remains in place until further notice.
Weather alerts, emergencies, and breaking news are monitored around the clock. The Disaster Decision Engine applies your rules to help you decide when to take action for your consumers. Your recommendations are sent to your contact centers and partners with ZIP Code granularity.