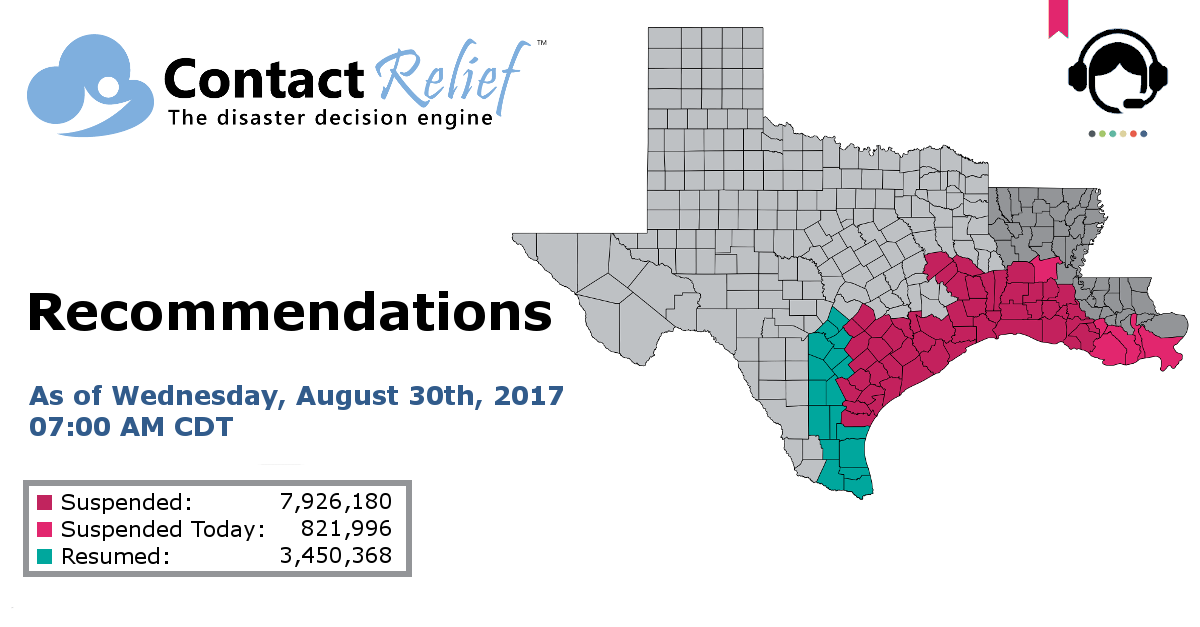 ContactRelief Recommends Contact Suspension for Additional Parts of Louisiana
Additional counties in Louisiana should be suspended as Harvey makes second landfall near Cameron, Louisiana.
Wednesday, August 30, 2017 11:00:00 AM -05:00
ContactRelief is making public a recommendation made to subscribers Tuesday, August 29th, to suspend contact with consumers in additional parishes in Louisiana as a result of Tropical Storm Harvey. Contact should now be suspended for Louisiana parishes: Assumption, Jefferson, Lafourche, Plaquemines, Rapides, and Terrebonne.
Tropical Storm Warnings, Storm Surge Warnings, and Flood Warnings were issued for part of Louisiana as Harvey made landfall for the second time early Wednesday morning just west of Cameron, Lousiana. Harvey is expected to produce an additional 3 to 6 inches of rain with up to 10 inches expected in isolated areas as it moves through Louisiana today.
A previous recommendation to suspended contact remains in force for Louisiana parishes: Acadia, Allen, Beauregard, Calcasieu, Cameron, Evangeline, Iberia, Jefferson Davis, Lafayette, St. Landry, St. Martin, St. Mary, Vermilion, and Vernon.
A previous recommendation to suspended contact remains in force for Texas counties: Angelina, Aransas, Austin, Bastrop, Bee, Brazoria, Caldwell, Calhoun, Chambers, Colorado, DeWitt, Fayette, Fort Bend, Galveston, Goliad, Gonzales, Hardin, Harris, Houston, Jackson, Jasper, Jefferson, Lavaca, Liberty, Matagorda, Newton, Nueces, Orange, Polk, Refugio, San Patricio, Trinity, Tyler, Victoria, Waller, and Wharton.
A previous recommendation to resume contact remains in force for Texas counties: Atascosa, Bexar, Brooks, Cameron, Comal, Duval, Guadalupe, Hays, Hidalgo, Jim Wells, Karnes, Kenedy, Kleberg, Live Oak, McMullen, Willacy, and Wilson.
Are you prepared for the next disaster?
Disasters can strike at a moment's notice. That's why, at ContactRelief, we provide round the clock disaster monitoring to keep your operations ahead of disasters. With timely, comprehensive recommendations that are accurate to the ZIP code, ContactRelief ensures you focus less on the disaster, and more on your operations.
Contact sales@contactrelief.com for more information.