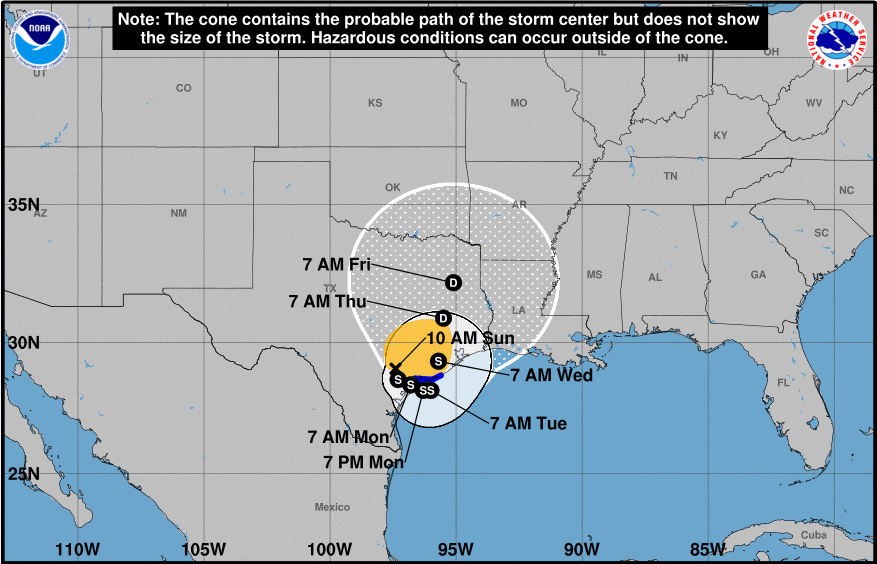 Harvey May Find Open Water - Houston Already Has
National Hurricane Center says "catastrophic and life-threatening flooding is occurring in southeastern Texas" as Harvey turns towards coast.
Sunday, August 27, 2017 1:00:00 PM -05:00
Tropical Storm Harvey continues it slow crawl back to the Texas coast as torrential rains pummel Southeastern Texas. NWS radars show that outer bands of the storm continue to develop over the northwestern Gulf of Mexico and train over the Galveston/Houston metroplex resulting in historic flooding in and around downtown Houston and over the greater Houston area. Rainfall amounts of more that than 20-25 inches have already been reported and additional rainfall amounts of 15 to 25 inches are expected over the next few days. NOAA's Weather Prediction Center is now forecasting isolated storm total amounts of 50 inches. These historic rainfall amounts will cause catastrophic flooding and test the city's ability to protect it citizens. Houston's Emergency Operations Center has urged motorists to avoid traveling in the current conditions as high water exists along and even on major roadways.
The latest storm track shows Harvey moving slowly southeastward for the next 24 to 36 hours. The storm's center is expected to move very close to the coast, or even offshore between 24 and 48 hours from now. If so, there is a chance the storm will strengthen. After that time, the National Hurricane Center (NHC) expects Harvey to make a turn north taking it inland over eastern Texas. Because the storm may likely reform over water, the NHC says it is maintaining Harvey as a Tropical Storm for the next 72 hours even though the strongest winds may only occur over water.
It will take several more days before Harvey dissipates and the area can begin to fully recover, a process that is expected to take may weeks if not months. The ContactRelief Disaster Decision Engine team is monitoring the flooding and power outages in Houston and over the entire region. As of 12 PM Sunday, approximately 265,000 people were without power. Our recommendation to suspend contact with consumers in the affected regions remains in force. Additional counties were added last night via @ContactRelief As the storm moves we will update our recommendations to cover newly impacted areas.
Get in touch
Shaping your outbound contact away from disaster stricken areas isn't just the right thing to do, it's smart business. To learn more about how ContactRelief can help you protect your brand, reduce your risk of adverse actions, and improve your contact center efficiency, click below to contact us.
Contact us