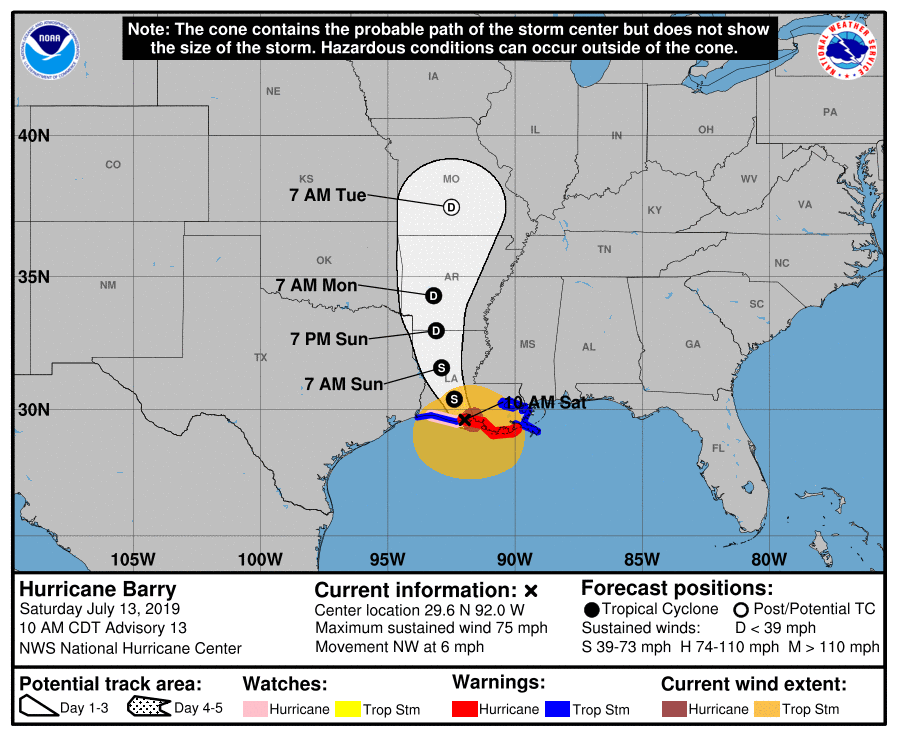 Tropical Storm Barry Becomes a Hurricane
Expected to make landfall in the next few hours
Saturday, July 13, 2019 10:12:00 AM -05:00
Tropical Storm Barry Update
Tropical Storm Barry in the northern Gulf of Mexico is expected to become a hurricane today before reaching the Louisiana coast. Dangerous storm surge, heavy rains and winds are expected across the north-central Gulf Coast. A Hurricane Warning is in effect for a portion of the Louisiana Coast, from Intracoastal City to Grand Isle, and a Tropical Storm Warning is in effect for metro New Orleans.
At 700 AM CDT (1200 UTC), the center of Tropical Storm Barry was located near latitude 29.3 North, longitude 91.9 West. Barry is moving toward the northwest near 5 mph (7 km/h), and a turn toward the north is expected tonight or Sunday. On the forecast track, the center of Barry will make landfall along the south-central Louisiana coast during the next several hours. After landfall, Barry is expected to move generally northward through the Mississippi Valley through Sunday night.
Maximum sustained winds have increased to near near 70 mph (115 km/h) with higher gusts. Additional strengthening is forecast before landfall, and Barry is expected to be a hurricane when the center reaches the Louisiana coast during the next several hours. Steady weakening is expected after Barry moves inland.
Tropical-storm-force winds extend outward up to 175 miles (280 km) from the center. The National Ocean Service station at Eugene Island, Louisiana recently reported sustained winds of 71 mph and a wind gust of 85 mph.