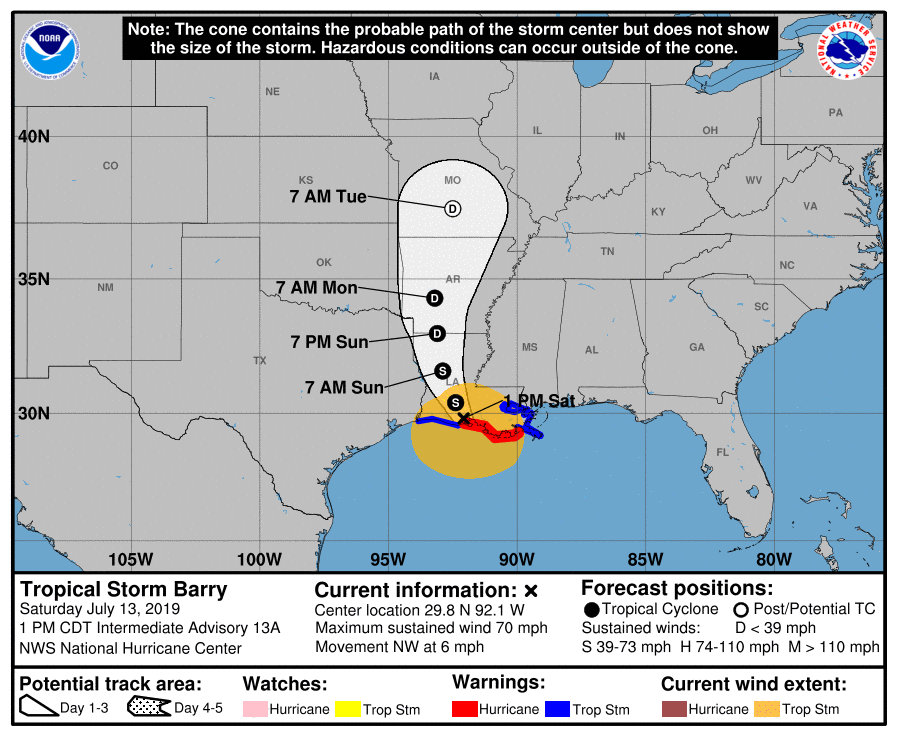 Hurricane Barry Makes Landfall Then Weakens To Tropical Storm
Barry makes landfall near Intercoastal City, Louisiana.
Saturday, July 13, 2019 1:39:17 PM -05:00
Hurricane Barry Update
Hurricane Barry has made landfall near Intercoastal City, Louisiana. After making landfall, Barry has weaken back to a Tropical Storm. Dangerous storm surge, heavy rains and winds still are expected across the north-central Gulf Coast. A Hurricane Warning is in effect for a portion of the Louisiana Coast, from Intracoastal City to Grand Isle, and a Tropical Storm Warning is in effect for metro New Orleans.
At 100 PM CDT (1800 UTC), the center of Tropical Storm Barry was located near latitude 29.8 North, longitude 92.1 West. Barry is moving toward the northwest near 6 mph (9 km/h), and a turn toward the north-northwest is expected tonight, followed by a turn toward the north on Sunday. On the forecast track, the center of Barry will move through southern Louisiana this afternoon, into central Louisiana tonight, and into northern Louisiana on Sunday.
Maximum sustained winds are now near 70 mph (115 km/h) with higher gusts, and these winds are located over water to the southeast of the center. Weakening is expected as Barry moves farther inland, and it is forecast to weaken to a tropical depression on Sunday.
Tropical-storm-force winds extend outward up to 175 miles (280 km) from the center. The National Ocean Service station at Eugene Island, Louisiana recently reported sustained winds of 61 mph and a wind gust of 72 mph.
Get in touch
Shaping your outbound contact away from disaster stricken areas isn't just the right thing to do, it's smart business. To learn more about how ContactRelief can help you protect your brand, reduce your risk of adverse actions, and improve your contact center efficiency, click below to contact us.
Contact us