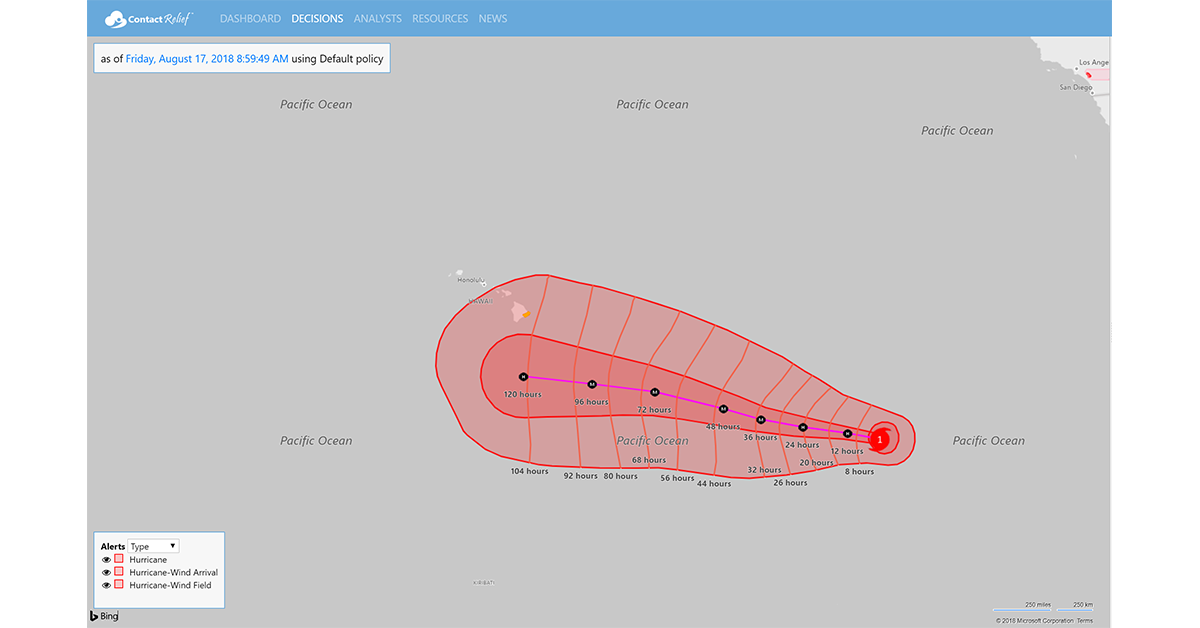 Hurricane Lane Heads Towards Hawaii
Storm is on a similar path as Hurricane Hector
Friday, August 17, 2018 10:30:00 AM -05:00
Tropical Storm Lane is now a Category 2 Hurricane
Tropical Storm Lane has become Hurricane Lane as it heads towards Hawaii on a similar trajectory as Hurricane Hector. The National Hurricane Center says Lane grew quickly to Category 2 strength. As of 8:00 AM PDT Fri Aug 17, the center of Lane was located near 11.2, -132.9 with movement W at 16 mph. The minimum central pressure was 982 mb with maximum sustained winds of about 100 mph.
Forecasters at the National Hurricane Center said: "Lane appears poised for further rapid strengthening during the next 24 hours." The NHC hurricane models predict the peak intensity to occur within the next 24-36 hours followed by a gradual weakening due to an increasingly westerly wind shear. Lane should continue to move south of a subtropical ridge in either a westward or west-northwestward direction through the entire forecast period.
Recommendations for Contact Centers
Hurricane Lane is on a similar trajectory as Hurricane Hector which passed south of Hawaii's Big Island one week ago. Tropical Storm Watches and a brief Tropical Storm Warning were issued in that storm, and we expect the same may be true for Hurricane Lane in the coming days. However, Hector did not come close enough to have a major impact on Hawaii.
Hurricane is 5 days from Hawaii. Contact centers concerned that Hurricane Lane may affect Hawaii in the coming days should amplify contact to the Big Island now. Should the storm drift further north, residents will begin disaster preparations making additional contact unadvisable.
The ContactRelief Disaster Decision Team will continue to monitor the storm's development and issue additional advisories as warranted.
Don't Delay
The next disaster is on its way. Become a ContactRelief subscriber and keep your company protected from disaster. Our full recommendations consist of the areas to be suspended and the list of zip codes covering these areas. For as little as $400 per, month your company can quickly implement a solution that protects your company and its customers. As we say at ContactRelief, "It's just smart business."
Contact sales@contactrelief.com for more information.
Protect your brand AND revenue when disaster strikes.
Try ContactRelief FREE for 30 days. Discover how we can help you reach up to 5x more customers in a disaster zone – while protecting your brand image.
Buy now - save 10%