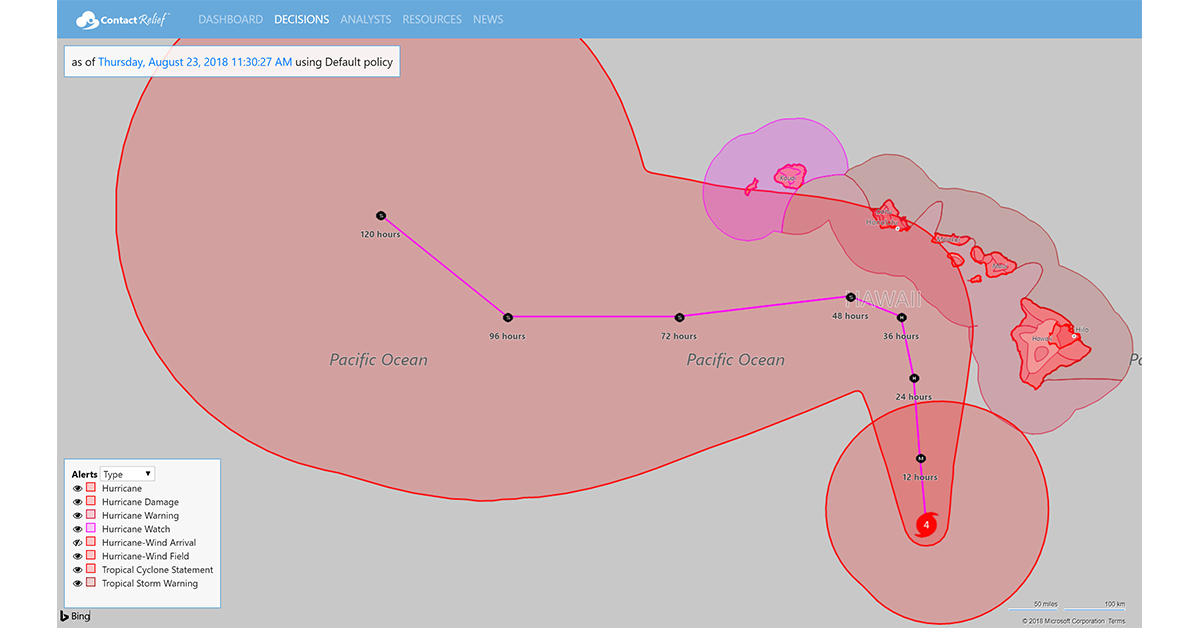 Hurricane Lane Creeping Towards Hawaii
Torrential Rain Soaks the Big Island
Thursday, August 23, 2018 11:30:00 AM -05:00
Free ContactRelief Damage Assessments for Hurricane Lane
The ContactRelief Disaster Decision Team is compiling damage assessments for Hurricane Lane as it moves through the Hawaiian Islands. Contact centers should suspend contact to areas under threat or damaged by the storm. For a limited time, you can obtain the list of ZIP Codes for the affected areas without charge. The ContactRelief Decision Team will track the storm, monitor the areas for damage, and update this ZIP Code list as events unfold.
To obtain this list, contact us at sales@contactrelief.com.
Hurricane Lane Update
Hurricane Lane, still a Category 4 storm, is creeping towards Hawaii. As of 5AM HST, the storm was located at latitude 16.9N longitude 157.4W moving to the northwest at the 7 mph.
Lane is currently soaking the Big Island in torrential rain. Hurricane Warnings are in effect for the Big Island, Oahu, Maui, Lanai, Molokai, and Kahoolawe. A Hurricane Watch is in effect for Kauai and Niihau.
Lane is expected to make its closest approach as a Category 1 storm on Friday evening near Oahu, Molokai, and Lanai. The storm is then expected to hook to the left and then shear away to the southwest of Kauai on Saturday. At this time there is still considerable uncertainty in the track and even if Lane misses land entirely, the damage will be severe as tropical moisture spins north across the entire the state. Rainfalls of 10 to 15 inches are expected with higher amounts over the more mountainous slopes. Multiple concerns include flash flooding, road washouts, damaged infrastructure, and long power outages.
Recommendations for Contact Centers
ContactRelief recommends suspension of contact with consumers in the Hurricane Warning, Hurricane Watch, and Tropical Storm Warning areas. Damage on the Big Island has already been reported. See the ContactRelief Hurricane Damage alerts for more information.
The ContactRelief Disaster Decision Team will continue to monitor the storm's development and issue additional advisories as warranted. To obtain, the full list of affected ZIP Codes, become a ContactRelief subscriber.
Don't Delay
The next disaster is on its way. Become a ContactRelief subscriber and keep your company protected from disaster. Our full recommendations consist of the areas to be suspended and the list of zip codes covering these areas. For as little as $400 per, month your company can quickly implement a solution that protects your company and its customers. As we say at ContactRelief, "It's just smart business."
Contact sales@contactrelief.com for more information.