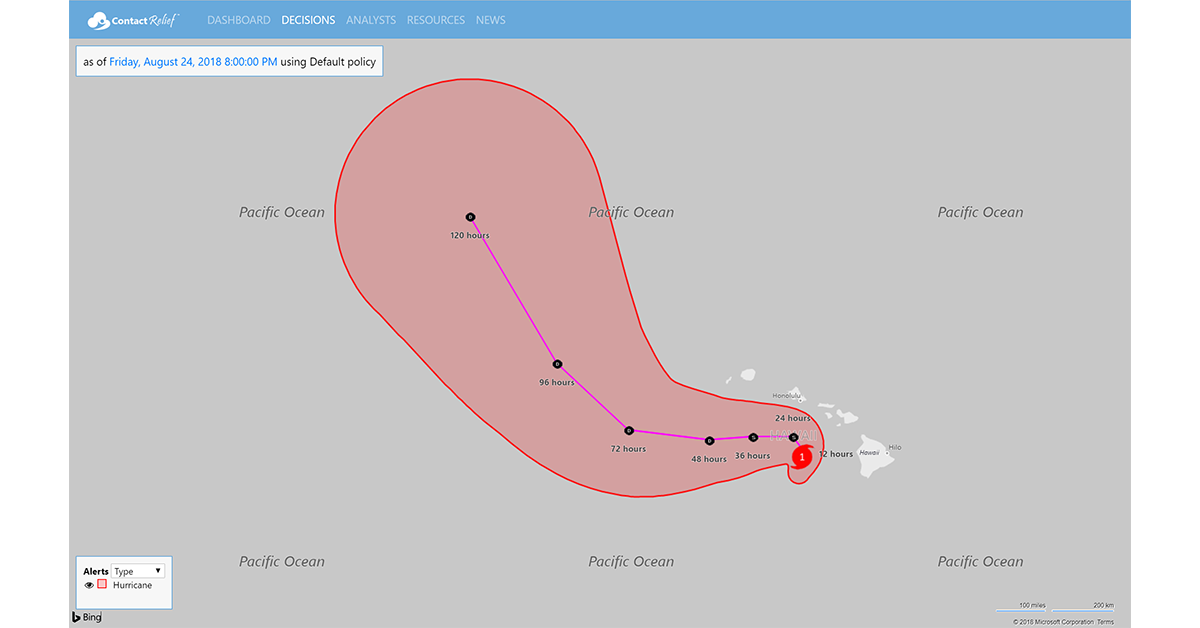 Hurricane Lane Weakens But Slows To a Crawl
Slow Movement Heightens Rainfall Potential
Friday, August 24, 2018 8:00:00 PM -05:00
Free ContactRelief Damage Assessments for Hurricane Lane
The ContactRelief Disaster Decision Team is compiling damage assessments for Hurricane Lane as it moves through the Hawaiian Islands. Contact centers should suspend contact to areas under threat or damaged by the storm. For a limited time, you can obtain the list of ZIP Codes for the affected areas without charge. The ContactRelief Decision Team will track the storm, monitor the areas for damage, and update this ZIP Code list as events unfold.
To obtain this list, contact us at sales@contactrelief.com.
Hurricane Lane Update
Hurricane Lane continues to weaken and is now a Category 1 storm. As of 2:00 HST (7:00 CDT), the center of Hurricane Lane was located near latitude 19.6 North, longitude 157.8 West moving toward the north-northeast near 2 mph (4 km/h). The Central Pacific Hurricane Center expects this general motion to continue through tonight. "A turn toward the west is anticipated on Saturday, with an increase in forward speed," forecaster there said. Maximum sustained winds are near 85 mph (140 km/h) with higher gusts.
Hurricane Lane has dropped a prolific amount of rain on Hawaii with more to come causing localized flooding and mudslides. However, the damage to structures is mostly minor across the islands. The Big Island seems to have been the most affected by Lane's rainfall. Officials say that the area has averaged 29" of rain with parts such a Hakalau at 34". On the southern end of the Island, Hilo had over 20" of rain with localized flooding forcing some evacuations. With Lane's weakening, the chance of significant wind damage is minimized, but its slow forward progress before turning West means that prolonged rainfall may cause additional localized flooding and mudslides. ContactRelief's meteorology team estimates that Oahu will get 15"-20" in the next 24-36 hours with Tropical Force winds, but Kauai may be largely spared.
Isolated power outages in the thousands have been reported on the Big Island, Kauai, Maui, Molokai, and Oahu including at the Kahului Airport on Maui. River and lake flood buoys are mostly nominal but as we saw with Hurricane Harvey and Irma, river flooding can be delayed. Multiple road closures are still in effect. Unbelievably, a brush fire early today forced evacuations in West Maui with 300 acres burned, and a second brush fire has recently broken out in a West Maui subdivision. Officials are hoping the rain will help control the fire but are hampered by severe dry conditions in the area.
Recommendations for Contact Centers
ContactRelief recommends suspension of contact with consumers in the Hurricane Warning, Hurricane Watch, and Tropical Storm Warning areas. Damage on the Big Island, Maui, and Oahu has been reported. See the ContactRelief Hurricane Damage alerts for more information.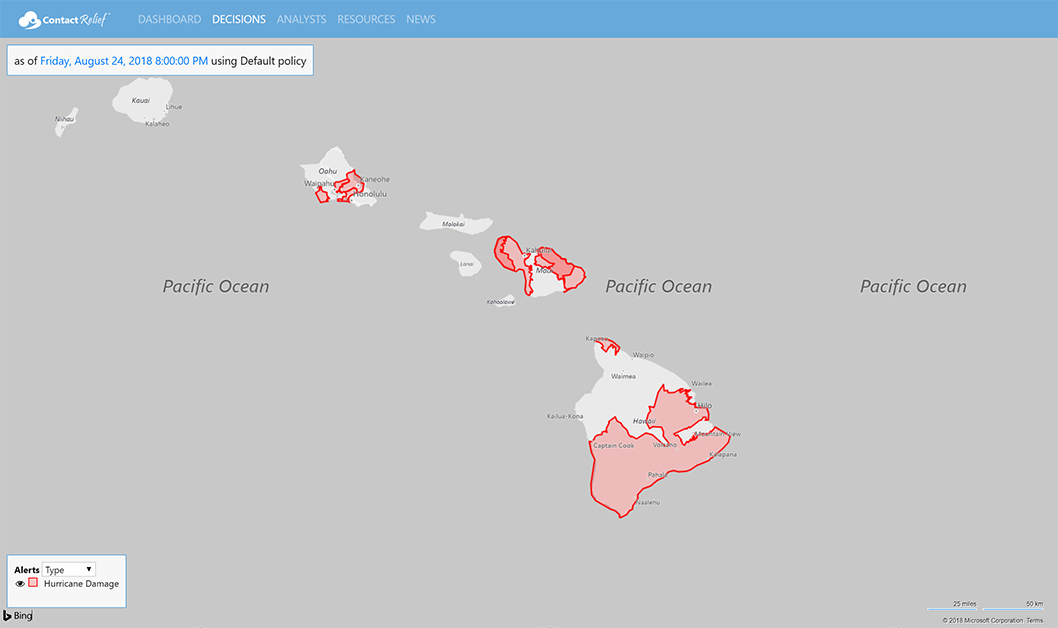 The ContactRelief Disaster Decision Team will continue to monitor the storm's development and issue additional advisories as warranted. To obtain, the full list of affected ZIP Codes, become a ContactRelief subscriber.
Don't Delay
The next disaster is on its way. Become a ContactRelief subscriber and keep your company protected from disaster. Our full recommendations consist of the areas to be suspended and the list of zip codes covering these areas. For as little as $400 per, month your company can quickly implement a solution that protects your company and its customers. As we say at ContactRelief, "It's just smart business."
Contact sales@contactrelief.com for more information.
Get in touch
Shaping your outbound contact away from disaster stricken areas isn't just the right thing to do, it's smart business. To learn more about how ContactRelief can help you protect your brand, reduce your risk of adverse actions, and improve your contact center efficiency, click below to contact us.
Contact us