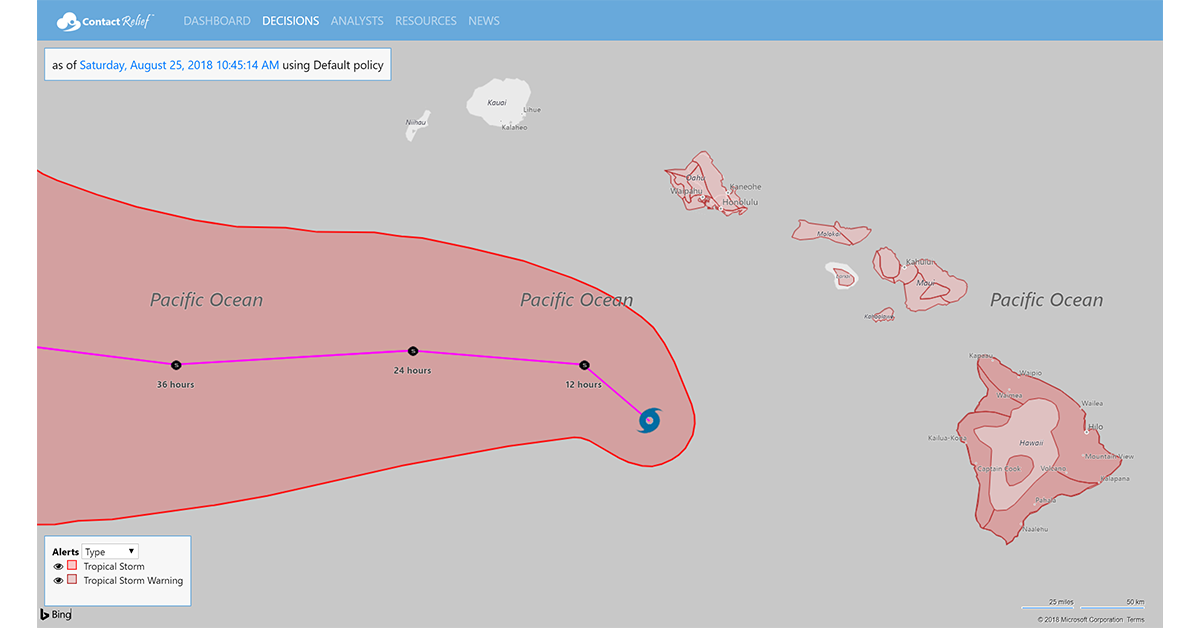 Hurricane Lane Now a Tropical Storm
Rainfall could exceed Hurricane Harvey
Saturday, August 25, 2018 11:00:00 AM -05:00
Free ContactRelief Damage Assessments for Hurricane Lane
The ContactRelief Disaster Decision Team is compiling damage assessments for Hurricane Lane as it moves through the Hawaiian Islands. Contact centers should suspend contact to areas under threat or damaged by the storm. For a limited time, you can obtain the list of ZIP Codes for the affected areas without charge. The ContactRelief Decision Team will track the storm, monitor the areas for damage, and update this ZIP Code list as events unfold.
To obtain this list, contact us at sales@contactrelief.com.
Tropical Storm Lane Update
Hurricane Lane was downgraded to a Tropical Storm Friday night, but this weakening belies the fact that rainfall from Lane may exceed the historic rainfall dumped by Hurricane Harvey on Texas. Rainfall has already exceeded 45" at some locations on the Big Island. Officials caution that the threat from Lane is not over.
At 5:00 AM HST (10:00 CDT), the center of Lane was located about 110 miles (175 km) South-Southwest of Honolulu Hawaii near latitude 19.8 North, longitude 158.4 West moving toward the north near 3 mph (6 km/h). Forecasters at the Central Pacific Hurricane center expect this slow movement to continue this morning followed by a turn toward the west with an increase in forward speed starting later today or tonight. Maximum sustained winds are near 60 mph (95 km/h). On the forecast track, the center of Lane will pass south of Kauai and Niihau later today and tonight.
Recommendations for Contact Centers
ContactRelief recommends suspension of contact with consumers in the Tropical Storm Warning areas. The Tropical Storm Warning has been lifted for the Big Island. However, an additional 12" of rain is expected. While damage to homes and other structures is limited, we expect to keep our recommendation to suspend contact with the Big Island through tomorrow. Tropical Storm Warnings remain in effect for Oahu, Maui, Lanai, Molokai, and Kahoolawe. However, normal operations for government offices and public transportation are expected to begin later today on Oahu. We expect to resume contact later tonight or Sunday with areas where no Tropical Storm Warnings are in effect, and only minor damage has been reported. Areas with moderate damage will remain suspended through Sunday.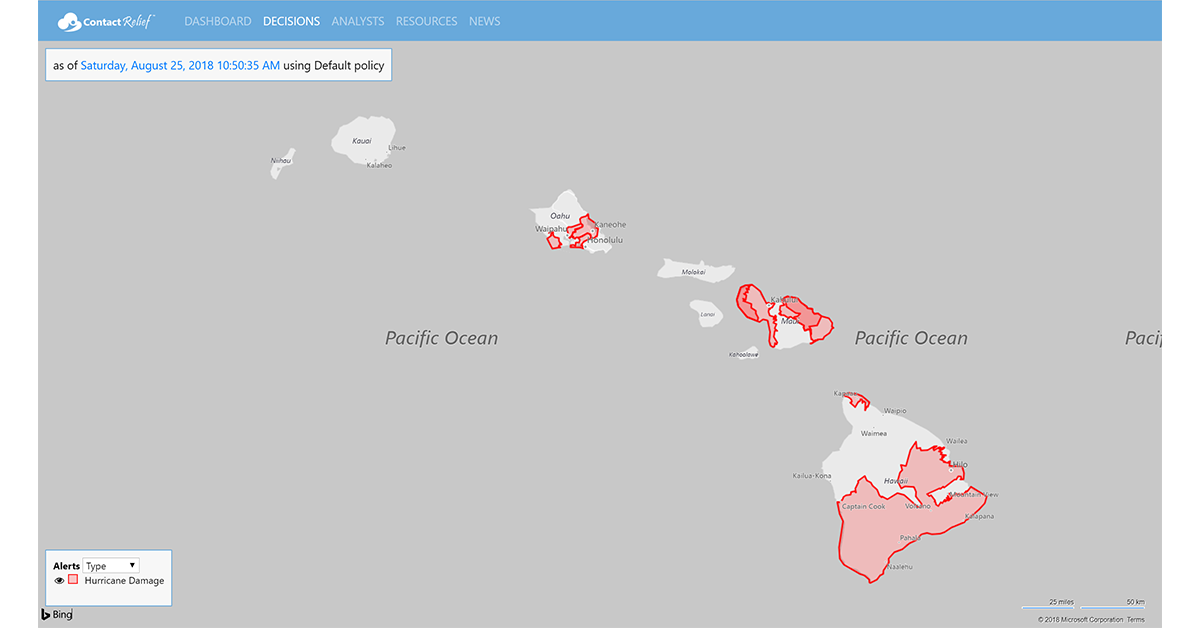 The ContactRelief Disaster Decision Team will continue to monitor the storm's development and issue additional advisories as warranted. To obtain, the full list of affected ZIP Codes, become a ContactRelief subscriber.
Don't Delay
The next disaster is on its way. Become a ContactRelief subscriber and keep your company protected from disaster. Our full recommendations consist of the areas to be suspended and the list of zip codes covering these areas. For as little as $400 per, month your company can quickly implement a solution that protects your company and its customers. As we say at ContactRelief, "It's just smart business."
Contact sales@contactrelief.com for more information.
Weather alerts, emergencies, and breaking news are monitored around the clock. The Disaster Decision Engine applies your rules to help you decide when to take action for your consumers. Your recommendations are sent to your contact centers and partners with ZIP Code granularity.