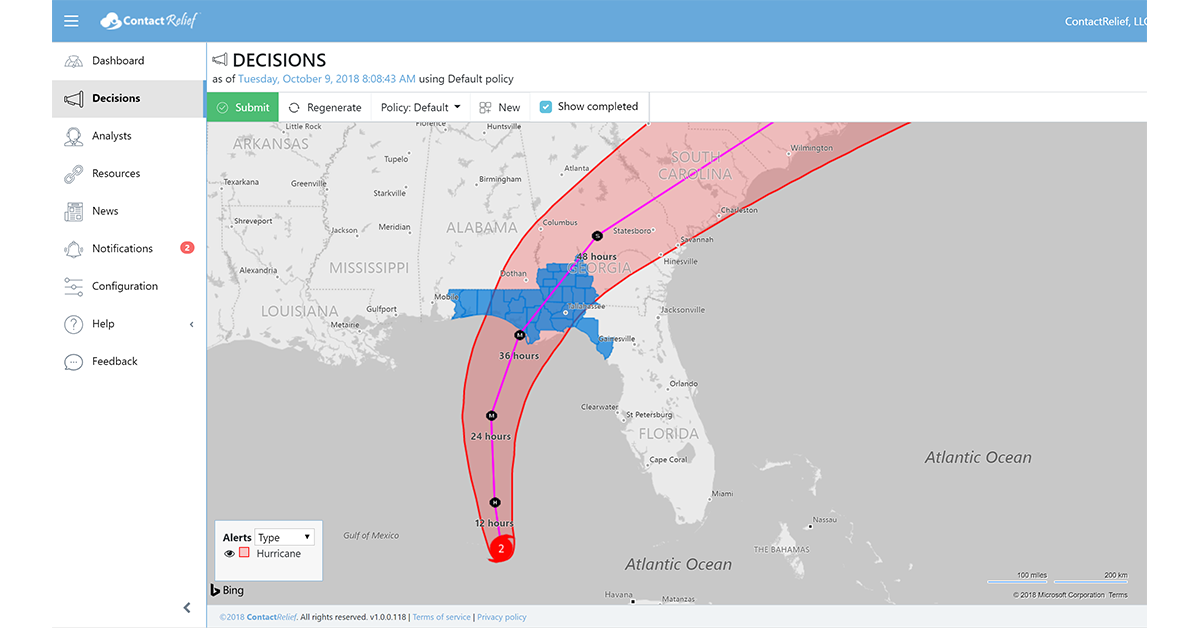 Hurricane Michael Aiming at the Florida Panhandle
Hurricane Michael expected to make landfall early Wednesday afternoon
Tuesday, October 9, 2018 8:15:00 AM -05:00
Hurricane Michael Update
Hurricane Michael, now a Category 2 hurricane, is aiming at the Florida panhandle as it treks across the Gulf of Mexico. As of 7 AM CDT, Michael was located at 24.5N 86.1W approximately 395 miles (635 km) south of Panama City, Florida. Michael is currently moving to the north-northwest at near 12 mph. Forecasters at the National Hurricane Center anticipate that motion to continue tonight followed by a northeastward motion on Wednesday and Thursday.
On the forecast track, the center of Michael is expected to move inland over the Florida Panhandle or Florida Big Bend area on Wednesday, and then move northeastward across the southeastern United States Wednesday night and Thursday. Most models predict landfall close to Panama City, Florida early Wednesday afternoon. Maximum sustained winds have increased to 100 mph. Michael is expected to become a major hurricane tomorrow as it strengthens into a Category 3 storm.
The strong winds at landfall are likely to cause damage to structures and significant power outages. In addition to its strong winds, Hurricane Michael is forecast to dump up to 12" of rain across portions of Florida. Storm surges of up to 12 ft are predicted and as a result, significant coastal flooding and upstream river flooding is expected over the coming days.
ContactRelief Recommendations for Contact Centers
ContactRelief is making public recommendations first made to subscribers Monday, October 8th. On Sunday, we recommended amplification of contact to the anticipated hurricane impact zone and further inland as we anticipated contact later in the week would be inadvisable. Last night we followed through with this guidance by recommending that contact centers suspend contact with consumers in the initial impact zone (see graphic) as hurricane preparations are now in full force.
Subscribers to ContactRelief can keep ahead of the storm as it moves inland by continuing to amplify contact today ahead of the storm. Michael is still expected to be at Tropical Storm strength on Thursday at it passes through Georgia. Contact centers can continue contact in the region safely through tonight, but we anticipate adding much of this region to our suspension recommendation tomorrow. Use the ContactRelief Hurricane alert to plot the storm track and identify surrounding areas that can safely be contacted at a high-level today.
To obtain the list of affected ZIP Codes, become a ContactRelief subscriber today.
Don't Delay
The next disaster is on its way. Become a ContactRelief subscriber and keep your company protected from disaster. Our full recommendations consist of the areas to be suspended and the list of zip codes covering these areas. With minimal effort, your company can quickly implement a solution that protects your company and its customers. As we say at ContactRelief, "It's just smart business."
Contact sales@contactrelief.com for more information.