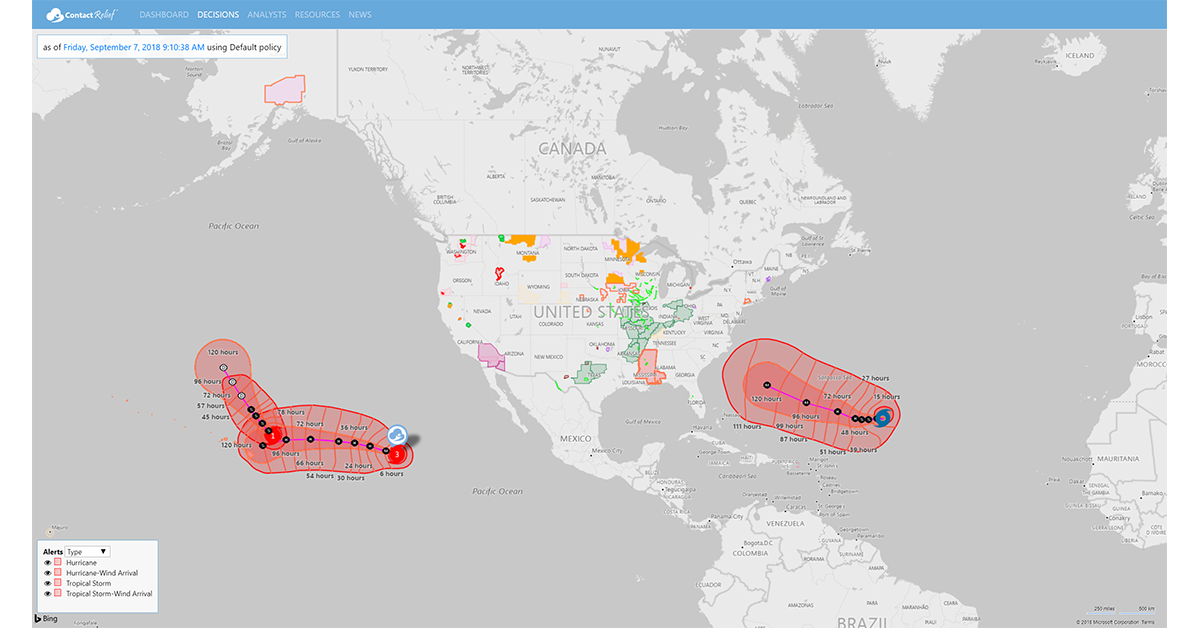 Hurricane Florence Weakens To Tropical Storm
Expected to regain strength over the weekend and threaten the U.S. seaboard
Friday, September 7, 2018 9:00:00 AM -05:00
ContactRelief Recommendations for Contact Centers
ContactRelief is making public recommendations first made to subscribers on Friday, September 7th, 2018. Now Tropical Storm Florence is on a trajectory to threaten the eastern seaboard of the United States and Hurricane Olivia is on a track to threaten Hawaii late next week. Contact centers concerned that these storms will interrupt contact operations should amplify contact into the eastern seaboard and Hawaii before consumers are distracted by hurricane preperations.
Tropical Storm Florence
Hurricane Florence has weakened becoming Tropical Storm Florence. However, the storm is expected to strengthen over the weekend and may regain hurricane status. At 5 AM AST (0900 UTC), the center of Tropical Storm Florence was about 985 miles east-southeast of Bermuda near latitude 25.1 North, longitude 50.7 West. The storm is moving toward the west near 7 mph (11 km/h) and this general motion will likely continue for the next couple of days with a turn toward the west-northwest expected by the end of the weekend.
How Florence will develop and exactly where it will go is still largely uncertain. The National Hurricane Center has adjusted the forecast track slightly to the southwest. Florence's ultimate path may be determined by a trough of low pressure that may steer the storm to the northwest. However, forecasters said "confidence in the intensity forecast, especially beyond 36 h, is low" and "there is still considerable uncertainty in the global models...and their ensembles and if the aforementioned trough will have any notable impact on the track of Florence."
Hurricane Olivia
While Hurricane Norman continues its northwesterly track away from Hawaii, Hurricane Olivia seems intent on a direct strike on the island. At 2 AM PDT, the center of Hurricane Olivia was located near latitude 19.6 North, longitude 131.2 West moving toward the west-northwest near 15 mph (24 km/h). The storm is expected to gradually turn toward the west while weakening over the next 5 days ultimately putting it at tropical storm strength as it nears the Big Island of Hawaii.
The ContactRelief Disaster Decision Team will continue to monitor the development of these storms and issue additional advisories as warranted.
Don't Delay
The next disaster is on its way. Become a ContactRelief subscriber and keep your company protected from disaster. Our full recommendations consist of the areas to be suspended and the list of zip codes covering these areas. With minimal effort, your company can quickly implement a solution that protects your company and its customers. As we say at ContactRelief, "It's just smart business."
Contact sales@contactrelief.com for more information.