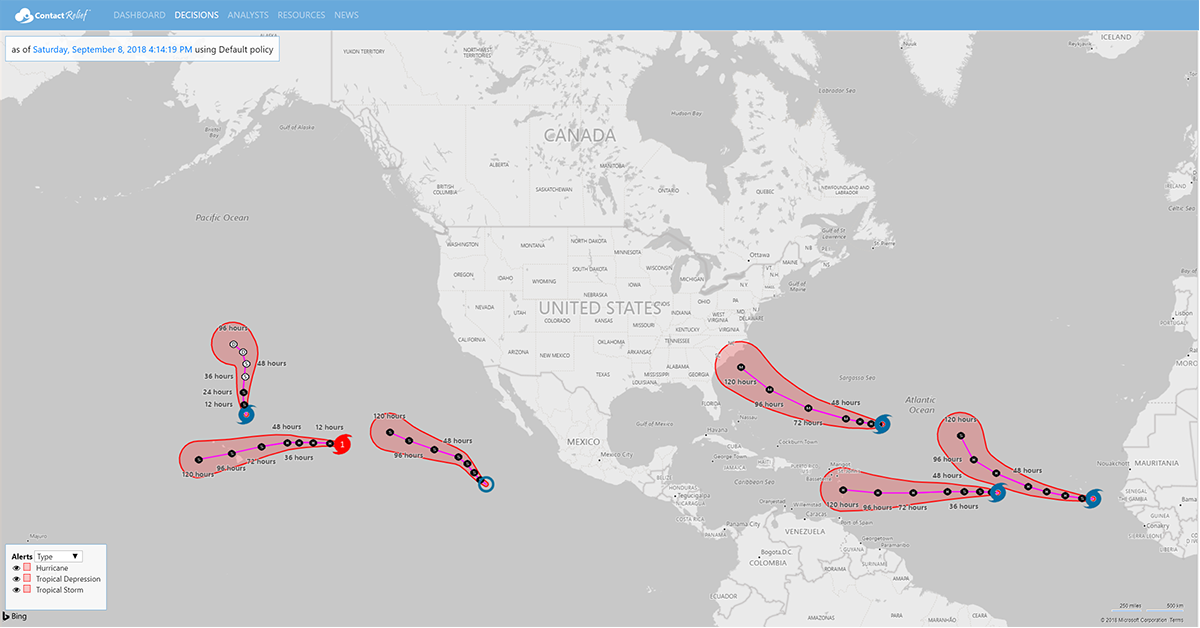 Tropical Activity High - Florence to Become a Major Hurricane
Florence increasingly likely to make landfall on southeastern seaboard
Saturday, September 8, 2018 5:30:00 PM -05:00
ContactRelief Recommendations for Contact Centers
ContactRelief is making public recommendations first made to subscribers on Saturday, September 8th, 2018. Tropical Storm Florence is on a trajectory to threaten the eastern seaboard of the United States and Hurricane Olivia is on a track to threaten Hawaii next week. Contact centers concerned that these storms will interrupt contact operations should amplify contact into the eastern seaboard and Hawaii before consumers are distracted by hurricane preperations. We expect to change our guidance tomorrow as consumers begin to respond to the storm's impending approach.
Tropical Storm Florence
Tropical Storm Florence is expected to strengthen into a Category 2 hurricane tonight or early Sunday. At 5 PM AST (0900 UTC), the center of Tropical Storm Florence was located near latitude 24.6 North, longitude 54.7 West moving toward the west near 5 mph (7 km/h). The storm is expected to start a west-northwestward to northwestward motion with an increase in forward speed by the middle of next week.
Winds have increased since the last forecast to near 70 mph (110 km/h) with higher gusts. Florence is expected to undergo rapid intensification and is likely to become a Category 4 hurricane late Monday or early Tuesday. Forecasters at the National Hurricane Center said in their 5 PM AST forecast discussion that "Florence is forecast to be a dangerous major hurricane near the southeast U.S. coast by late next week, and the risk of direct impacts continues to increase. However, given the uncertainty in track and intensity forecasts at those time ranges, it's too soon to determine the exact timing, location, and magnitude of those impacts."
While Florence's exact path is still uncertain, forecasters are warning interests along the U.S. East Coast, particularly from north Florida through North Carolina to closely monitor the progress of Florence, ensure they have their hurricane plan in place, and follow any advice given by local officials. Highlighting this concern, the governors of both North and South Carolina have declared a preemptive State of Emergency in their states.
Hurricane Olivia
Category 1 Hurricane Olivia continues on a path to hit Hawaii mid next week. At 2 PM PDT (2100 UTC), the center of Hurricane Olivia was located near latitude 21.7 North, longitude 139.4 West moving toward the west near 15 mph (24 km/h). Hurricane Olivia is expected to weaken into a Tropical Storm within 72 hours. According to forecasters at the National Hurricane Center Olivia will "approach the main Hawaiian Islands from the east on Tuesday, and pass close to or over the Islands Wednesday."
With the expected weakening of the storm, the main threat from Olivia may be from rain not wind. The Big Island was inundated with rain from Hurricane Lane and the impact of Olivia may have a similar outcome.
The ContactRelief Disaster Decision Team will continue to monitor the development of these storms and issue additional advisories as warranted.
Don't Delay
The next disaster is on its way. Become a ContactRelief subscriber and keep your company protected from disaster. Our full recommendations consist of the areas to be suspended and the list of zip codes covering these areas. With minimal effort, your company can quickly implement a solution that protects your company and its customers. As we say at ContactRelief, "It's just smart business."
Contact sales@contactrelief.com for more information.