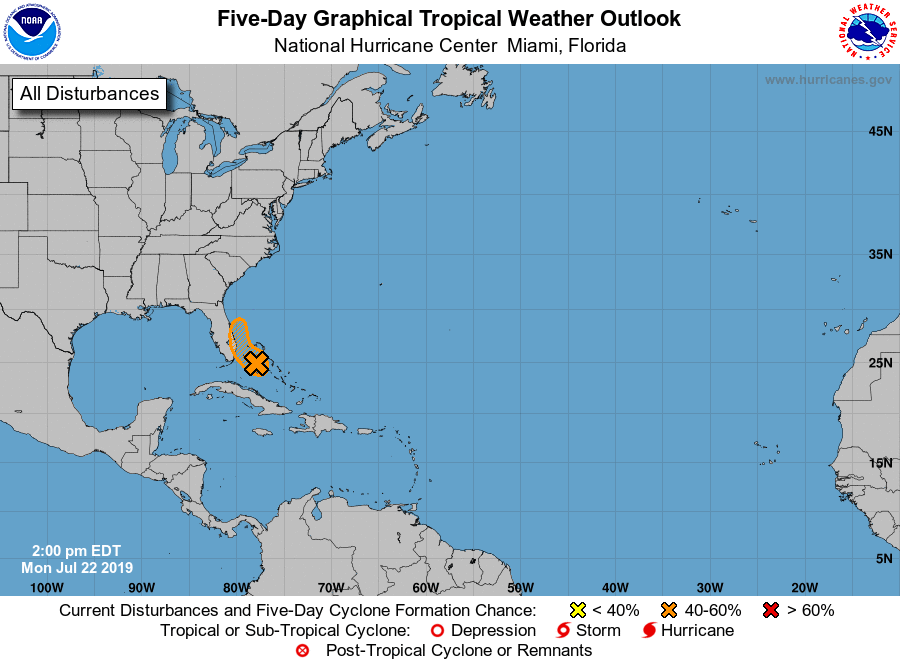 Tropical Disturbance Off Florida Coast May Develop Into a Tropical Depression
Invest 94L may strengthen further later today or tonight
Monday, July 22, 2019 6:02:46 PM +00:00
Invest 94L Update
Forecasters at the National Hurricane Center say that a tropical disturbance located off the eastern tip of Florida may develop into a Tropical Depression later today or tonight. While environmental conditions are only marginally conducive for development, only a slight increase in the organization of this system could result in the formation of a tropical depression. Forecaster put the chance of further development at 60%. Additional development is not anticipated after that time due to strong upper-level winds. The low is expected to move northwestward around 15 mph today and north-northwestward to northward tonight and Tuesday, remaining offshore of the east coast of the Florida peninsula. This system will continue to produce locally heavy rainfall and gusty winds over portions of the northwest Bahamas through tonight. Showers and thunderstorms could also spread over portions of the east coast of the Florida peninsula tonight and Tuesday.
ContactRelief Recommendations
Because the storm is forecasted not to develop beyond Tropical Depression strength, ContactRelief does not recommend any amplification of contact ahead of the storm as it is unlikely that a contact suspension will be required. The Disaster Decision Team is monitoring the storm and will make further recommendations if warranted.
What can ContactRelief do for you?
Are you ready to see how ContactRelief can shape your disaster operations strategy? Schedule your customized demo to see firsthand how ContactRelief can reduce your workload, protect your brand and improve your contact efficiency.