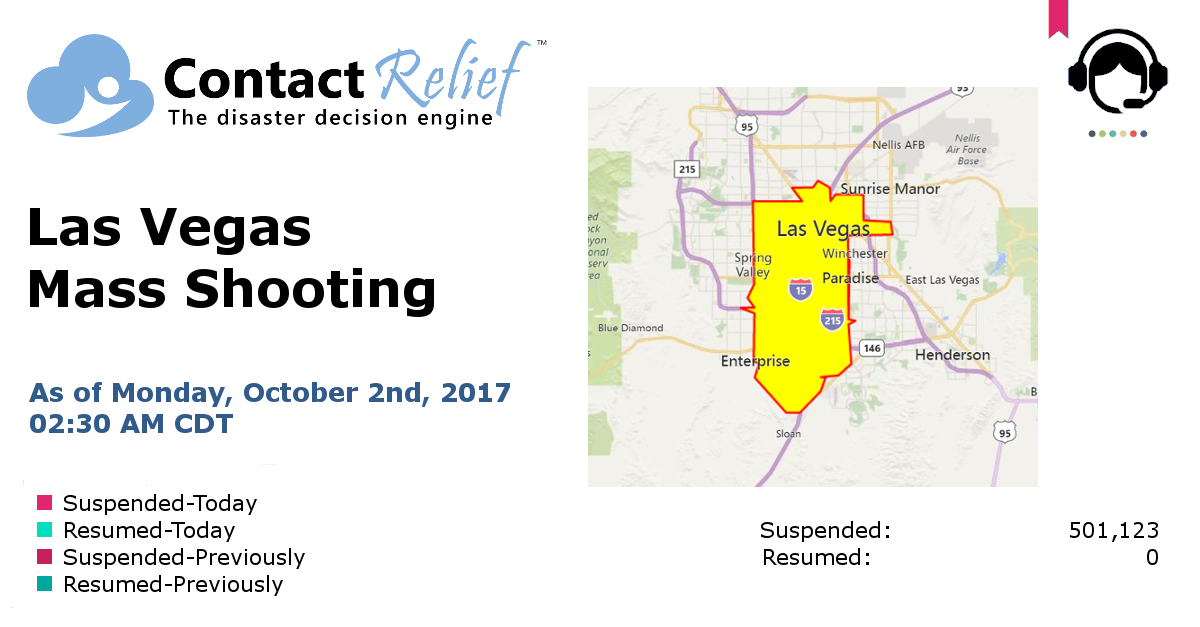 Tragic Las Vegas Mass Shooting at Music Festival
Police report more than twenty (20+) dead and over one hundred (100+) injured.
Monday, October 2, 2017 3:30:00 AM -05:00
Multiple news outlets including Fox News reported more than twenty (20+) people are dead and 100+ wounded with at least 12 in critical condition after a mass shooter opened fire at a music festival in Las Vegas, Nevada. Multiple shots were fired from the Mandalay Bay hotel. Police responded to the hotel and the suspect was shot and killed. Several police officers were also killed or wounded during the shooting. Police are looking for another person of interest and for multiple vehicles that may be associated with the shooter.
ContactRelief issued a recommendation to subscribers at 2:30 AM CDT made public here to suspend contact with consumers in zip codes surrounding the Las Vegas strip.
ContactRelief's Ongoing Response
For a limited time, we are providing our full recommendations without charge as a service to the business community. Our full recommendations consist of the areas to be suspended and the list of zip codes covering these areas. Contact sales@contactrelief.com for more information. The next disaster is on its way. Become a ContactRelief subscriber and keep your company protected from disaster.
Get in touch
Shaping your outbound contact away from disaster stricken areas isn't just the right thing to do, it's smart business. To learn more about how ContactRelief can help you protect your brand, reduce your risk of adverse actions, and improve your contact center efficiency, click below to contact us.
Contact us