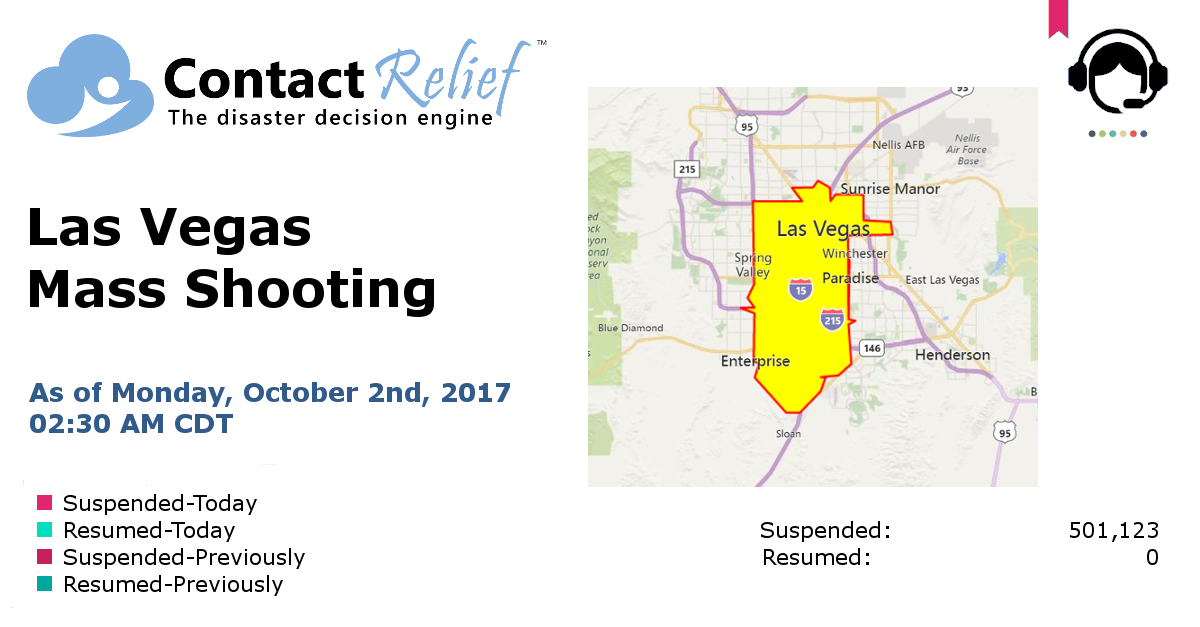 Worst Mass Shooting in American History Leaves Over 50 Dead and 400+ Injured at Las Vegas Music Festival
Police report more than 50 dead and over 400 injured in mass shooting at music festival in Las Vegas, Nevada.
Monday, October 2, 2017 6:30:00 AM -05:00
Las Vegas police increased the fatality and injury counts in Sunday night's tragic mass shooting at a music festival in Las Vegas, Nevada. Police are now reporting that 50+ people have died and 400+ were injured. The suspect, who shot himself as Las Vegas police closed in on his Mandalay Bay hotel room overlooking the event, was identified as 64 year old Stephen Paddock. Police do not believe the shooting is connected to terrorism.
The person of interest previously sought by the police has been identified and is now in police custody. Many hotels are still in lockdown and the area is expected to be an active crime scene for days.
ContactRelief issued a recommendation to subscribers at 2:30 AM CDT Monday made public here to suspend contact with consumers in zip codes surrounding the Las Vegas strip. Contact centers should consider suspending contact to the zip codes we provided or to the entire county surrounding Las Vegas (Clark County, Nevada).
ContactRelief's Ongoing Response
For a limited time, we are providing our full recommendations without charge as a service to the business community. Our full recommendations consist of the areas to be suspended and the list of zip codes covering these areas. Contact sales@contactrelief.com for more information. The next disaster is on its way. Become a ContactRelief subscriber and keep your company protected from disaster.
Protect your brand AND revenue when disaster strikes.
Try ContactRelief FREE for 30 days. Discover how we can help you reach up to 5x more customers in a disaster zone – while protecting your brand image.
Buy now - save 10%