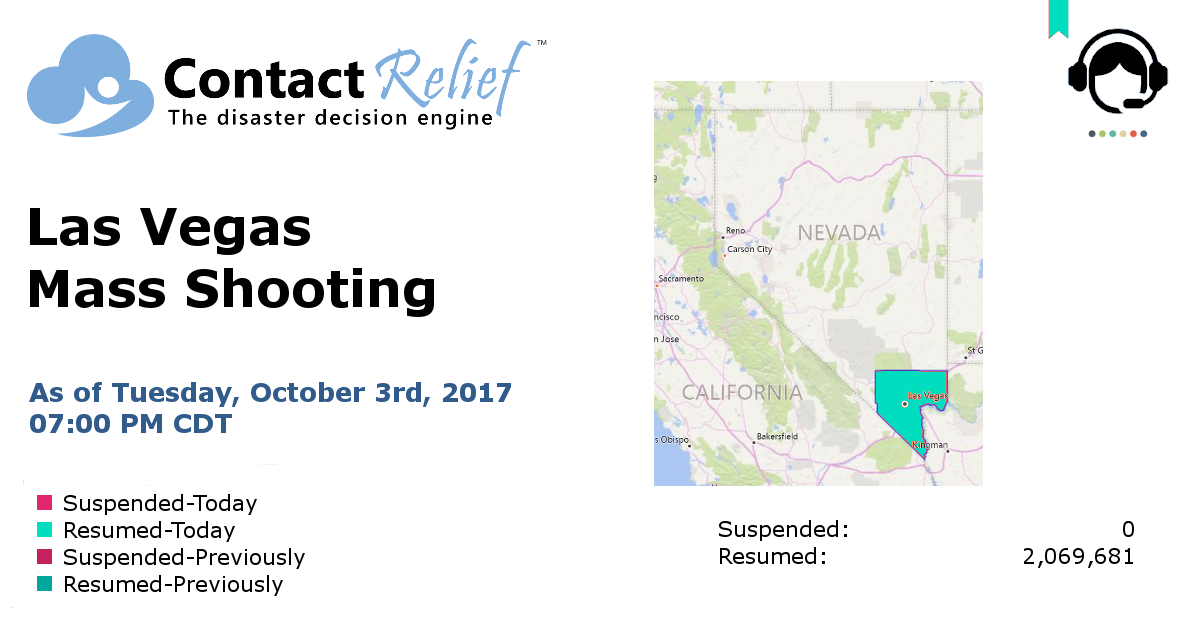 ContactRelief Recommendations for Contact Centers (Las Vegas Mass Shooting)
ContactRelief recommends resuming contact with Clark County, Nevada.
Wednesday, October 4, 2017 7:30:00 AM -05:00
ContactRelief is making public a recommendation made to subscribers Monday, October 3rd, concerning the tragic mass shooting at a Las Vegas music festival.
With the suspect in Sunday night's mass shooting no longer a threat and his roommate, a person of interest earlier sought by the police, undergoing questioning, the situation in Las Vegas has stablized. Although the story will continue to be the center of national attention for some time to come, we believe that the location of shooting and transitory nature of the affected population warrant a resumption of contact after two days of suspension. Given the historic impact of the crime in terms of deaths and injuries, we recognize that ContactRelief subscribers may elect to continue the contact suspension for several additional days and encourage you to do so if you feel it is warranted.
ContactRelief recommends that contact should be resumed to all previously specified zip codes and the following Nevada counties: Clark.
ContactRelief's Ongoing Disaster Response
The next disaster is on its way. Become a ContactRelief subscriber and keep your company protected from disaster. Our full recommendations consist of the areas to be suspended and the list of zip codes covering these areas. Contact sales@contactrelief.com for more information.