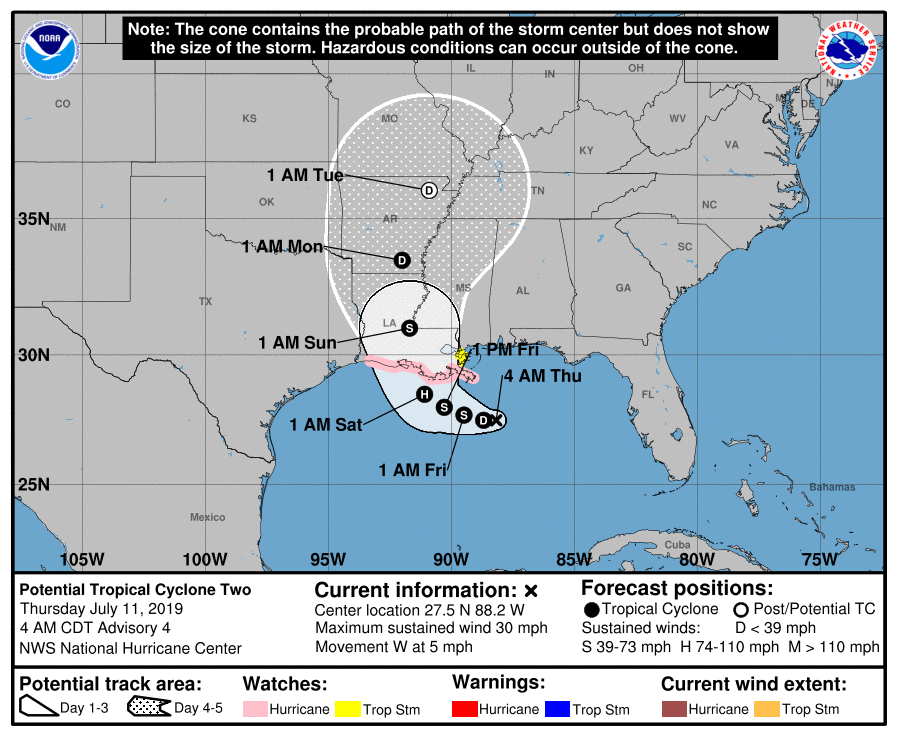 Potential Tropical Cyclone Barry Nearly at Tropical Depression Strength
Thursday, July 11, 2019 11:52:19 AM +00:00
Potential Tropical Cyclone Barry is nearly a Tropical Depression. The National Hurricane Center reports that at 700 AM CDT (1200 UTC), the disturbance was centered near latitude 27.6 North, longitude 88.5 West. The system is moving toward the west near 5 mph (7 km/h), but a west-northwest motion is expected on Friday followed by a northwestward track by early Saturday. On the forecast track, the system is expected to approach the Louisiana coast this weekend. Reports from a NOAA Hurricane Hunter aircraft indicate that maximum sustained winds are near 35 mph (55 km/h) with higher gusts. Strengthening is forecast during the next couple of days, and the disturbance is forecast to become a tropical depression or a tropical storm later today, and could become a hurricane by late Friday.
Hurricane Watches, Tropical Storm Watches, and Storm Surge Watches have been raised for the Lousiana coast. Mandatory evacuations are set to take effect tomorrow for parts of Louisiana.
ContactRelief subscribers get a complete list of all affected Zip Codes. See ContactRelief's current recommendations for your contact strategy and become a subscriber to get all the information.