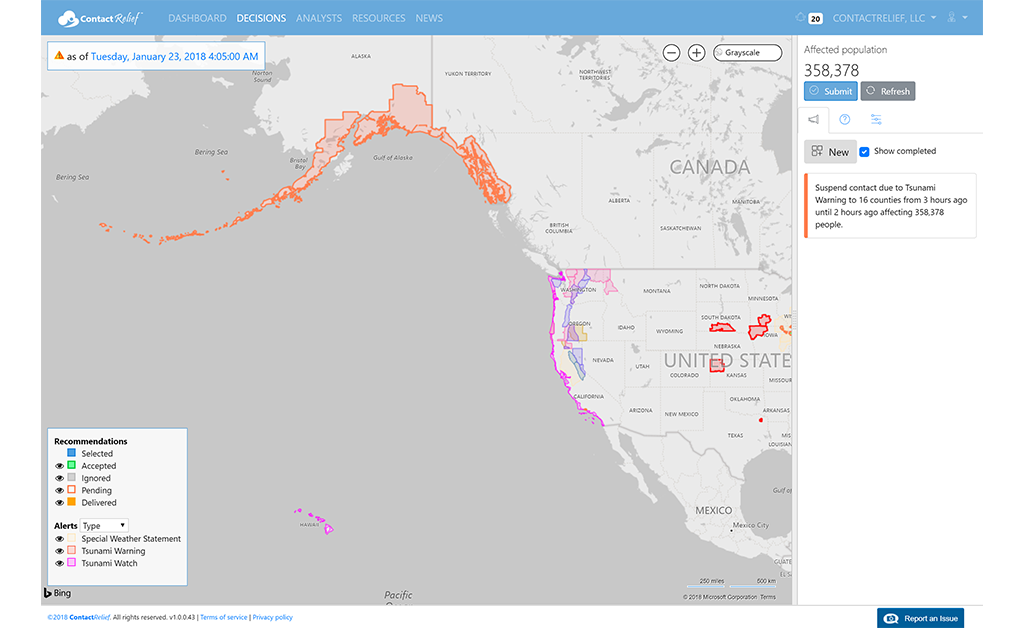 Powerful 7.9 Earthquake Generates Tsunami Warnings for U.S. Coastline
Tsunami Warnings and Watches Issued From Aleutian Islands to Mexican Border
Tuesday, January 23, 2018 6:00:00 AM -06:00
A powerful 7.9 magnitude earthquake centered in the Gulf of Alaska generated tsunami warnings across the entire southern coastline of Alaska from the Aleutian Islands to the Canadian border. The Tsunami Warning Center also raised tsunami watches along the entire western coastline of the continental United States and Hawaii. The watches were later canceled for Hawaii but remain in effect for the U.S. coastline until as late as 7:30 AM PST.
The quake originated at 09:31:42 (UTC) with the epicenter located at 56.046°N 149.073°W at a depth of 25.0 km.
Were you sleeping? ContactRelief was not. ContactRelief's Disaster Decision Engine captured the quake and tsunami warnings which were issued 35 minutes after the event. Our Disaster Decision Team analysts monitored the situation, continuously assessing threat levels. ContactRelief subscribers can see the event information in the ContactRelief Command Center accessible from any web browser.
ContactRelief's default ruleset generated recommendations for this event. We will monitor the event throughout the morning. Information at this time indicates that the earthquake would have needed to be further north to have a dramatic effect on the coast of Alaska. However, residents along the coastlines should heed the warnings and watches.
Become a ContactRelief subscriber today, and let us help you shape your outbound contact strategy to avoid disaster.
Don't Delay
The next disaster is on its way. Become a ContactRelief subscriber and keep your company protected from disaster. Our full recommendations consist of the areas to be suspended and the list of zip codes covering these areas. For as little as $300 per, month your company can quickly implement a solution that protects your company and its customers. As we say at ContactRelief, "It's just smart business."
Contact sales@contactrelief.com for more information.
Are you prepared for the next disaster?
Disasters can strike at a moment's notice. That's why, at ContactRelief, we provide round the clock disaster monitoring to keep your operations ahead of disasters. With timely, comprehensive recommendations that are accurate to the ZIP code, ContactRelief ensures you focus less on the disaster, and more on your operations.
Contact sales@contactrelief.com for more information.