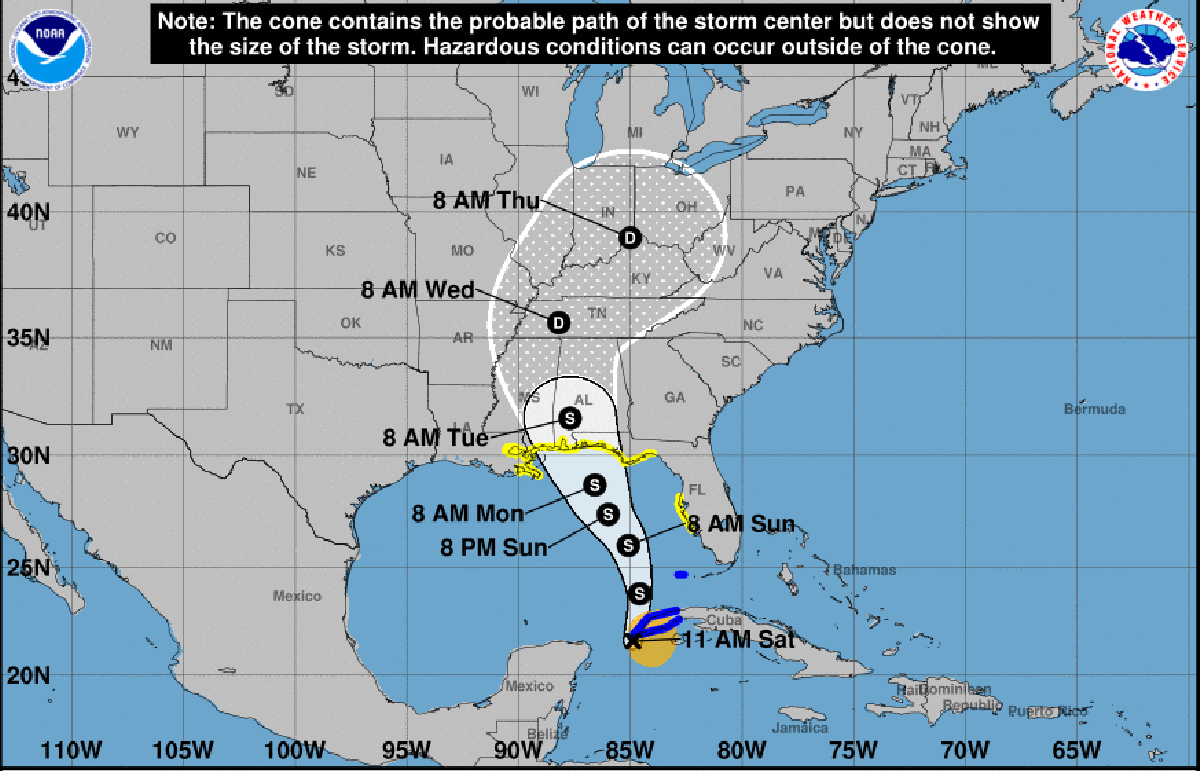 Tropical Storm Alberto Moves into Gulf of Mexico
Tropical Storm Warnings and Storm Surge Watches Issued for Gulf Coast
Saturday, May 26, 2018 12:30:00 PM -05:00
Subtropical storm Alberto has entered the Gulf of Mexico, passing between Cuba and the Yucatan peninsula, making it the first named Atlantic storm system of the 2018 hurricane season. The subtropical designation means that, unlike a tropical storm or hurricane, the storm is not primarily driven by the energy of the warm waters over which it is flowing but instead gets part of its strength from atmospheric conditions.
Alberto has strengthed slightly overnight and shifted its track eastward, but the storm has not shown additional organization. National Hurricane Center forecasters expect Alberto to produce heavy rainfall and flash flooding over western Cuba, southern Florida, and the Florida Keys. Rainfall and flooding potential will increase across the central U.S. Gulf Coast region and over much of the southeastern United States beginning Sunday and will continue into next week.
Forecasters warned that tropical-storm-force winds and hazardous storm surge are possible along portions of the central and eastern U.S. Gulf Coast beginning on Sunday, including areas well east of the track of Alberto's center, and tropical storm and storm surge watches are in effect for portions of these areas. Residents in the watch areas are encouraged not to focus on the details of the forecast track of Alberto and should follow any guidance given by their local government officials.
ContactRelief Recommendations for Contact Centers
Subscribers to ContactRelief's Disaster Decision Engine have received alerts for the areas expected to be affected by storm surge and tropical storm force winds due to Alberto. Customized rules enable subscribers to identify these areas and take action to reshape their inbound or outbound contact strategy if desired. The ContactRelief Disaster Decision Team will continue to monitor Alberto and will issue additional advisories and recommendations as the storm approaches.
To obtain the list of zip codes affected by Alberto, become a ContactRelief subscriber.
Don't Delay
The next disaster is on its way. Become a ContactRelief subscriber and keep your company protected from disaster. Our full recommendations consist of the areas to be suspended and the list of zip codes covering these areas. For as little as $400 per, month your company can quickly implement a solution that protects your company and its customers. As we say at ContactRelief, "It's just smart business."
Contact sales@contactrelief.com for more information.