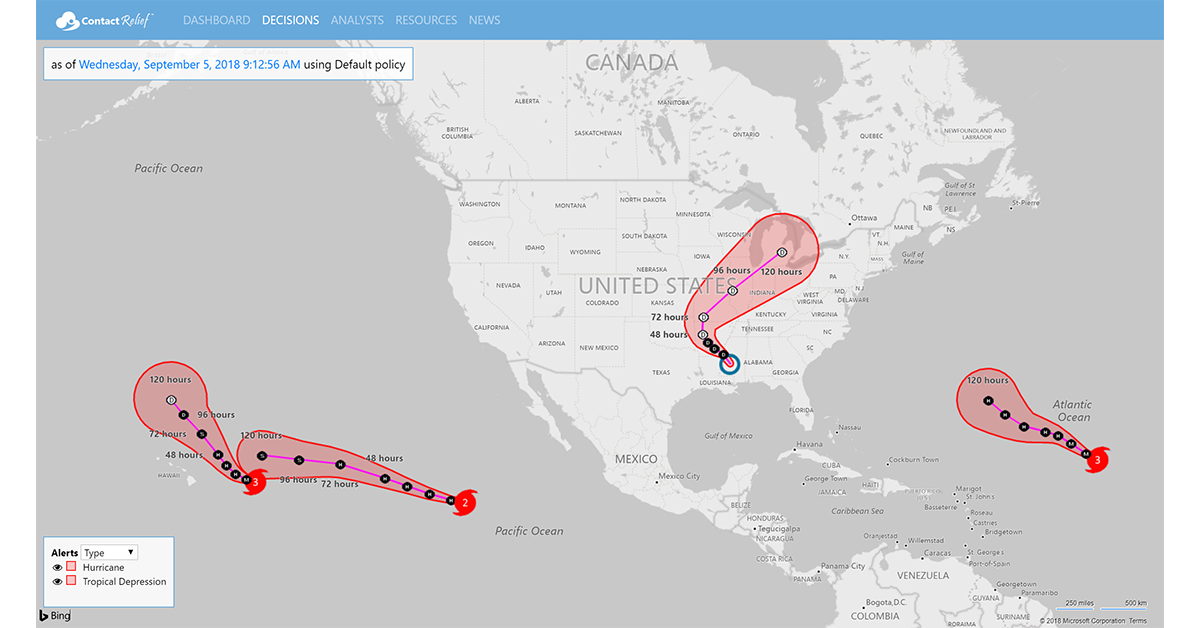 Active Hurricanes in Both the Atlantic and Pacific
Hurricane Florence Becomes First Atlantic Hurricane of 2018
Wednesday, September 5, 2018 10:00:00 AM -05:00
ContactRelief Recommendations for Contact Centers
ContactRelief is making public recommendations first made to subscribers on Wednesday, September 5th, 2018. Tropical Storm Gordon made landfall and quickly weakened to a Tropical Depression. One person died as a result of a tree failing on their house. Other than this unfortunate event, damage due to the storm was minimal. ContactRelief recommends resumption of contact with all areas.
Tropical Depression Gordon
Tropical Depression Gordan is now over central Missisippi near latitide 32 N, longitude 89.9 W moving north-west at 14 mph. Forecasters at the National Hurricane Center said that the threat from heavy rains and flooding will continue through tomorrow.
Hurricane Florence Becomes First Atlantic Hurricane of 2018
Hurricane Florence, on a path towards Bermuda, became the first Atlantic hurricane of the 2018 hurricane season. As of 11 AM AST (1500 UTC), the center Florence was located near latitude 22.0 North, longitude 45.7 West, moving toward the northwest near 13 mph (20 km/h). The National Hurricane Center said that "Satellite images indicate that maximum sustained winds have increased to near 125 mph (205 km/h) with higher gusts" making it a Category 3 hurricane.
Tropical Activity in the Pacific Continues
Tropical activity continues in the Pacific with Category 3 Hurricane Norman on a track to pass well to the north of Hawaii and Category 2 Hurricane Olivia following behind. The center of Olivia is located near 17.1, -122.3 moving west at 13 mph. Olivia has weakened and is expected to weaken further into a tropical storm in 72 hours. However, the current forecast track puts Olivia on a path to come uncomfortably close to the northern part of Hawaii in the coming days.
The ContactRelief Disaster Decision Team will continue to monitor the development of these storms and issue additional advisories as warranted.
Don't Delay
The next disaster is on its way. Become a ContactRelief subscriber and keep your company protected from disaster. Our full recommendations consist of the areas to be suspended and the list of zip codes covering these areas. With minimal effort, your company can quickly implement a solution that protects your company and its customers. As we say at ContactRelief, "It's just smart business."
Contact sales@contactrelief.com for more information.
Get in touch
Shaping your outbound contact away from disaster stricken areas isn't just the right thing to do, it's smart business. To learn more about how ContactRelief can help you protect your brand, reduce your risk of adverse actions, and improve your contact center efficiency, click below to contact us.
Contact us