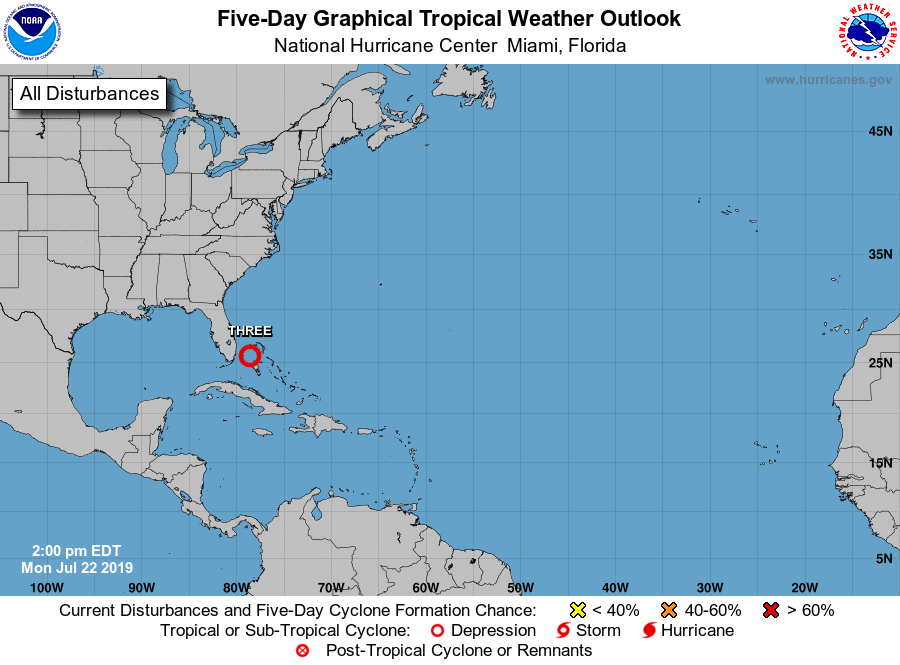 Tropical Depression 3 Forms Off Florida Coast
Invest 94L has become Tropical Depression 3.
Monday, July 22, 2019 9:26:14 PM +00:00
Tropical Depression 3 Update
As expected, Invest 94L has strengthened into a Tropical Depression. Forecasters at the National Hurricane Center said earlier today that while environmental conditions are only marginally conducive, a slight increase in the organization of this system could result in the formation of a tropical depression. The storm is expected to bring 1 to 3 inches of rain to Florida's eastern seaboard. At 5:00 PM EDT (2100 UTC), the center of Tropical Depression Three was located near latitude 25.6 North, longitude 78.6 West. The depression is moving toward the northwest near 13 mph (20 km/h). A turn toward the north-northwest is expected overnight followed by a turn toward the north and north-northeast on Tuesday and Tuesday night. On the forecast track, the center of the depression should remain just offshore of the east coast of Florida over the next day or so. Maximum sustained winds are near 30 mph (45 km/h) with higher gusts. No significant increase in strength is anticipated, and the depression is forecast to dissipate by Wednesday.
ContactRelief Recommendations
Because the storm is forecasted not to develop beyond Tropical Depression strength, ContactRelief does not recommend any amplification of contact ahead of the storm as it is unlikely that a contact suspension will be required. The Disaster Decision Team is monitoring the storm and will make further recommendations if warranted.
Get in touch
Shaping your outbound contact away from disaster stricken areas isn't just the right thing to do, it's smart business. To learn more about how ContactRelief can help you protect your brand, reduce your risk of adverse actions, and improve your contact center efficiency, click below to contact us.
Contact us