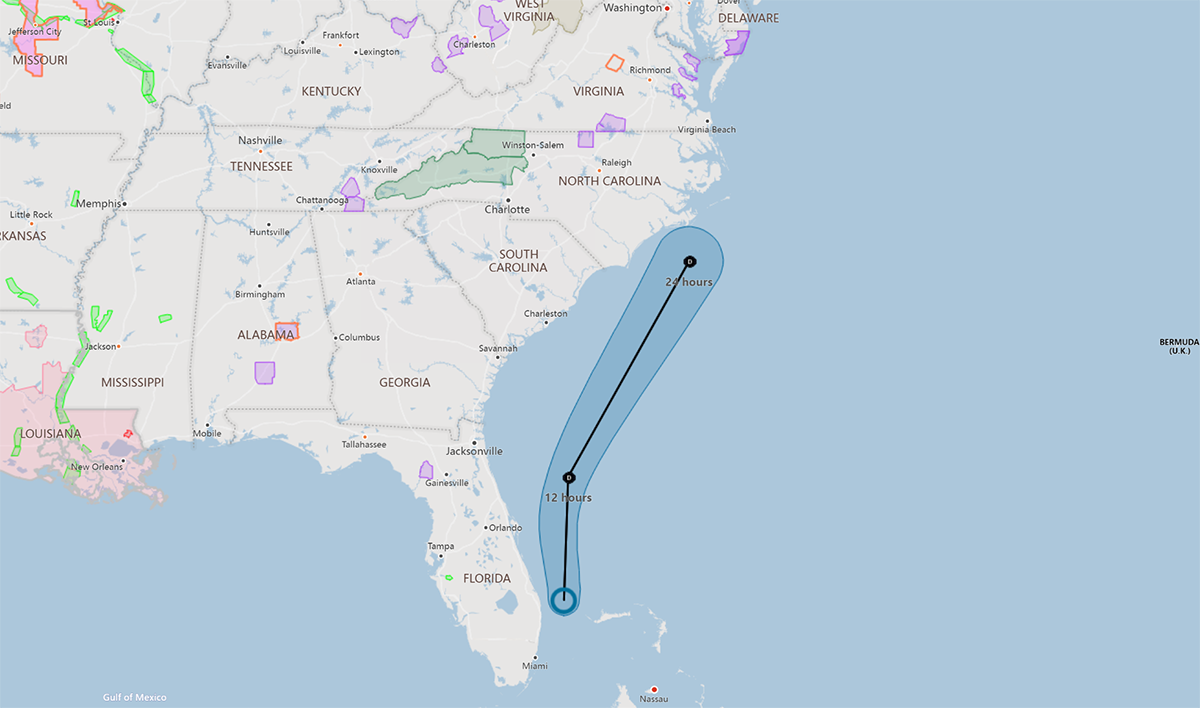 Tropical Disturbance 3 Expected To Dissipate By Wednesday
But the storm may briefly reach Tropical Storm strength
Tuesday, July 23, 2019 12:00:39 PM +00:00
Tropical Depression 3 Update
At 500 AM EDT (0900 UTC), the center of Tropical Depression Three was located near latitude 27.0 North, longitude 79.5 West. The depression is moving toward the north near 12 mph (19 km/h) and this general motion is forecast to continue through this afternoon. A motion toward the north-northeast with an increase in forward speed is expected tonight, followed by a turn toward the northeast on Wednesday. On the forecast track, the center of the depression should remain offshore the coast of the southeastern United States through Wednesday. Maximum sustained winds have increased to near 35 mph (55 km/h) with higher gusts. No significant increase in strength is anticipated, and the depression is forecast to dissipate on Wednesday.
Forecasters at the National Hurricane Center said "Although significant strengthening of the depression is not expected, it is certainly possible that the cyclone could briefly reach tropical storm status in the 12-to-24-hour period when the system will be accelerating and the vertical wind shear decreases to less than 5 kt. However, in the event that the cyclone should become a tropical storm, the rapid northeastward motion will act to keep the strongest winds to the east of the center, well offshore of the U.S. coastal areas."
Source: National Hurricane Center
ContactRelief Recommendations
Because the storm is forecasted not to develop beyond Tropical Depression strength, ContactRelief does not recommend any amplification of contact ahead of the storm as it is unlikely that a contact suspension will be required. The Disaster Decision Team is monitoring the storm and will make further recommendations if warranted.