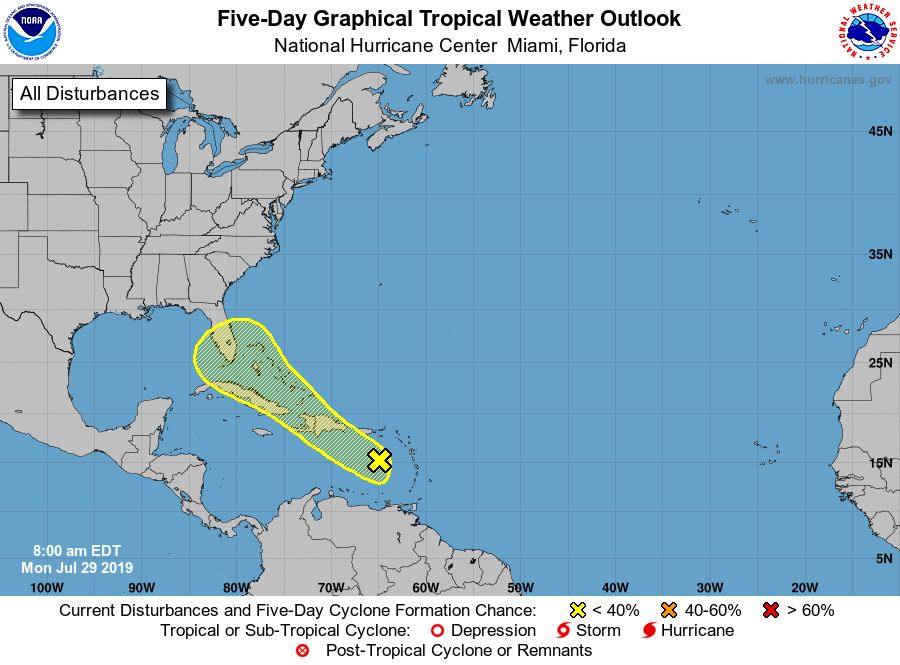 Tropical Disturbance in Caribbean Sea may affect Florida
Flash flooding over Puerto Rico is possible tonight.
Monday, July 29, 2019 11:59:49 AM +00:00
Tropical Disturbance Update
Shower activity associated with a tropical wave over the eastern Caribbean Sea is disorganized and limited. This system is expected to move west-northwestward across the Caribbean Sea and the Greater Antilles during the next few days bringing locally heavy rainfall and possibly some flooding across portions of these islands. Little or no development of this disturbance is anticipated during the next couple of days. However, conditions could be a little more conducive for tropical cyclone formation when the system reaches the Florida Straits or the Bahamas over the weekend.
* Formation chance through 48 hours...low...10 percent. * Formation chance through 5 days...low...20 percent.
Source: National Hurricane Center
ContactRelief Recommendations
This disturbance warrants close inspection, especially by subscribers with interests in Florida. Subscribers with operations in Florida should be on the watch for further development later this week.
Get in touch
Shaping your outbound contact away from disaster stricken areas isn't just the right thing to do, it's smart business. To learn more about how ContactRelief can help you protect your brand, reduce your risk of adverse actions, and improve your contact center efficiency, click below to contact us.
Contact us