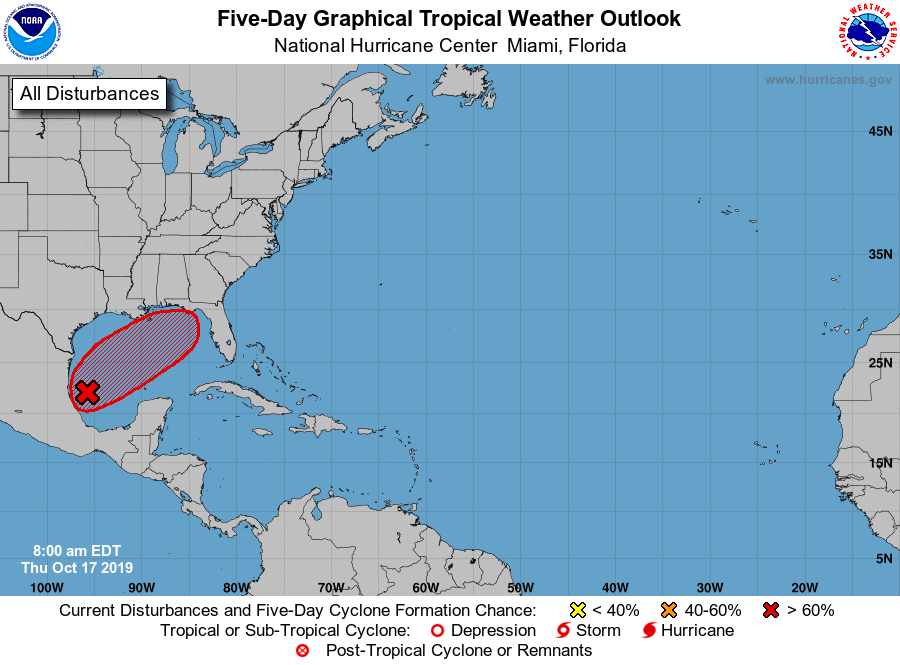 Watching Tropical Disturbance in Southwestern Gulf Of Mexico
A Tropical Disturbance in the southwestern Gulf of Mexico has a 60% chance of becoming a Tropical Cyclone
Thursday, October 17, 2019 12:11:39 PM +00:00
Tropical Weather Outlook
The National Hurricane Center reports that showers and thunderstorms associated with a broad area of low pressure located over the southwestern Gulf of Mexico continue to show signs of organization. Environmental conditions are expected to be conducive for additional development, and a tropical or subtropical storm is likely to form later today or tonight while the system moves generally northeastward over the western Gulf of Mexico. The low is forecast to approach the northern or northeastern Gulf Coast on Friday or Saturday and regardless of development, the system is likely to produce gusty winds and rough surf over those areas. Locally heavy rainfall is also possible across portions of the southeast U.S. late this week and this weekend. Interests along the northern and northeastern Gulf coast should monitor the progress of this system. For more information about marine hazards while the low moves across the Gulf of Mexico, see products issued by the Tropical Analysis and Forecast Branch of the National Hurricane Center. An Air Force Reserve reconnaissance aircraft is scheduled to investigate the system this afternoon, if necessary.
* Formation chance through 48 hours...high...80 percent.
* Formation chance through 5 days...high...80 percent.
ContactRelief Recommendations
ContactRelief has issued a Tropical Weather Strategy alert for portions of Florida. The forecast track shows the storm threatening the Florida panhandle and northwestern Florida coastline within the next five days. The current hurricane modeling seems to predict the intensity staying below Cat 1 Hurricane levels. Subscribers concerned that further development may affect their operations should consider acting now.
Get in touch
Shaping your outbound contact away from disaster stricken areas isn't just the right thing to do, it's smart business. To learn more about how ContactRelief can help you protect your brand, reduce your risk of adverse actions, and improve your contact center efficiency, click below to contact us.
Contact us