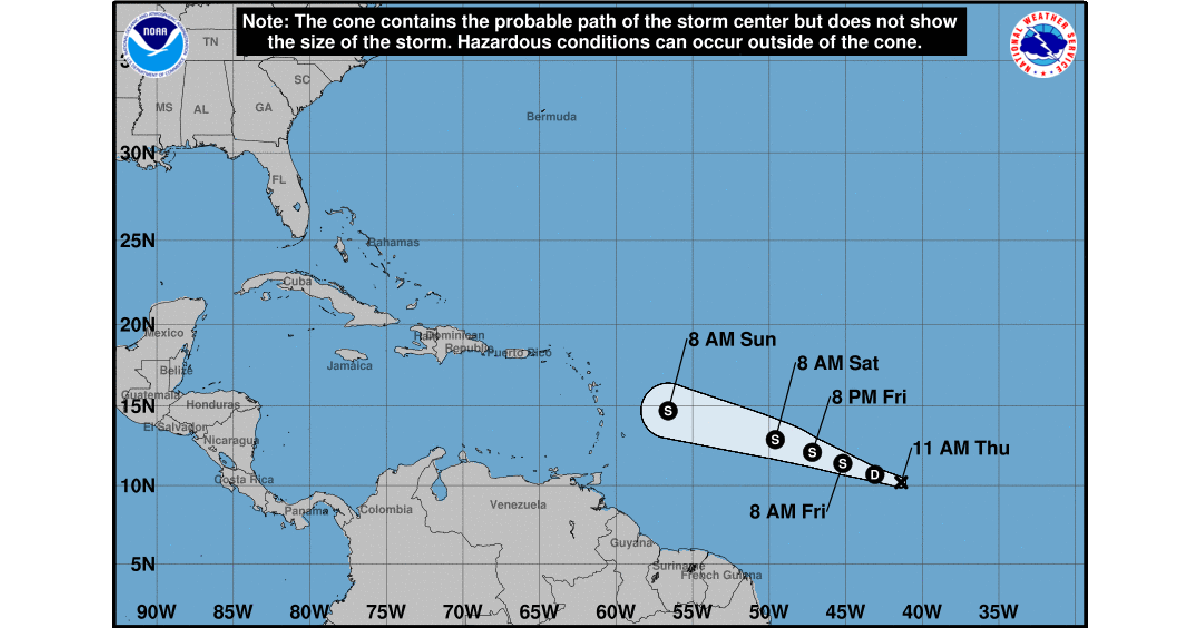 Tropical Storm Beryl Forms In Atlantic
Wind shear expected to cause storm to dissapate
Thursday, July 5, 2018 2:43:00 PM -05:00
While Tropical Storm Fabio moves out to sea in the Pacific, a tropical disturbance in the Atlantic has quickly intensified into a tropical depression and now into a tropical storm. Located about 1330 miles east-southeast of the Lesser Antilles, Tropical Storm Beryl is moving west at 16 MPH with maximum sustained winds of 40 MPH.
National Hurricane Center forecasters say Beryl will begin encountering strong westerly shear within 72 to 96 hours. The wind shear combined with a predicted acceleration should cause it to degenerate into an open wave east of the Lesser Antilles, likely bringing locally heavy rains and gusty winds to portions of the Leeward Islands on Sunday and Monday.
The ContactRelief Disaster Decision Team will continue to monitor the storm's development and issue additional advisories as warranted.
Don't Delay
The next disaster is on its way. Become a ContactRelief subscriber and keep your company protected from disaster. Our full recommendations consist of the areas to be suspended and the list of zip codes covering these areas. For as little as $400 per, month your company can quickly implement a solution that protects your company and its customers. As we say at ContactRelief, "It's just smart business."
Contact sales@contactrelief.com for more information.
Are you prepared for the next disaster?
Disasters can strike at a moment's notice. That's why, at ContactRelief, we provide round the clock disaster monitoring to keep your operations ahead of disasters. With timely, comprehensive recommendations that are accurate to the ZIP code, ContactRelief ensures you focus less on the disaster, and more on your operations.
Contact sales@contactrelief.com for more information.