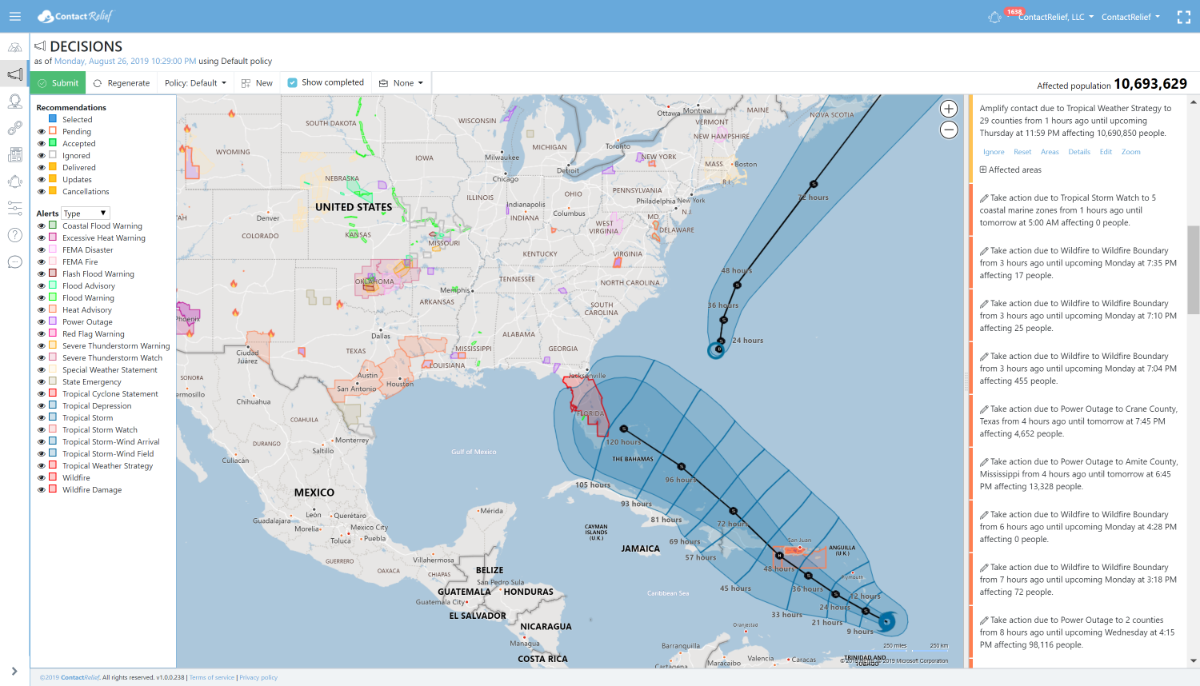 Contact strategy recommendations for Tropical Storm Dorian
ContactRelief is issuing contact strategy recommendations for parts of Florida.
Tuesday, August 27, 2019 3:12:42 AM +00:00
ContactRelief Recommendations
ContactRelief has issued a Tropical Weather Strategy alert and recommendation for parts of Florida through 8/29. Subscribers intending to suspend contact if tropical storm or higher strength conditions threaten Florida should take this opportunity to amplify contact now in advance of the storm. To get the full list of affected areas, become a ContactRelief subscriber. Should the expected storm intensity at landfall grow or Tropical Storm Warnings or higher are issued for Florida, expect this recommendation to be terminated early.
Tropical Storm Dorian Update
The NHC 5-day forecast track for Tropical Storm Dorian shows the storm intensifying to hurricane strength and then weakening to a tropical storm as it crosses the Dominican Republic. At tropical storm strength, Dorian will move through the Caribbean on a track that is expected to threaten the Florida Peninsula on or about Sunday (9/1/2019).
The NHC's 5-day forecast ends on Saturday so there is no official guidance on the track or intensity after that point. However, a number of hurricane models currently predict landfall on Florida's Atlantic coastline near Fort Pierce with the storm then traversing the peninsula to the northwest. Regardless of the accuracy of this prediction, there is significant disagreement in the intensity forecasts past Saturday so it is unclear with what force the storm will strike Florida.
Protect your brand AND revenue when disaster strikes.
Try ContactRelief FREE for 30 days. Discover how we can help you reach up to 5x more customers in a disaster zone – while protecting your brand image.
Buy now - save 10%