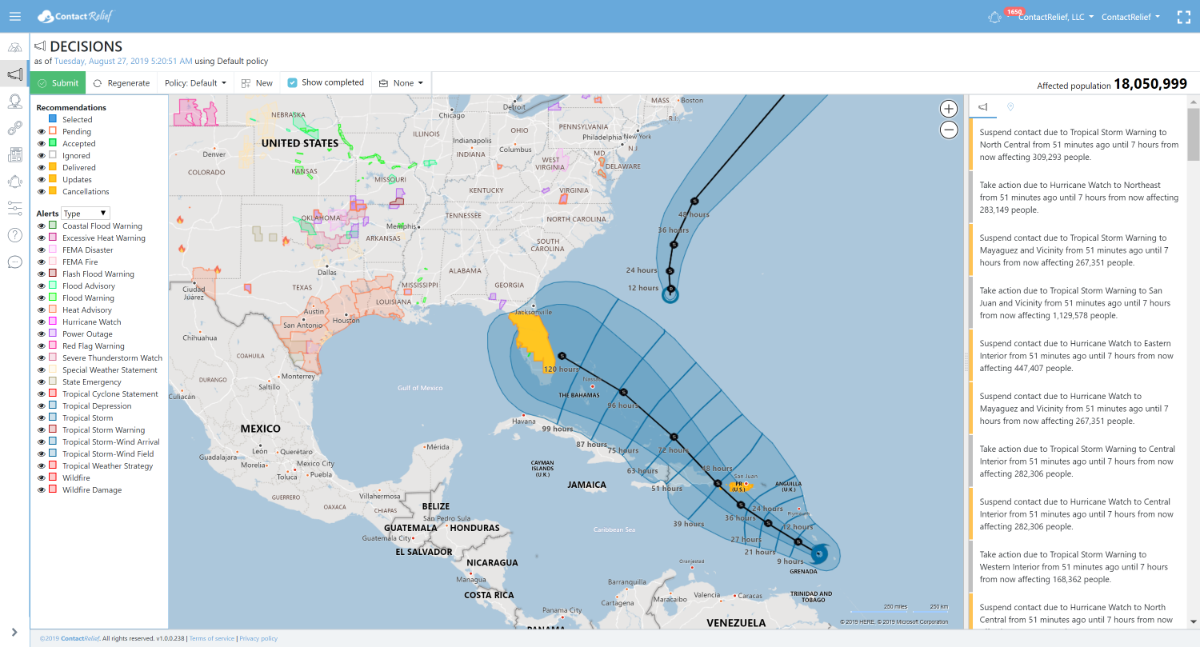 Hurricane Watches Issued for Tropical Storm Dorian
ContactRelief has issued contact strategy recommendations for Puerto Rico and Florida.
Tuesday, August 27, 2019 10:27:13 AM +00:00
ContactRelief Recommendations for Puerto Rico
ContactRelief has issued a suspension of non-essential contact recommendation for Puerto Rico through 8/29. The National Weather Service has issued Hurricane Watches and Tropical Storm Warnings for Puerto Rico. ContactRelief recommends suspension of non-essential contact with consumers in areas under Tropical Storm Warnings, Hurricane Watches, and Hurricane Warnings.
ContactRelief Recommendations for Florida
ContactRelief has issued a Tropical Weather Strategy alert and recommendation for parts of Florida through 8/29. Subscribers intending to suspend contact if tropical storm or higher strength conditions threaten Florida should take this opportunity to amplify contact now in advance of the storm. To get the full list of affected areas, become a ContactRelief subscriber. Should the expected storm intensity at landfall grow or Tropical Storm Warnings or higher are issued for Florida, expect this recommendation to be terminated early.
Tropical Storm Dorian Update
The NHC 5-day forecast track for Tropical Storm Dorian shows the storm intensifying to hurricane strength and then weakening to a tropical storm as it crosses the Dominican Republic. At tropical storm strength, Dorian will move through the Caribbean on a track that is expected to threaten the Florida Peninsula on or about Sunday (9/1/2019).
The NHC's 5-day forecast predicts Dorian to approach the Florida coast as a tropical storm. A number of hurricane models currently predict landfall on Florida's Atlantic coastline near Fort Pierce with the storm then traversing the peninsula to the northwest. Regardless of the accuracy of this prediction, there is significant disagreement in the intensity forecasts past Saturday so it is unclear with what force the storm will strike Florida.
National Hurricane Center Tropical Storm Dorian Forecast Discussion (5AM AST)
Tropical Storm Dorian Discussion Number 12
NWS National Hurricane Center Miami FL
AL052019 500 AM AST Tue Aug 27 2019
Dorian passed over Barbados a few hours ago and it is now very near the Windward Islands. Data from the Air Force Hurricane Hunters earlier this morning suggest that the storm has held steady in intensity with a blend of the flight level and SFMR winds supporting a wind speed of 45 kt. The Caribbean composite radar data show that Dorian remains a very compact system and that it still lacks a well-defined inner core.
Dry air in the mid-levels of the atmosphere around Dorian has been causing the storm to remain in a fairly steady state during the past day or so despite relatively low wind shear conditions and warm SSTs. The models show this dry air persisting in the vicinity of the system while it tracks across the Caribbean during the next day or two, so it seems likely that Dorian will continue to only gradually intensify during that time. When Dorian nears Hispaniola in 36 to 48 hours, there will likely be some increase in wind shear and those less favorable winds aloft and the interaction with the landmasses of Puerto Rico and Hispaniola should cause considerable weakening. Once the system moves north of the Greater Antilles, the environmental conditions become more favorable for intensification, and most of the intensity guidance responds by showing an increase in winds. However, there remains considerable uncertainty for this part of the forecast because the future intensity of Dorian will be quite dependent on how much land interaction there is with the mountainous island of Hispaniola. The NHC intensity forecast lies near the upper end of the guidance in the short term, while the system is over the Caribbean Sea, but near the middle of the guidance envelope after that.
The storm is moving west-northwestward at 11 kt steered by a subtropical ridge to the north. This general motion should continue for another 12 to 24 hours taking Dorian across the eastern Caribbean Sea. After that time, a slight turn to the northwest is likely when the cyclone nears the eastern portion of a cut off mid- to upper-level low and moves toward a weakness in the ridge. This should take Dorian across the Dominican Republic and the Mona Passage and over the Bahamas in the 3 to 4 day time period. A ridge is likely to rebuild to the north of Dorian when it is forecast to be over the Bahamas and that could cause it to turn slightly to the left by the end of the forecast period. The new NHC track forecast is largely unchanged while Dorian is in the Caribbean, but it has been shifted slightly to the north thereafter. Users are reminded not to focus on the details of the extended track forecast as the average 5-day track error is around 200 miles.
Key Messages:
1. Dorian is expected to bring tropical storm conditions to portions of the Lesser Antilles during the next several hours, where tropical storm watches and warnings are in effect. Rainfall of 3 to 6 inches is expected from Martinique to St. Vincent with isolated totals as high as 10 inches possible.
2. Tropical storm conditions are expected and hurricane conditions are possible in Puerto Rico on Wednesday, where a tropical storm warning and hurricane watch have been issued. Rainfall of 2 to 4 inches with maximum totals of 6 inches are possible across Puerto Rico and St. Croix.
3. Hurricane and Tropical Storm Watches have been issued for portions of the Dominican Republic.
4. While uncertainty remains high, wind and rain impacts are possible in the Bahamas and Florida later this week and this weekend. Residents in these areas should monitor the progress of Dorian and ensure that they have their hurricane plan in place.
FORECAST POSITIONS AND MAX WINDS
INIT 27/0900Z 13.5N 60.7W 45 KT 50 MPH
12H 27/1800Z 14.4N 62.3W 50 KT 60 MPH
24H 28/0600Z 15.7N 64.5W 55 KT 65 MPH
36H 28/1800Z 17.0N 66.5W 60 KT 70 MPH
48H 29/0600Z 18.5N 68.2W 60 KT 70 MPH
72H 30/0600Z 21.7N 71.4W 50 KT 60 MPH
96H 31/0600Z 24.7N 75.1W 60 KT 70 MPH
120H 01/0600Z 27.1N 79.6W 60 KT 70 MPH
Weather alerts, emergencies, and breaking news are monitored around the clock. The Disaster Decision Engine applies your rules to help you decide when to take action for your consumers. Your recommendations are sent to your contact centers and partners with ZIP Code granularity.