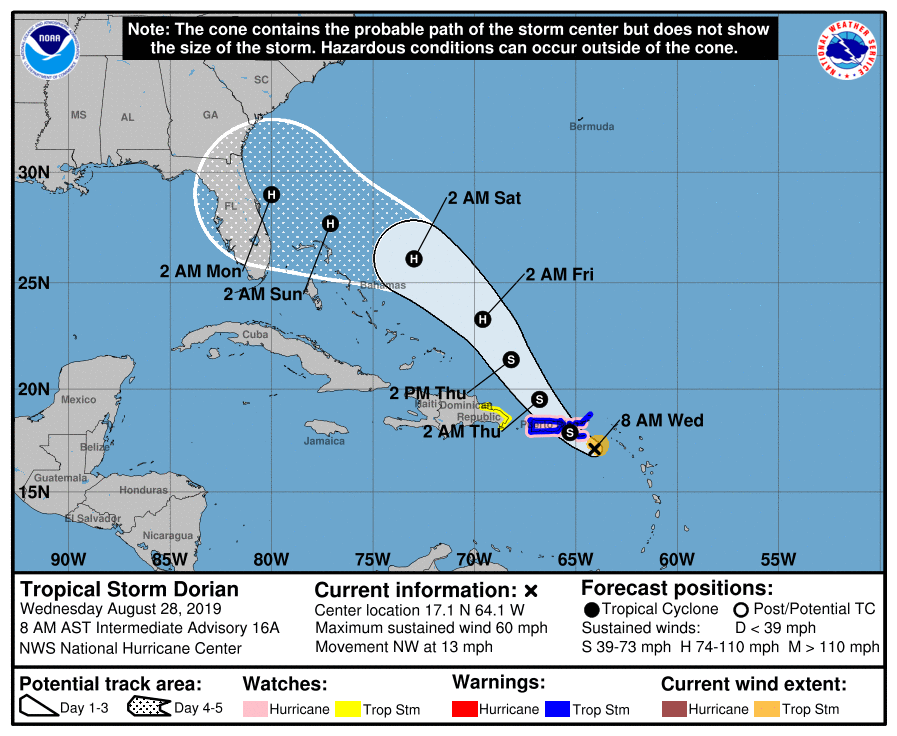 Tropical Storm Dorian to pass over or near Puerto Rico and the Virgin Islands today
Dorian To Bring Tropical Storm Conditons to Puerto Rico and the U.S. Virgin Islands Wednesday; Hurricane Possible This Weekend.
Wednesday, August 28, 2019 12:00:38 PM +00:00
ContactRelief Recommendations for Puerto Rico and the U.S. Virgin Islands
ContactRelief has issued a Tropical Weather Strategy alert and recommendation for suspension of non-essential contact to Puerto Rico and the U.S. Virgin Islands through 8/29. The National Weather Service has issued Hurricane Watches and Tropical Storm Warnings for Puerto Rico and the U.S.Virgin Islands. ContactRelief recommends suspension of non-essential contact with consumers in areas under Tropical Storm Warnings, Hurricane Watches, and Hurricane Warnings.
ContactRelief Recommendations for Florida
ContactRelief had previously issued a Tropical Weather Strategy alert and recommendation for parts of Florida through Thursday 8/29. Subscribers intending to suspend contact if tropical storm or higher strength conditions threaten Florida should have taken this opportunity to amplify contact in advance of the storm. Because the forecasted storm intensity has grown to hurricane strength as the storm approaches Florida, we will be expiring this recommendation early. Our current recommendation is to amplify contact through close of business Wednesday 8/28 and then begin implementing the suspension of non-essential contact.
Tropical Storm Dorian Update
The NHC 5-day forecast track for Tropical Storm Dorian has shifted eastward and now shows the storm passing over or near Puerto Rico and the British and U.S. Virgin Islands today at tropical storm strength today. Dorian will be a compact tropical storm during this phase but wind and flood damage in the islands could still be extensive. Current predictions show Dorian intensifying to hurricane strength in about 48 hours and approaching the Florida coastline as a hurricane. Although at hurricane strength, the intensity of the storm at this point is still uncertain. Dorian will is expected to threaten the Florida Peninsula on Monday (9/2/2019).
The NHC's 5-day forecast predicts Dorian to approach the Florida coast as a tropical storm. A number of hurricane models currently predict landfall on Florida's Atlantic coastline near Fort Pierce with the storm then traversing the peninsula to the northwest. Regardless of the accuracy of this prediction, there is significant disagreement in the intensity forecasts past Saturday so it is unclear with what force the storm will strike Florida.
National Hurricane Center Tropical Storm Dorian Forecast Discussion (5AM AST)
Tropical Storm Dorian Discussion Number 16
NWS National Hurricane Center Miami FL
AL052019 500 AM AST Wed Aug 28 2019
Satellite images and Doppler radar data from Puerto Rico indicate that Dorian is becoming better organized with banding features now more established on the north side of the circulation. The flight-level and SFMR winds from the Air Force Hurricane Hunters were a little higher in the most recent passes through the storm, and a blend of that data supports an initial intensity of about 50 kt. The Hurricane Hunters also reported that Dorian has developed a partial eyewall and that the minimum pressure has dropped to 1003 mb. A combination of the reconnaissance data and recent ASCAT passes were used to modify the initial wind radii, and it confirms that Dorian remains a compact and asymmetric tropical storm.
Dorian is moving northwestward at 11 kt toward a weakness in the ridge caused by a cut off mid- to upper-level low to the north of Hispaniola. This motion should continue for the next few days, taking Dorian across the Virgin Islands or the eastern portion of Puerto Rico later today and to the east of the Bahamas on Thursday and Friday. By late in the week, the steering pattern is expected to change as the models show a ridge building over the western Atlantic. The flow between the ridge and the aforementioned mid- to upper-level low should cause Dorian to turn west-northwestward and approach the southeast U.S. coast this weekend. The new NHC track forecast is adjusted a little to the right at most forecast times trending toward the latest consensus aids. However, there has been considerable run-to-run variability among the models so confidence in the long term track remains low. In addition, users are reminded not to focus on the exact forecast points as the average 5-day track error is around 200 miles.
Some additional slow strengthening seems likely today before Dorian reaches Puerto Rico and the Virgin Islands. The land interaction could end the strengthening trend or even cause some temporary weakening, however, environmental conditions favor intensification after the storm pulls northward into the southwestern Atlantic. Nearly all of the intensity models show Dorian becoming a hurricane in about 2 days, with additional strengthening beyond that time. The NHC intensity forecast is increased from the previous one, especially at the longer forecast times, to be in better agreement with the latest models. This forecast, however, is still on the lower end of the guidance envelope, so additional upward adjustments could be needed if the guidance trends persists. It is also worth noting that the global models show Dorian increasing in size by the time it nears the southeast U.S.
Key Messages:
1. Tropical storm conditions are expected in the U.S. and British Virgin Islands and Puerto Rico today, and are possible in portions of the Dominican Republic tonight and Thursday. Hurricane conditions are possible in Puerto Rico and the U.S. Virgin Islands today.
2. Heavy rainfall over portions of Puerto Rico and the U.S. and British Virgin Islands could produce flash flooding during the next couple of days. Heavy rains are expected to occur over portions of the Bahamas and Florida later this week and into early next week.
3. The threat of tropical storm or hurricane conditions, along with storm surge, in the northwestern Bahamas and along portions of the Florida east coast have increased. Residents in these areas should monitor the progress of Dorian and ensure that they have their hurricane plan in place.
4. Uncertainty in the intensity forecast late this week remains higher than usual due to a large spread in the model guidance.
FORECAST POSITIONS AND MAX WINDS
INIT 28/0900Z 16.8N 63.9W 50 KT 60 MPH
12H 28/1800Z 17.9N 65.3W 60 KT 70 MPH
24H 29/0600Z 19.5N 66.8W 60 KT 70 MPH
36H 29/1800Z 21.4N 68.2W 60 KT 70 MPH
48H 30/0600Z 23.3N 69.6W 65 KT 75 MPH
72H 31/0600Z 26.1N 73.0W 80 KT 90 MPH
96H 01/0600Z 27.7N 77.1W 85 KT 100 MPH
120H 02/0600Z 29.0N 80.0W 85 KT 100 MPH
What can ContactRelief do for you?
Are you ready to see how ContactRelief can shape your disaster operations strategy? Schedule your customized demo to see firsthand how ContactRelief can reduce your workload, protect your brand and improve your contact efficiency.