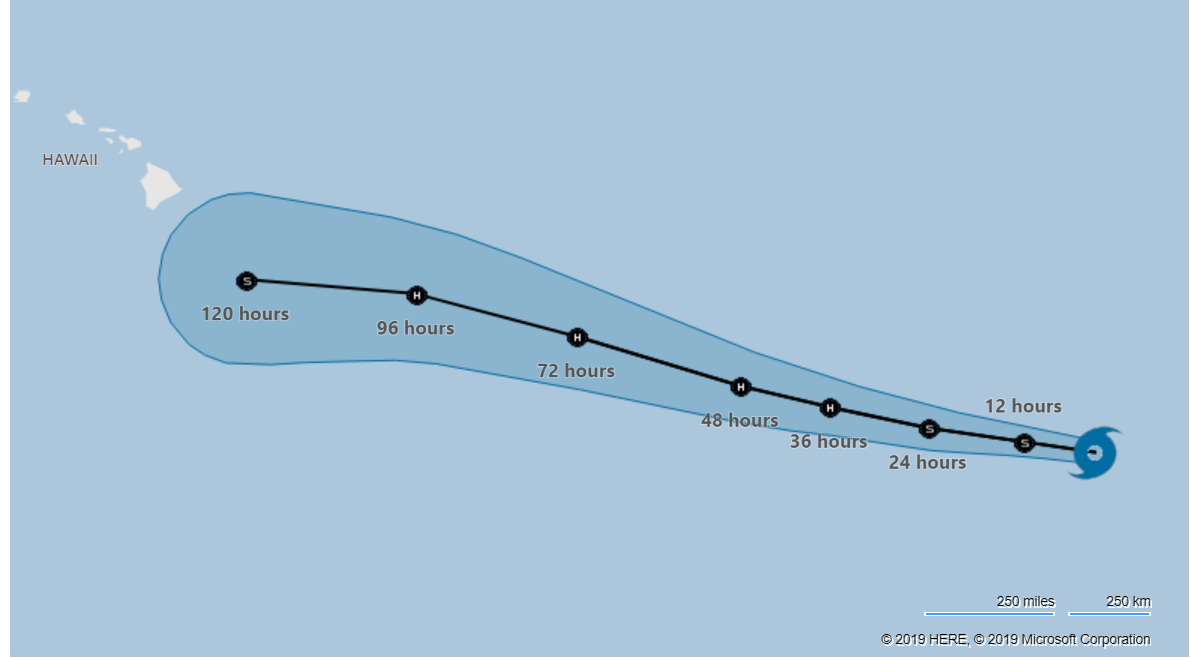 Tropical Storm Erick Aims For Hawaii
Current forecast track shows the storm passing south of the Big Island but interests in Hawaii should watch this storm closely.
Sunday, July 28, 2019 12:36:43 PM +00:00
Tropical Storm Erick Update
Eastern Pacific Tropical Storm Erick is on a course to pass south of Hawaii late this week. Forecasters at the National Hurricane Center expect the storm to strengthen over the next several days and reach Hurricane strength as early as tomorrow. By days 4 to 5, increased shear and some drier air is likely to cause weakening.
At 1100 PM HST (0900 UTC), the center of Tropical Storm Erick was located near latitude 12.1 North, longitude 128.1 West. Erick is moving toward the west near 16 mph (26 km/h), and this general motion is expected to continue for the next few days with a slight decrease in forward speed. Maximum sustained winds are near 40 mph (65 km/h) with higher gusts. Strengthening is forecast, and Erick is expected to become a hurricane on Monday with continued strengthening through Tuesday. Tropical-storm-force winds extend outward up to 35 miles (55 km) from the center.
ContactRelief Recommendations
ContactRelief recommends amplification of contact through close of business Tuesday (2019-07-30) to the Big Island of Hawaii in advance of the approaching storm. The 5-day forecast track puts the storm uncomfortably close to Hawaii on day 5 and after. As shown below, the ContactRelief Wind Arrival cone indicates a 50% chance of Tropical Force winds impacting at least the Big Island and possibly points further north. Forecasters at the National Hurricane Center said that "By the end of the forecast period, this ridge [guiding the storm] is likely to weaken, and this could cause a more northward motion to develop. By that time, however, the weakening cyclone should be steered more by the low-level easterly flow which should keep the motion on a generally westward or just north of westward heading."
While we have seen other storms on this path pass south of Hawaii without cause for alarm, subscribers that want to protect their contact operations from the possibility of disruption due to Tropical Storm Erick should consider amplifying contact now in advance of the storm.