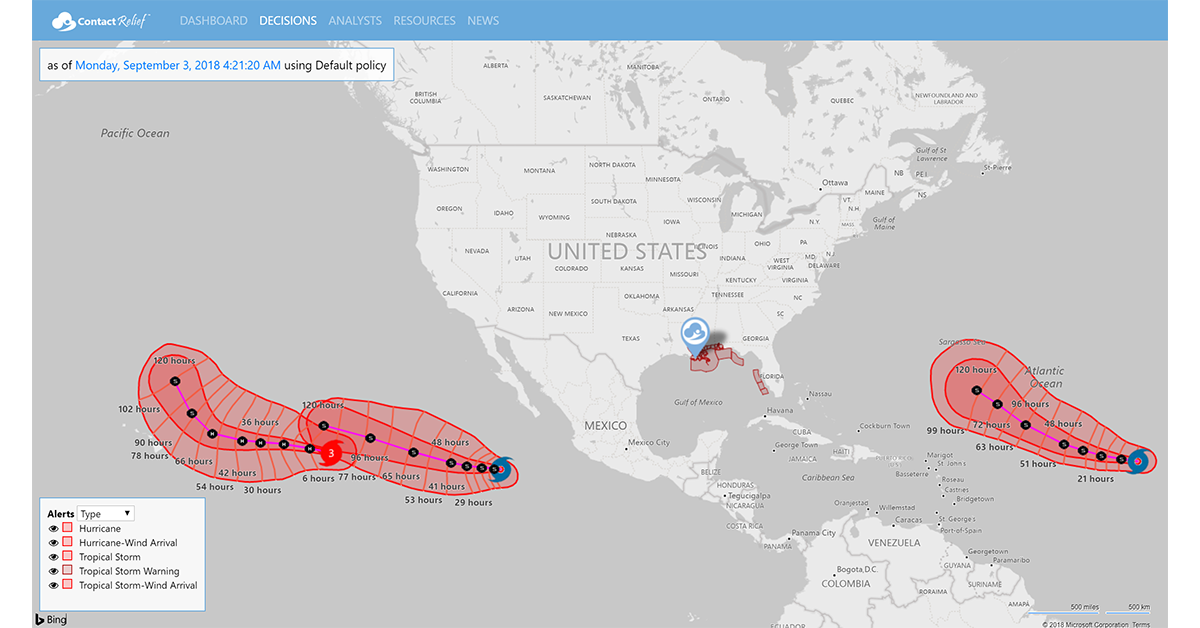 Tropical Storm To Form Tonight
Tropical Storm Warnings Issued for portions of Gulf Coast
Monday, September 3, 2018 5:45:00 AM -05:00
Tropical Storm Warnings have been issued for the coastal areas of Mississippi, western Alabama, and eastern Louisiana. The National Hurricane Center says that a Tropical Disturbance centered near latitude 24.5 North, longitude 80.2 West approximately 60 miles (95 km) east-southeast of Marathon, Florida is expected to strengthing into a Tropical Storm later tonight. The system is moving toward the west-northwest near 16 mph (26 km/h). Forecasters at the NHC said "On the forecast track, the disturbance will pass over the Florida Keys or the southern portion of the Florida peninsula this morning, move over the southeastern Gulf of Mexico later today evening, and reach the central Gulf Coast by late Tuesday or Tuesday night."
Tropical Activity in the Atlantic On The Rise
After remaining quiet for three months, tropical activity is on the rise in the Atlantic. In addition to Tropical Disturbance Seven described above, Tropical Storm Florance is located near latitude 18.0 North, longitude 37.5 West, moving toward the west-northwest near 16 mph (26 km/h). Forecasters contemplate two scenarios for Florence. The storm may eventually turn north and head up the open Atlantic or stay on its north-westerly or even a more westerly path and threaten the eastern seaboard of the United States the second week of September.
Forecasters also expect additional waves of disturbance to appear off the coast of Africa in the coming days keeping the pipeline full of potential threats during peak hurricane season.
Tropical Activity in the Pacific Continues
Tropical activity continues to threaten Hawaii in the Eastern Pacific with two active storms. Category 3 Hurricane Norman is located near latitude 19.0 North, longitude 134.6 West, moving toward the west-northwest near 20 mph (31 km/h). On its current forecast track, the storm is expected to weaken and pass north of Hawaii.
Hot on its heels is Tropical Storm Oiliva located near latitude 17.1 North, longitude 114.2 West. Forecasters at the NHC say that Olivia will remain a Tropical Storm over its 5 day forecast period.
The ContactRelief Disaster Decision Team will continue to monitor the development of these storms and issue additional advisories as warranted. To obtain, the full list of affected ZIP Codes under Tropical Storm Watch, become a ContactRelief subscriber.
Don't Delay
The next disaster is on its way. Become a ContactRelief subscriber and keep your company protected from disaster. Our full recommendations consist of the areas to be suspended and the list of zip codes covering these areas. For as little as $400 per, month your company can quickly implement a solution that protects your company and its customers. As we say at ContactRelief, "It's just smart business."
Contact sales@contactrelief.com for more information.