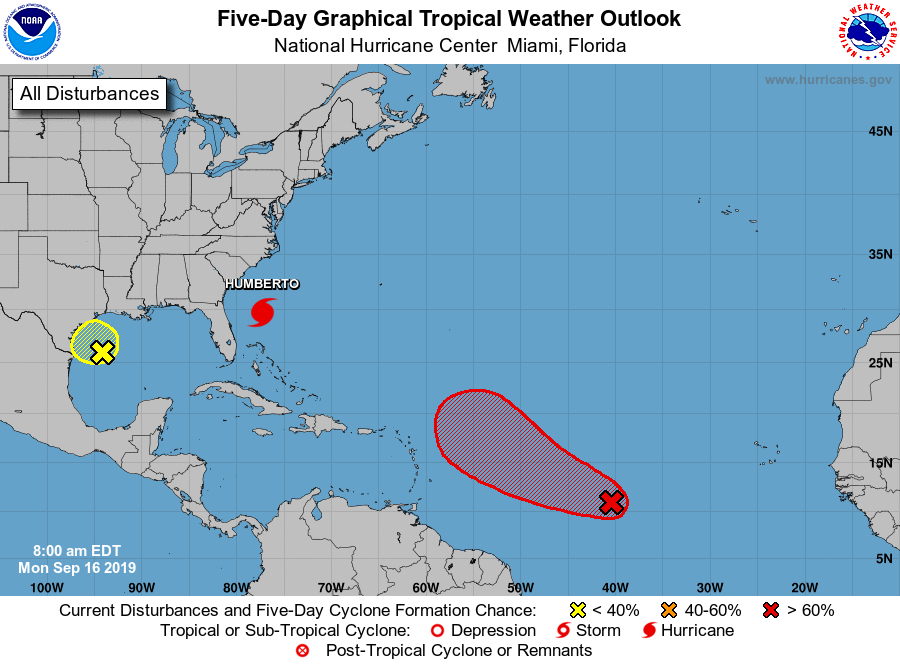 Hurricane Season is in full swing
As Hurricane Humberto moves away from U.S. interests, forecasters eye new disturbances that could threaten the U.S.
Monday, September 16, 2019 12:21:38 PM +00:00
Hurricane Season is still in full force and forecasters at the National Hurricane Center are currently monitoring two systems:
1. Showers and thunderstorms have increased this morning in association with a small low-pressure system located over the central tropical Atlantic. Satellite data also indicate that the low has become better defined, and environmental conditions are expected to be conducive for the formation of a tropical depression during the next couple of days while the system moves slowly northwestward to west-northwestward.
* Formation chance through 48 hours...medium...60 percent.
* Formation chance through 5 days...high...90 percent.
2. Disorganized showers and thunderstorms over the northwestern Gulf of Mexico are associated with an upper-level low and a weak surface trough. Little, if any, development of this system is expected before it moves inland along the northwestern Gulf coast tonight or Tuesday. Regardless of development, this system is expected to produce locally heavy rainfall along portions of the central and upper Texas coastal areas later this week.
* Formation chance through 48 hours...low...10 percent.
* Formation chance through 5 days...low...10 percent.
Are you prepared for the next disaster?
Disasters can strike at a moment's notice. That's why, at ContactRelief, we provide round the clock disaster monitoring to keep your operations ahead of disasters. With timely, comprehensive recommendations that are accurate to the ZIP code, ContactRelief ensures you focus less on the disaster, and more on your operations.
Contact sales@contactrelief.com for more information.